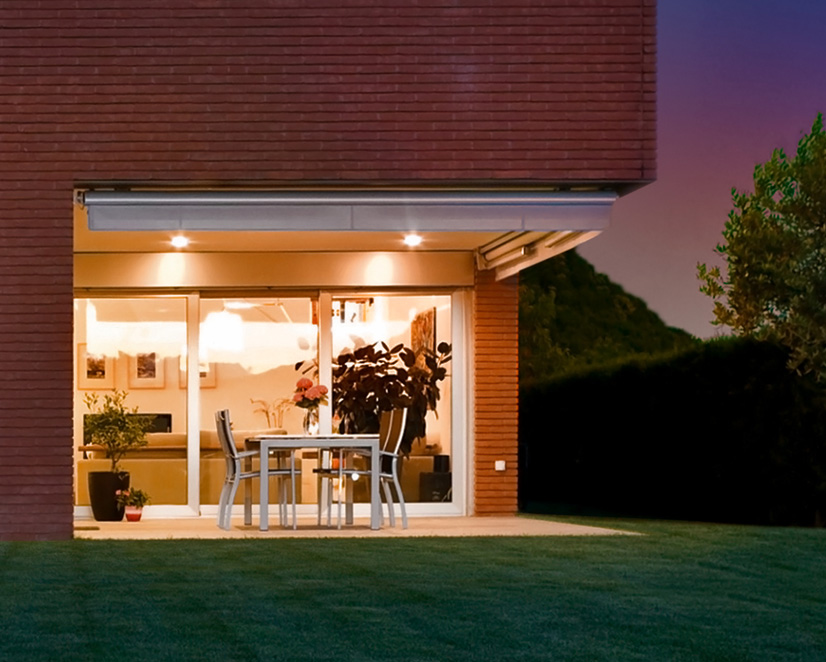 Schedules: Automate your lighting, heating and more
Oct 18, 2019 - by
Ina
- Comments
Eve Energy, Eve Energy Strip, Eve Thermo, Eve Aqua and now Eve Light Switch (EU / NA)– many Eve accessories support autonomous schedules. With autonomous schedules, you can easily program lights, appliances, radiators, and sprinkler systems to turn on and off automatically and reliably at set times. Today I'd like to share just how you can take advantage of these schedules.
The advantages of schedules
Schedules are set up using the Eve app, and subsequently stored on the accessory itself. This means each Eve accessory is able to run the schedule on its own. The big advantage: your lights and appliances will turn on and off automatically, independently of a network or internet connection.
To illustrate another advantage of schedules, it's helpful to draw a distinction between schedules and timers. If you've used an Eve accessory before, then you've probably set a timer – a feature used to activate a scene, such as switching on a floor lamp, at a time you set in the Home or Eve app.
Because timers are not saved on the accessory itself, they only work if the accessory is connected to a home hub – an Apple TV (4th generation or later) or a HomePod. In contrast, schedules always work – with or without a home hub, autonomously and without a network connection.
This makes schedules a really convenient and reliable way to control your Eve accessories. Of course you can also manually adjust the current state at any time via the app, Siri or the integrated controls. So you can switch the lights on if it gets dark a little earlier or keep the lights on if you leave for work a little later.
Putting schedules to good use
In our house, we love schedules, especially because our workdays at least are highly regimented.
Heating
During the week, Eve Thermo heats our rooms briefly in the mornings and then drops the temperature right about the time we all leave for work and school. Shortly before the first family member gets home, the rooms are returned to a comfortable temperature. On weekends, when we all sleep in, we schedule the heat to go up later but then leave it on during the day.
Learn more about Eve Thermo (Europe only)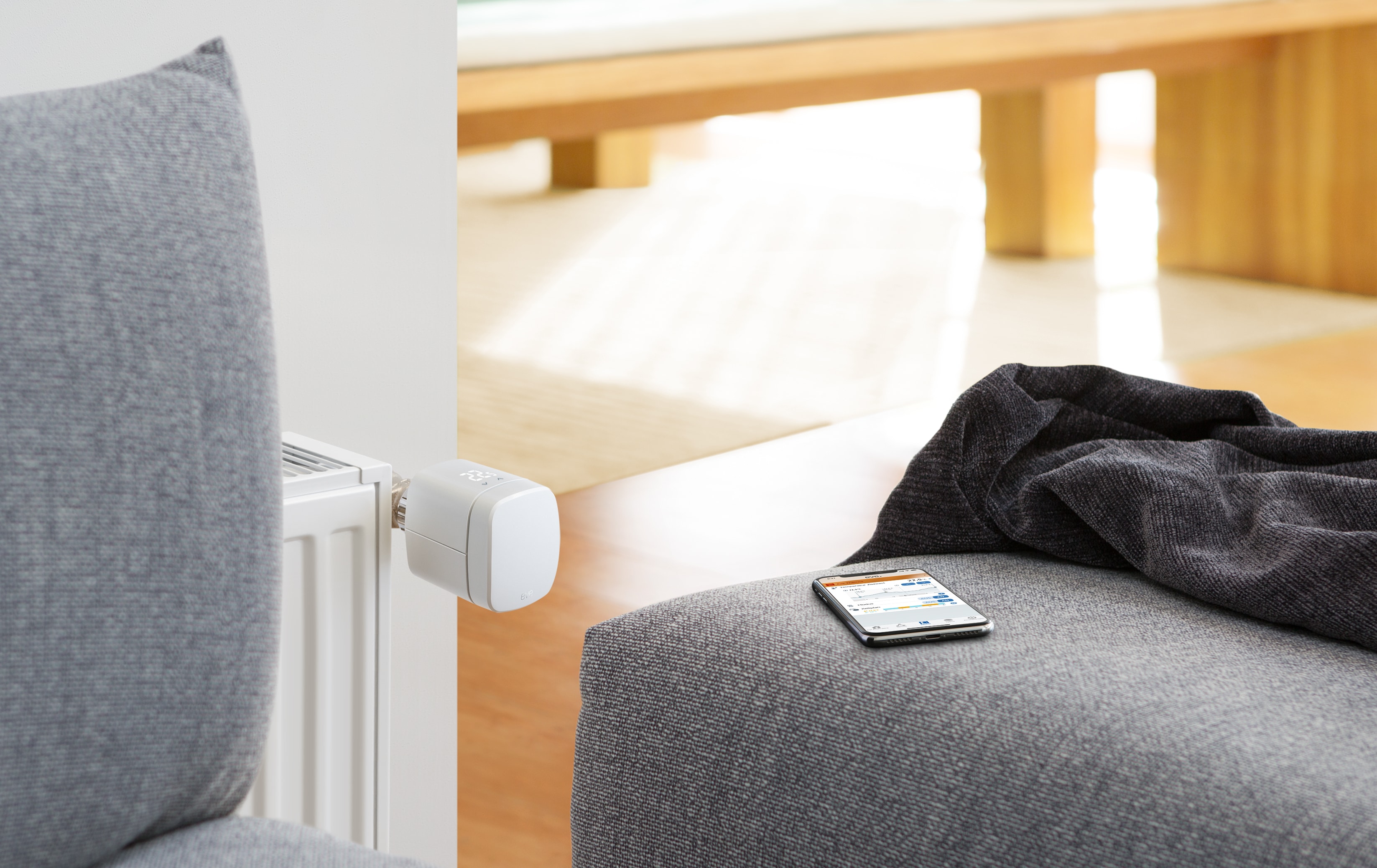 Lighting
Using Eve Light Switch, we switch on the light in the living room fifteen minutes before the sun goes down, even if we're not at home. If we're home, it's nice not to have to think about it. If we're not home, it's nice to make people think we are. To avoid suddenly finding ourselves in the dark, we set the end of this schedule very late. We can, of course, turn the light out at any time via Siri or on the light switch itself.
Version for North America
Version for Europe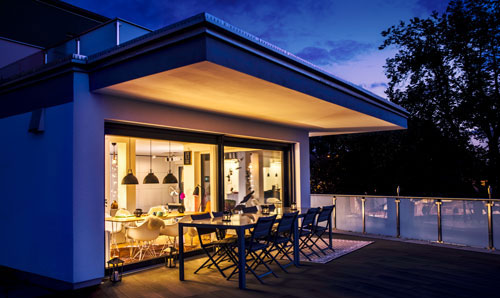 Automating other appliances
The schedules we've set for our Eve Energy Strip activate a humidifier and a string of lights in our kids' room, which turn off again as soon as the kids go to sleep. Well, when the kids should go to sleep at least.
Learn more about Eve Energy and Eve Energy Strip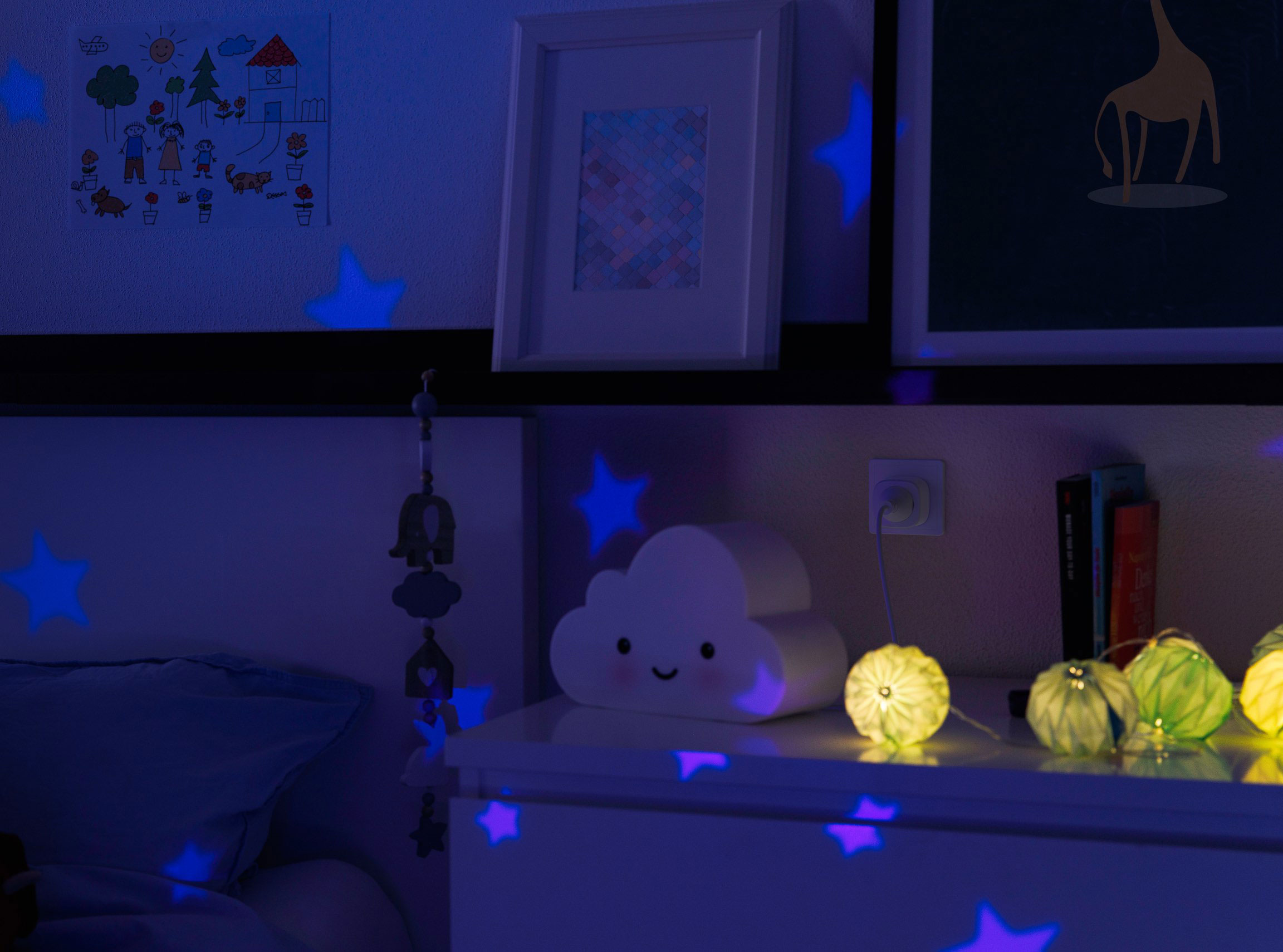 Watering
In the summer, it's our yard that benefits from schedules. Our sprinkler system turns on and off at preset times, meaning our grass doesn't suffer when we're not at home. And because Eve Aqua allows us to set up to seven watering periods, our flower beds and potted plants get watered, too.
Learn more about Eve Aqua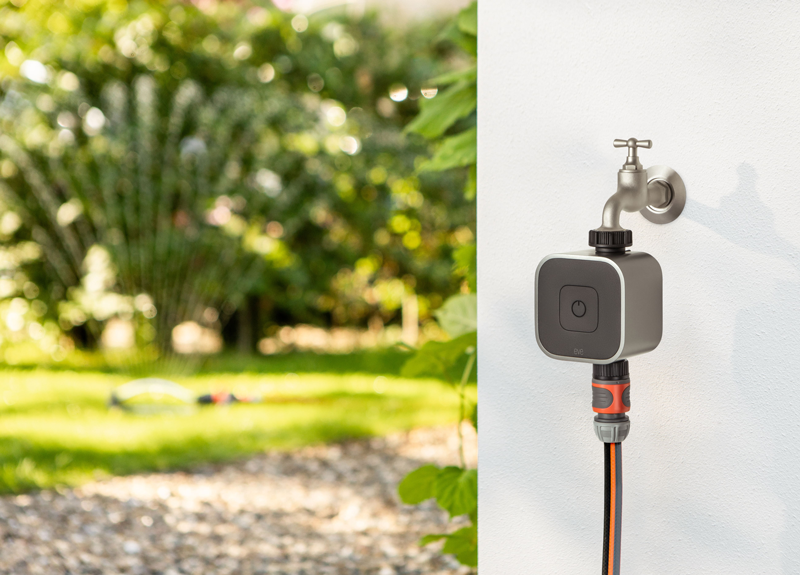 Setting up schedules
To set up schedules, all you need is the Eve app. Schedules are easy to program, transfer immediately to each accessory, and can be modified at any time (whenever you are near the accessory or connected through a home hub).
Eve Thermo
Eve Thermo allows you to program up to three heating periods, such as mornings, afternoons and evenings. You can set separate comfort and economy temperatures. There's also an option to set up two different schedules, for example one for workdays and one for weekends. As soon as you save your heating schedule, you can apply it to other Eve Thermo radiator valves in your home. Or you can create another schedule.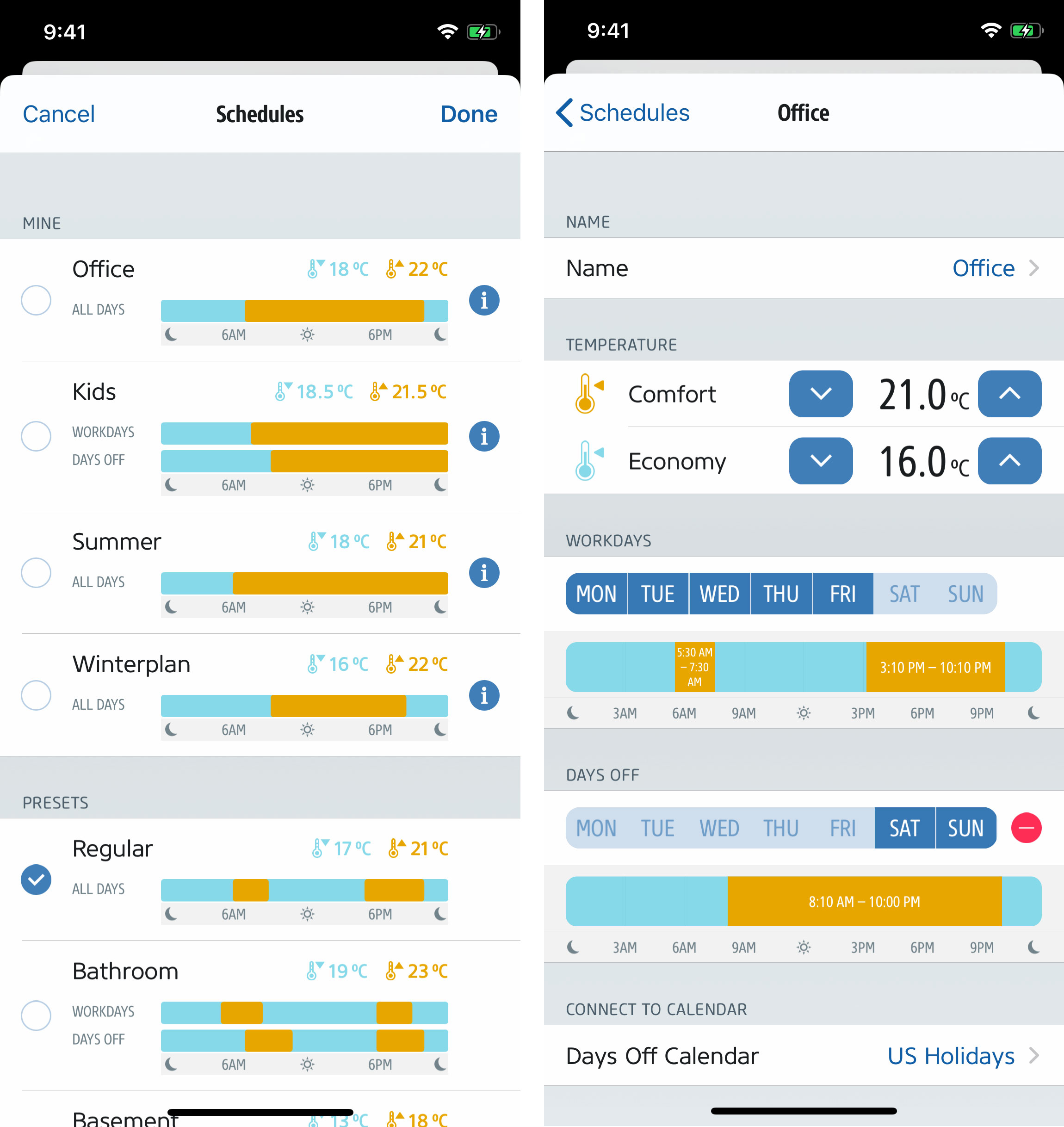 Eve Energy, Eve Energy Strip & Eve Light Switch
For lights and appliances, you can set up to seven different programs to cover your daily routine depending on the day of the week. And for each program you can add 15 events to switch certain lights or connected appliances on or off at specific times or even based on sunrise and sunset.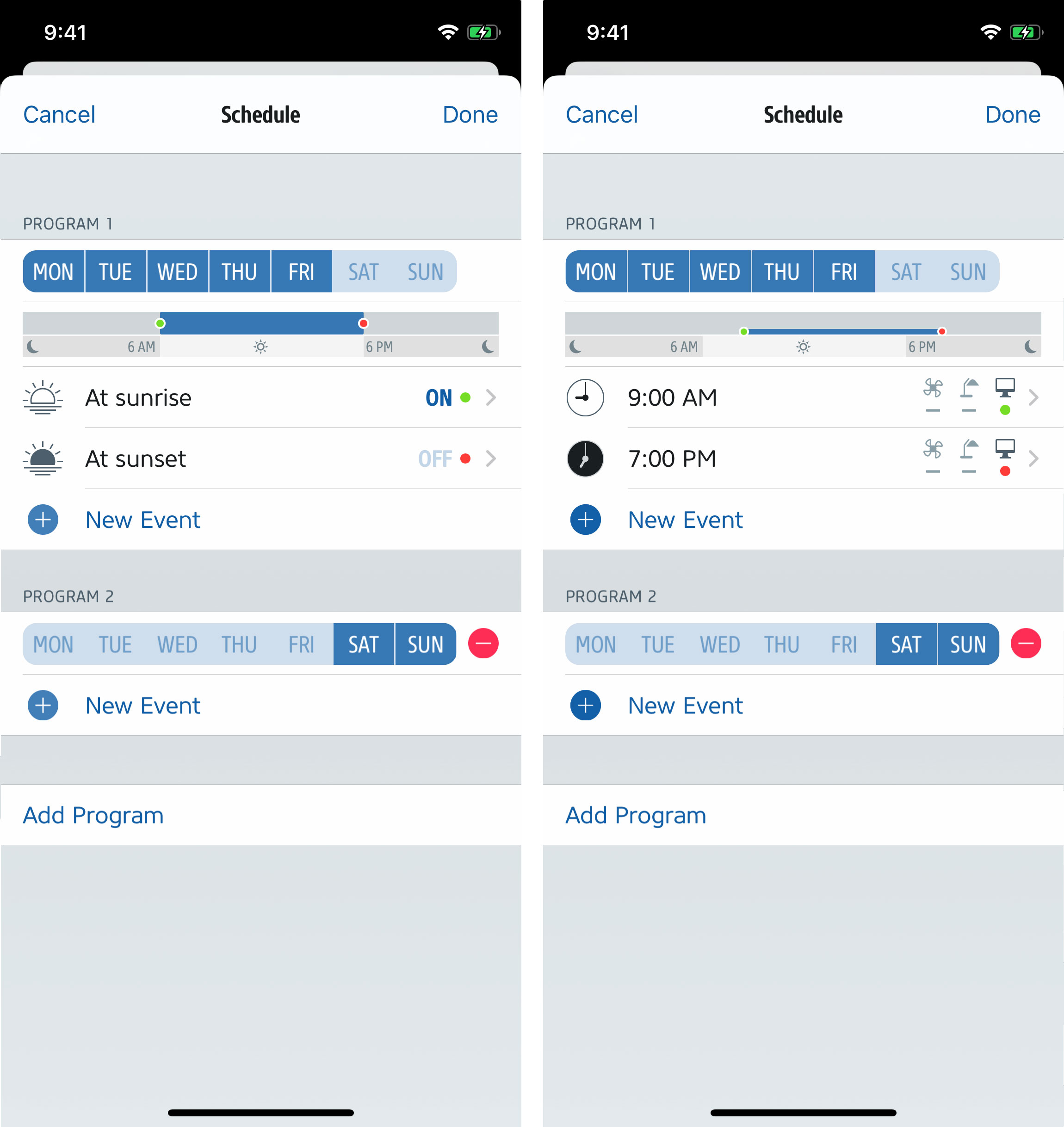 Eve Aqua
Eve Aqua also offers the creation of different programs that allow you to vary your watering routine on different days of the week. And you can set up separate watering durations for each of up to seven watering periods per day. Here as well, you can either set the system to turn on at a specific time or based on sunrise and sunset.