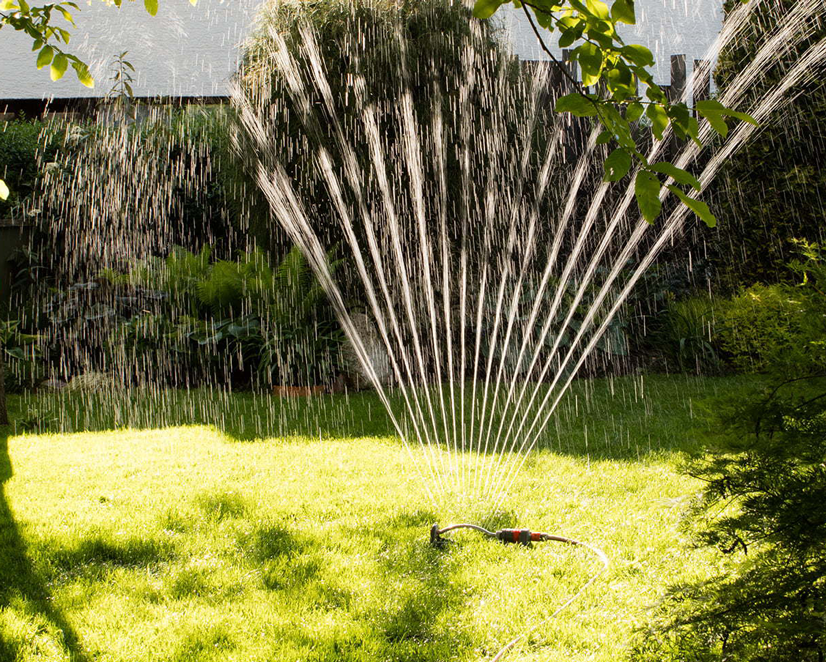 Automatic multi-zone lawn and flowerbed irrigation made easy
Jul 19, 2019 - by
Ina
- Comments
Summertime is upon us – and that means, of course, summer vacation! Having equipped our potted plants on the patio to survive a few days without us, we now turn our attention to the yard. After all, we want our grass to be green when we return from our two-week vacation.
That said, we have neither the time nor the inclination to install an underground sprinkler system. We want an affordable option that works and can be easily modified at any time.
With a corner house flanked by a yard with several beds, we have a lot of different areas to water. We'll admit, it seemed a bit daunting at first, but in the end it only took us about 5-6 hours.
Setting up watering periods
Using the latest version of the Eve app – Eve 3.8 – we're now able to run a Gardena Automatic Water Distributor with up to six different watering periods, which allows us to water up to six areas one after the other. The distributor is a mechanical device that receives water through one input and distributes it through six outlets. That way you can connect sprinklers, drip systems, misters and more. When the water pressure stops, the distributor switches to the next outlet.
What makes this system smart is Eve Aqua, which you connect between your faucet and the Gardena distributor. Use the Eve app to easily set up different watering periods for each of the six outlets.
This is what our setup looks like:
Outlet 1: Micro-drip watering system for our patio potted plants
(read how we set that up here)
Water for 8 minutes, daily


Outlet 2: Grass east side
Water for 20 minutes, 3x weekly


Outlet 3: Hedge east side
Water for 1 hour, 3x weekly


Outlet 4: Grass, raised flower bed & perennial bed
Water for 30 minutes, daily


Outlet 5: Rock garden north side
Water for 4 minutes, daily
And it was so simple to set up in the Eve App: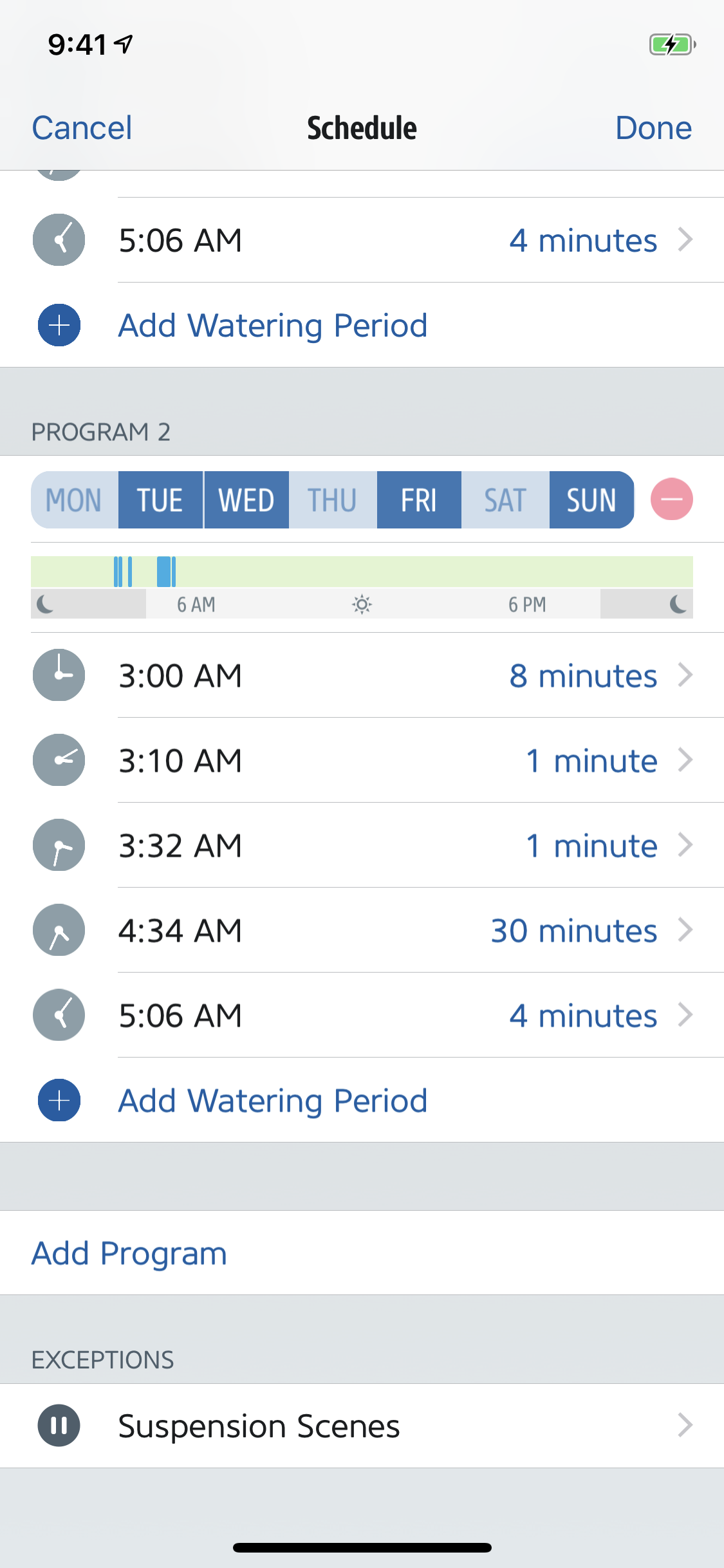 Any unused outlets can be locked using a lever – outlet 6 in our case.
It's important to remember that the Gardena Distributor is a mechanical device that switches to the next outlet based on the loss of water pressure – so from 1 to 2 and 2 to 3, and so on. The system activates each unlocked outlet, even if on some days it's only set for one minute.
For example, our grass on the east side doesn't need to be watered every day. So, set outlet 2 to be activated on Mondays for 20 minutes and on Tuesdays for only one minute. The Eve app allows you to match the programmed watering periods to the needs of each individual area of your yard. We also recommend inserting brief pauses between the watering periods so that the water pressure in the distributor drops.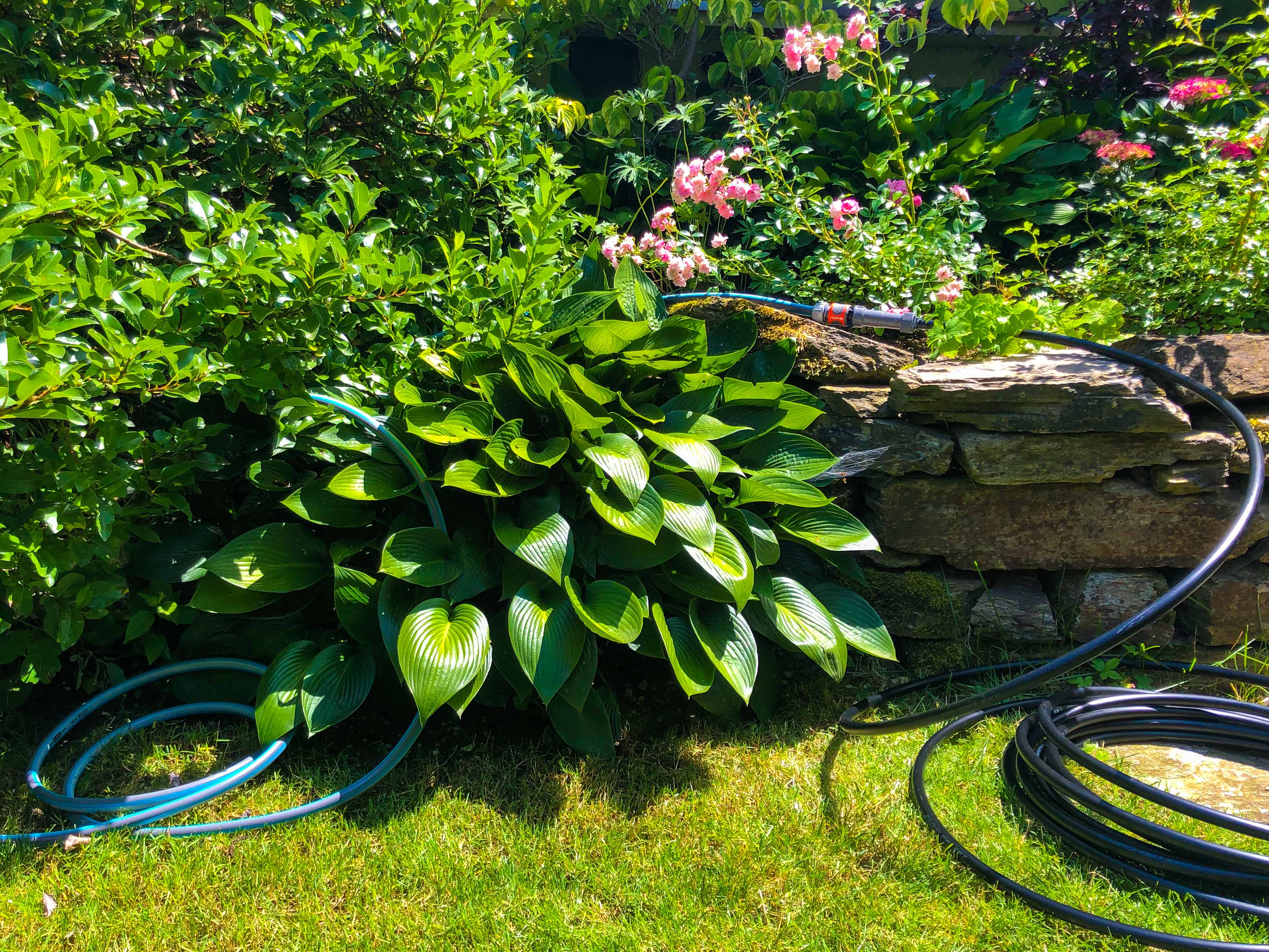 Flexibility at its finest
We have some spots that don't need to be watered regularly. To reach them, we simply connect standard hoses. If multiple spots need the same amount of water, we can add a 3-way Y coupling to distribute the water to those spots (outlet 4 in our case).
We can then add sprinklers or micro-drip systems depending on what needs to be watered. Just like on our patio, this works in our perennial beds by connecting a garden hose and connecting pipe (black) through a micro-drip-master unit.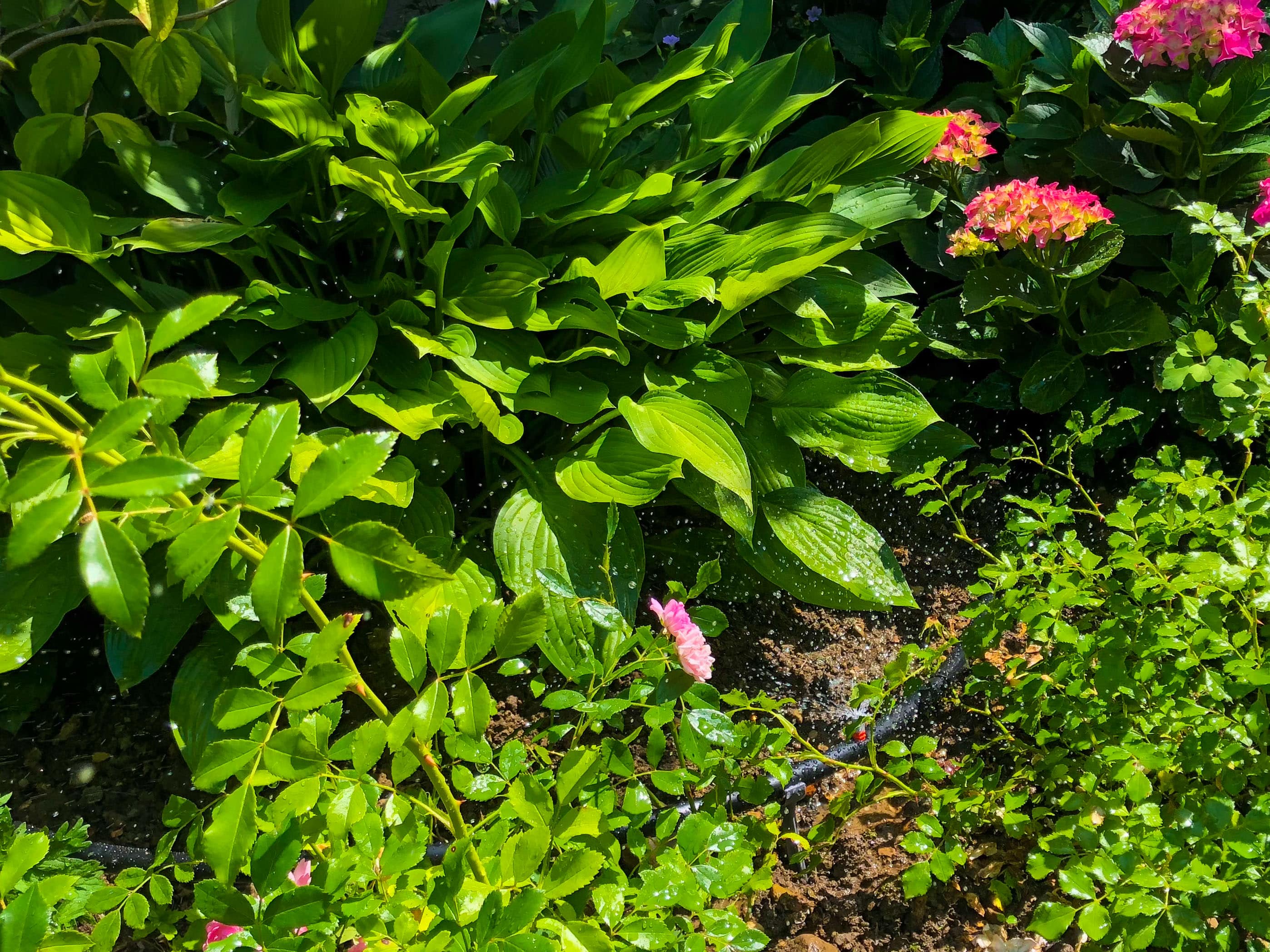 You can lay the connecting pipe through the entire bed (ours was some 30 m), adding more connecting pipes, if necessary, using T-joints or 4-way couplings. Then you can add all types of spray nozzles or drip heads anywhere along the way. Keep in mind that you'll need a mechanical installation tool. Simply drill into the side of the raised bed to run the connecting pipe through it.
All in all, this project took an intuitive app, the right hardware, and a whole lot of hose and hose connectors! It really went faster than we thought and by afternoon we were relaxing contently on the patio. Summer vacation, here we come!
And the great thing about this setup is that if it does rain while we're away, it only takes a few taps in the app to put the system on hold. But you'll need a home hub for that. Eve recommends HomePod mini, HomePod or Apple TV 4K.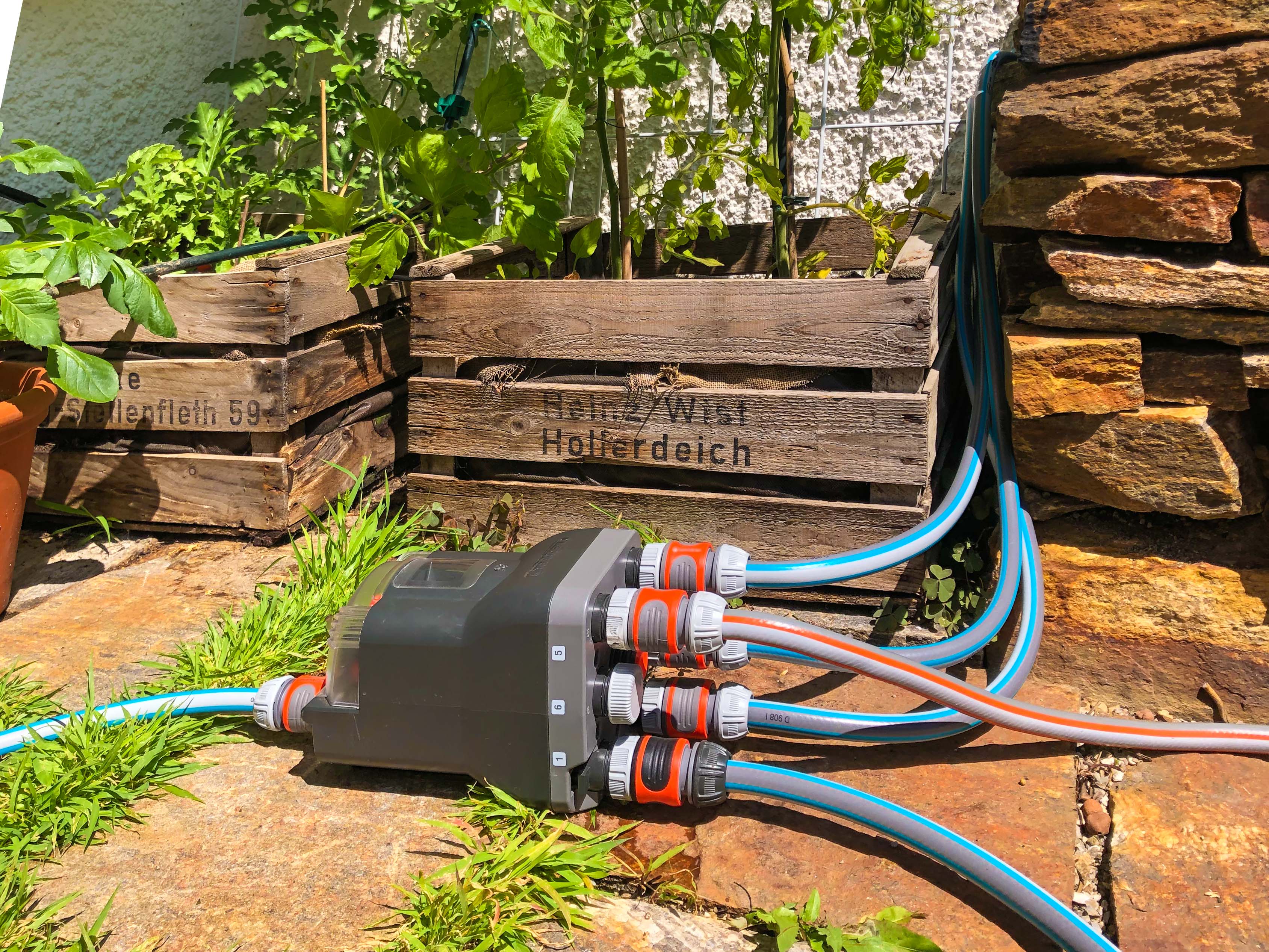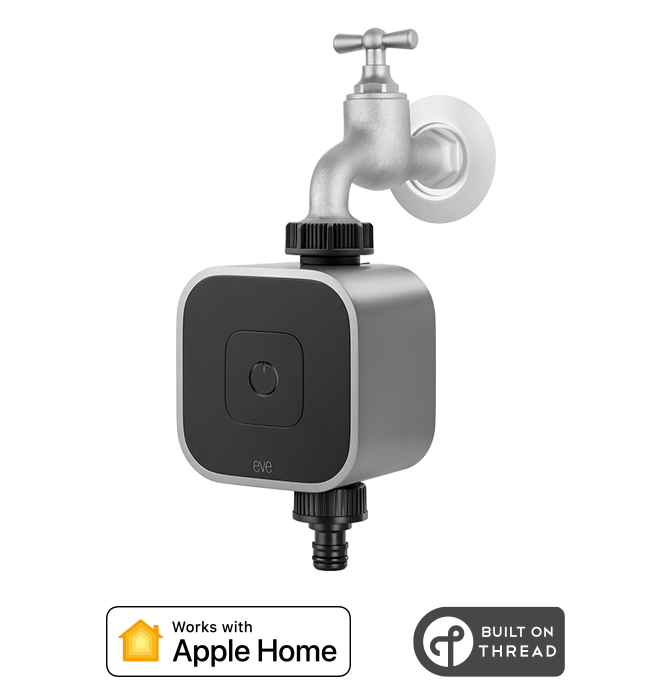 Smart Water Controller
Requires iPhone or iPad with the latest version of iOS/iPadOS
HomeKit, supports Thread
Add to cart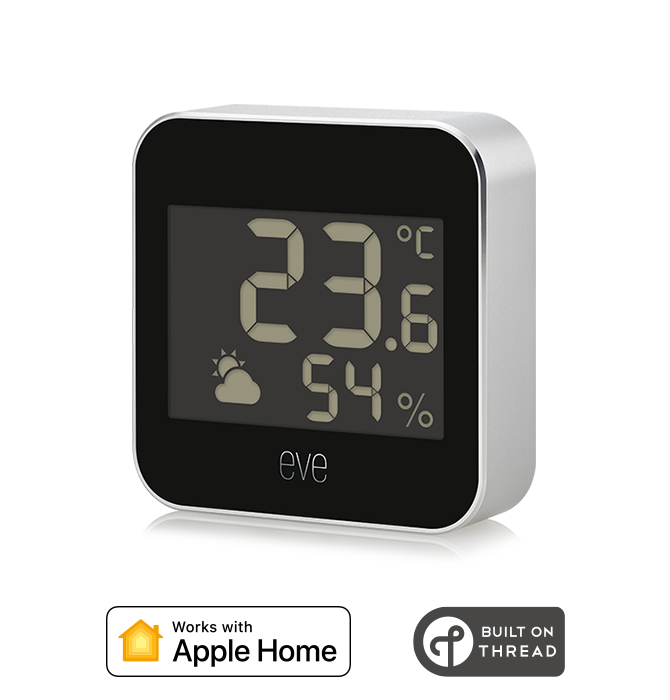 Connected Weather Station
Requires iPhone or iPad with the latest version of iOS/iPadOS
HomeKit, supports Thread
Add to cart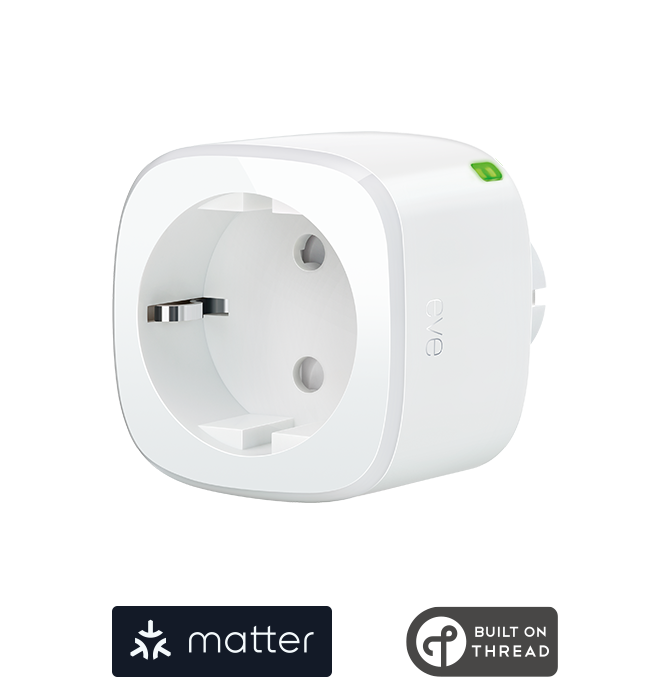 Smart plug
Requires iOS/iPadOS 16.4 (or later) / Android™ 8.1 (or later), Matter controller / Thread Border Router
Supports Matter & Thread
Add to cart