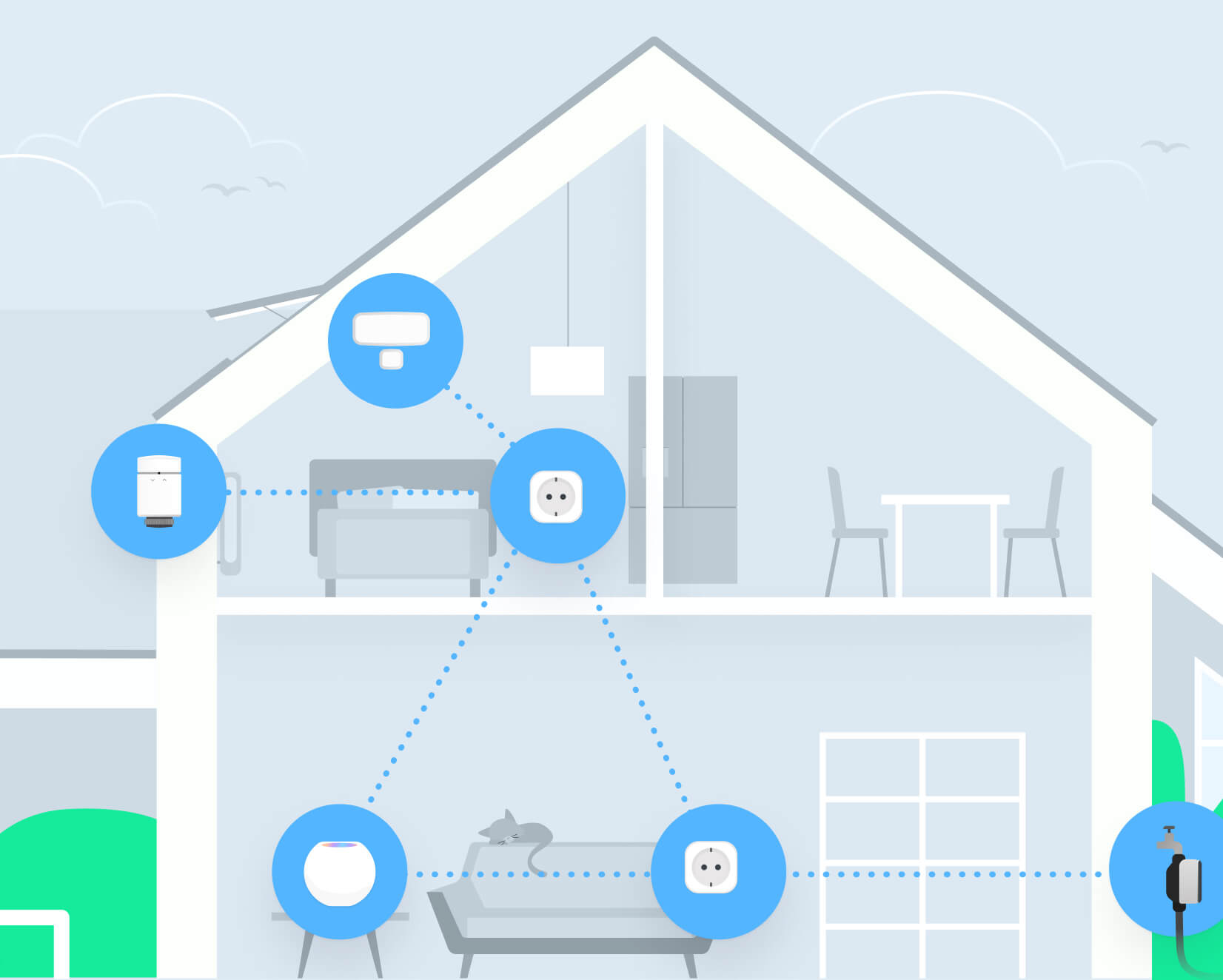 HomeKit Over Thread With HomePod mini and Eve
Nov 11, 2020 - by
Dr. Markus Fest
- Comments
A smart home without any limitations: discover how HomePod mini, Eve and Thread bring your smart home to the next level.
HomePod mini is Apple's new powerful smart speaker and most affordable home hub yet, with built-in Siri intelligence that provides quick and easy access to smart home accessories. That's not only great news for conveniently controlling your connected home, but also for reliability: HomePod mini adds mesh networking functionality to HomeKit, built on Thread. This cutting-edge technology was developed specifically for a responsive, robust, and secure smart home. A Bluetooth-equipped HomeKit accessory can now optionally offer Thread connectivity, making it even more powerful.
Eve is All Systems Go.
Many Eve accessories on sale today are equipped with the latest generation Eve Core chipsets, which can support Thread. Thread-enabled firmware updates will become available this month for current Eve Door & Window and European Eve Energy models. We expect to be able to offer free firmware updates for the current generation of Eve Aqua and Eve Thermo soon and we're working on bringing Thread technology to more Eve accessories going forward.
Discover here if your Eve accessory supports Thread
Bluetooth Remains. Thread Enhances.
Bluetooth is required for HomeKit over Thread, so Bluetooth remains available and your accessories continue to work as they always have. Now, as soon as you add HomePod mini to your home, your Thread-enabled Eve accessories will also be able to communicate over Thread. This happens automatically without you needing to configure anything, and it brings some immediate benefits:
Thread is based on the universally deployed Internet Protocol version 6 (IPv6) standard, making it extremely robust. A Thread network does not rely on a central hub, such as a bridge, so there's no single point of failure. And Thread has the ability to self-heal – if one node (or accessory in your Thread network) becomes unavailable, the data packets will select an alternate route automatically and the network simply continues to work. And while Wi-Fi and Bluetooth networks tend to become somewhat unreliable and challenging to manage with a large number of accessories connected, a Thread network will scale up easily and actually become more robust with every new accessoy.
Wi-Fi and Bluetooth coverage of your home can be extended by adding repeaters and additional dedicated hardware such as home hubs or Eve Extend to increase the range of HomeKit-enabled Bluetooth accessories. A Thread network expands pretty much automatically as you add more accessories. As an example, if your Eve Aqua is beyond the reach of your HomePod mini, an Eve Energy somewhere in the middle could connect the Eve Aqua to the Thread network. This is the power of Thread´s mesh networking: it is completely automatic, fully interoperable, and involves zero configuration.
Thread also paves the way for many future improvements. Among them: HomeKit-enabled accessories will be able to talk to each other over IPv6, thereby opening up a host of new applications especially for battery powered accessories. Thread has extremely low power consumption, so we're expecting to see a considerable increase in battery life over the next years. On top of all this, Thread – alongside Wi-Fi and Bluetooth – is a pillar of the upcoming Matter standard, which is another reason why you're future-proof with Eve.
The Future Is HomePod Mini – Not Bridges.
HomePod mini is your key to enable your HomeKit accessories to communicate over Thread. Apart from that, you don't need anything else: no proprietary bridges or gateways, and no starter kits. With HomePod mini and Thread-equipped Eve accessories, enjoy the smart home of the future – today.