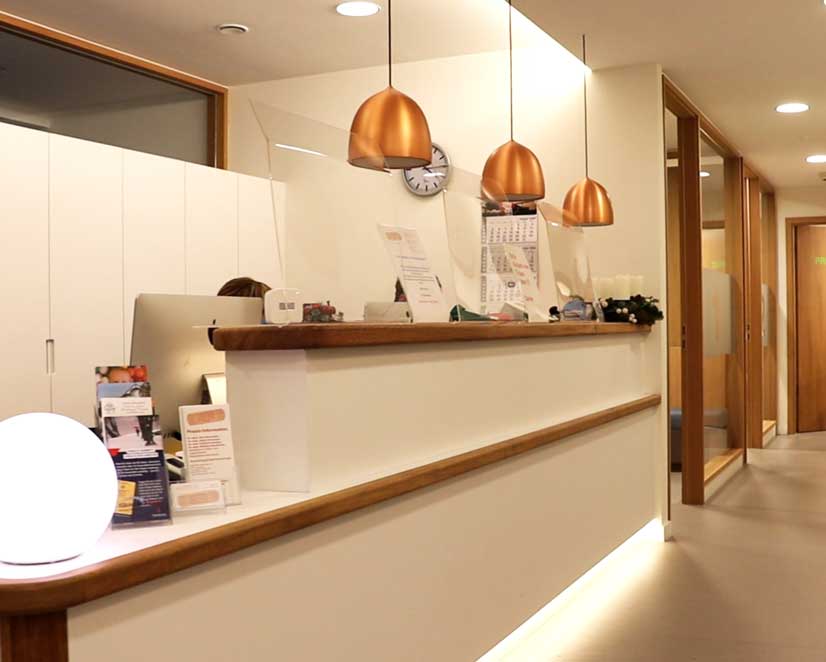 Smart Office
Jul 12, 2021 - by
Ina
- Comments
An ever-growing number of homes are embracing Apple HomeKit and Eve to make life easier, increase security and maintain 100% privacy. And just like private households, businesses and their staff also benefit from a smart helping hand. Daily routines, such as going around each room turning on the lights or adjusting the heating to the desired temperature every morning and evening, are not only time-consuming – if you miss a thermostat, rooms quickly become too cold for customers and staff.
If you forget to hit the light switches and turn down the heating each evening, you drive up energy costs for no good reason. And rooms quickly turn into iceboxes if windows are left open – and an open invitation at night to any passing burglar. Read on to discover how smart solutions can help.

Let the heating take care of itself
Eve Thermo, the smart radiator valve, enables you to...
...heat rooms individually using schedules.
Practically deserted offices and totally vacant stores have become the norm during the corona crisis, and there's no point keeping places warm if nobody's there. With the Eve app you can create a custom schedule for each room, plus set the comfort and economy temperature for the room in question. With schedules that are fine-tuned for workdays or weekends, or even customized for each day, you then only need to heat to your desired temperature when someone is actually there.
Busy medical practices and childcare facilities use schedules to make life easier for staff every morning and evening. Thanks to these, rooms are already warm by the time the first patients or kids arrive – and no energy is wasted keeping them up to temperature unnecessarily during the night or on weekends. Learn more
...control your heating based on whether someone's there.
Those who work in small offices without fixed opening times know all too well how random days can be. So to cover all of life's little eventualities you're best off controlling your heating using a combination of schedules and location control. With a home hub (HomePod, HomePod mini, or Apple TV) in your office, HomeKit knows when the last person has left for the evening and when the first person arrives in the morning. The heating is adjusted accordingly, and you can suspend or include any schedules you've created. Learn more
Vacation Mode is perfect if you know your offices are going to be vacant for any length of time. If you set this scene, it'll suspend your schedules and hold the energy-saving temperature you set for your thermostats to prevent rooms from freezing up. There's no need to worry about scale buildup in your radiators either, as Eve Thermo will continue to take care of such regular self-maintenance tasks.
...adjust your radiator directly via the thermostat, by asking Siri, or using an iPhone/iPad app.
Just like everyday doesn't run to plan, no two days are the same. Somedays, you just need to crank up the heat a bit. That's why you can control Eve Thermo manually via the accessory's touch controls – and also set the child lock to prevent curious little fingers doing that job for you without you knowing.
...cut energy costs.
You'll literally be throwing money out the window by heating your rooms while airing them. Eve Thermo detects drops in temperature and pauses the heating. And when combined with an Eve Door & Window wireless contact sensor, it can do this with much greater accuracy even if the window is only open for short bursts.

Increase your security
Eve Motion and Eve Door & Window sensors as well as the Eve Cam secure indoor camera can monitor offices and stores around the clock...
...providing you with insights if any windows or doors are open.
A quick glance at the app and you can check if all your doors and windows are shut – either at the location, from home, or when on the move.
...alerting you the instant motion is detected or a window is opened when you're away.
If the state of a window or door changes, a notification on your iPhone and Apple Watch will tell you. You can also customize when you want to receive these notifications, such as only at night and only once the last person has left.
...enabling you to keep a constant eye on your premises.
Eve Cam will send a notification plus a snapshot of the live stream to your iPhone the moment motion is detected in a vacant store or office – you can also record whatever the camera captures. And as soon as the first employee arrives at the office, the camera will deactivate automatically – for 100% privacy for everyone. All features of Eve Cam

Automate your lighting
It's a breeze to make your lighting smart using Eve Energy, Eve Energy Strip, and Eve Light Switch), plus you can accentuate any space using Eve Light Strip. Eve smart lighting solutions offer a whole bunch of benefits, including...
...greater convenience – control all your lights by asking Siri or automatically if motion is detected.
Open a door and have your lighting turn on automatically in your chosen rooms. Then simply ask Siri to turn the lights off again at the end of the day.
...lower energy costs – only have your lights on when someone's actually there.
When everybody's left, but the last person to leave forgot to turn off the light, you can do that really easily from the comfort of your home.
...increased security – use schedules to give the impression someone's in.
Use the power of schedules to have your Eve lights and switches turn on and off in different rooms at different times. By giving the impression someone's in, you increase security – especially if places are vacant. Learn more

Enjoy great indoor air quality
Eve accessories help you monitor your indoor air and improve its quality with a few small automations, including...
...triggering a visual alert if the air quality is poor.
If a light glows red, it's time to air – a really simple way to maintain healthy indoor air quality. Learn more
...having your humidifier turn on if your indoor air's too dry.
Who hasn't suffered a dry throat and itchy eyes simply because the office air is often too dry? To counter this, you can use a simple automation to turn on your humidifier – and improve everyone's sense of wellbeing. Learn more
You'll need a home hub, such as HomePod, HomePod mini, or Apple TV, for automations, remote access, notifications, and HomeKit Secure Video.