Safeguard your home against break-in with HomeKit
Feb 15, 2021 - by
Lars
- Comments
Burglars love nothing more than poorly lit and less-frequented places as it helps them stay stealthy. Given that it's dark most of the time, in the northern hemisphere anyway, in the fall and winter, it makes it all the more important to protect your home against any attempted break-ins.
Thankfully, if you use HomeKit accessories, which you can even automate using a home hub, you'll already have plenty of easy to use and affordable options at your disposal to secure your space – from a straightforward way to give the impression you're home to full-on video surveillance. It doesn't matter if it's your own home stacked with expensive home office kit, an office or store that's been left vacant owing to the current pandemic, or a vacation home that remains unoccupied for weeks at a time. Read on to learn how HomeKit can help.
Give the impression you're home
Most burglars avoid confrontation at all costs, preferring instead to target vacant homes where it looks like no one's home. If you need to leave your home unoccupied for any length of time, you can give the impression that you're still there by using lighting schedules.
With your Eve Energy smart plug, the Eve app, and any regular plug-in lamp (not one with a dimmer switch), you can set up this automation in a matter of minutes. It will then turn on your lamp at different times for different periods and in a random pattern every night, seven days a week. Since Eve Energy supports autonomous schedules with all the necessary settings stored on the accessory itself, you don't need a home hub and you don't even need to leave your iPhone close to the accessory either.
Open the Eve app and go to the detail view of the Eve Energy accessory you want to set up. Tap the gear icon in the Schedule segment, select the first day, then add your on/off events. Keep things random, and avoid patterns (such as having the light turn on or off in one-hour intervals).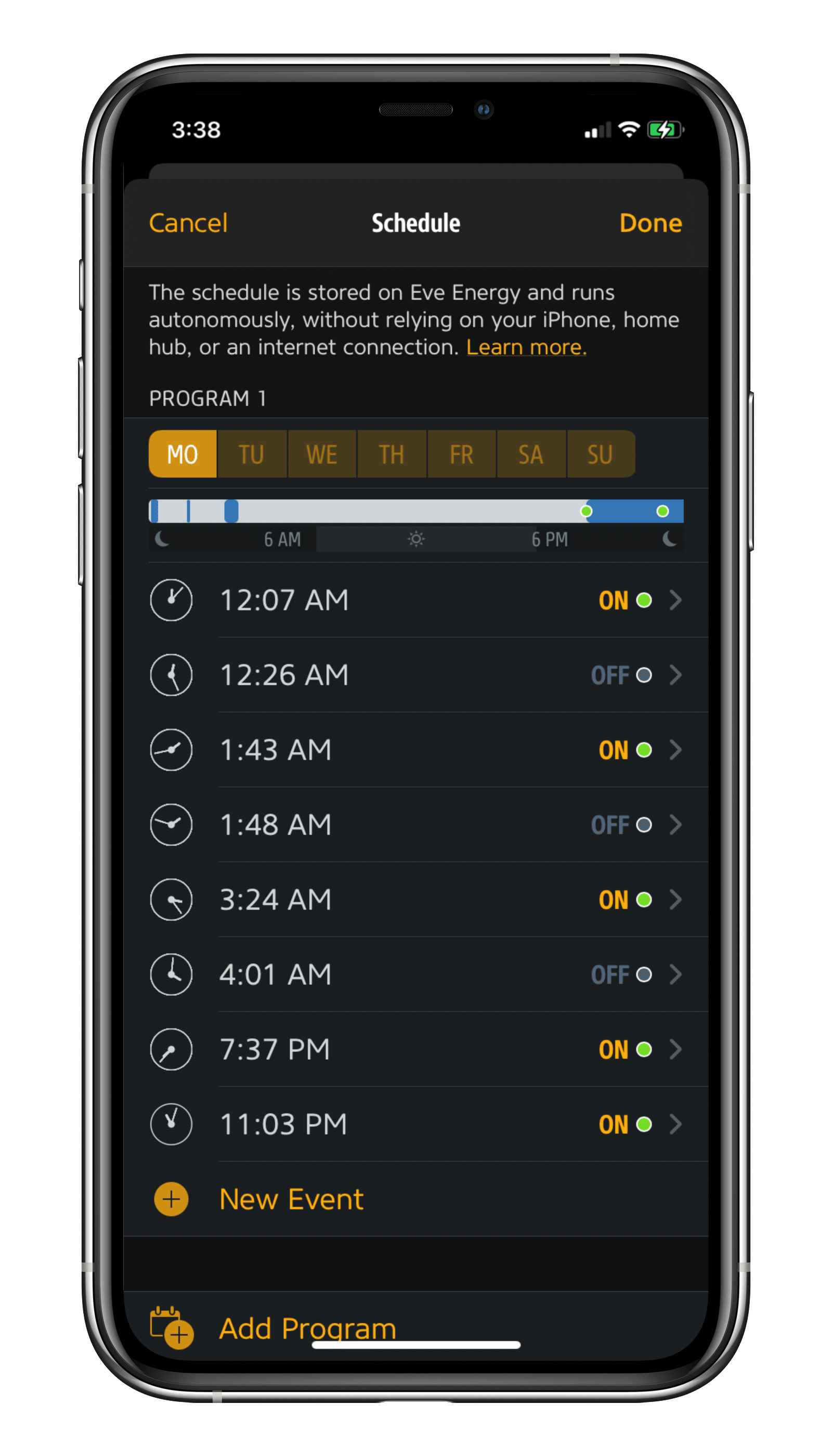 Motion-controlled outdoor lighting
After front entrance doors, burglars try balcony and patio doors next. But if you control your patio lighting with a smart light switch and add an Eve Motion sensor into the mix, you can have your outdoor space flood with light as soon as someone approaches. As it's waterproof, you can also put Eve Motion anywhere you want (just make sure it's someplace where someone can't just remove and disable it).
In the Eve app, tap the Automation tab and then go to the Rules view. Tap Add Rule > Next > Add Trigger > Motion. Toggle on Eve Motion and tap MOTION. Now tap Add Time Condition, select TYPE > DAY EVENT, RELATION > AFTER, and TIME > SUNSET, then tap Add. Choose the scene you want to control your light switch, then name the rule. By going to the accessory settings, you can set the duration for how long you want Eve Motion to report motion as detected. It's then a breeze to create the same rule again, but this time using the trigger Motion > CLEAR and a scene that switches off the light again.
If you want your iPhone to alert you with a notification that motion has been detected, simply open the Home app and tap the little house icon on the top left followed by Home Settings. Tap the Sensors entry, select Eve Motion, then toggle on the Notifications on This iPhone option. You can set whether you want to only be notified at specific times, such as at nighttime when nobody's home, under the optional Time and People conditions.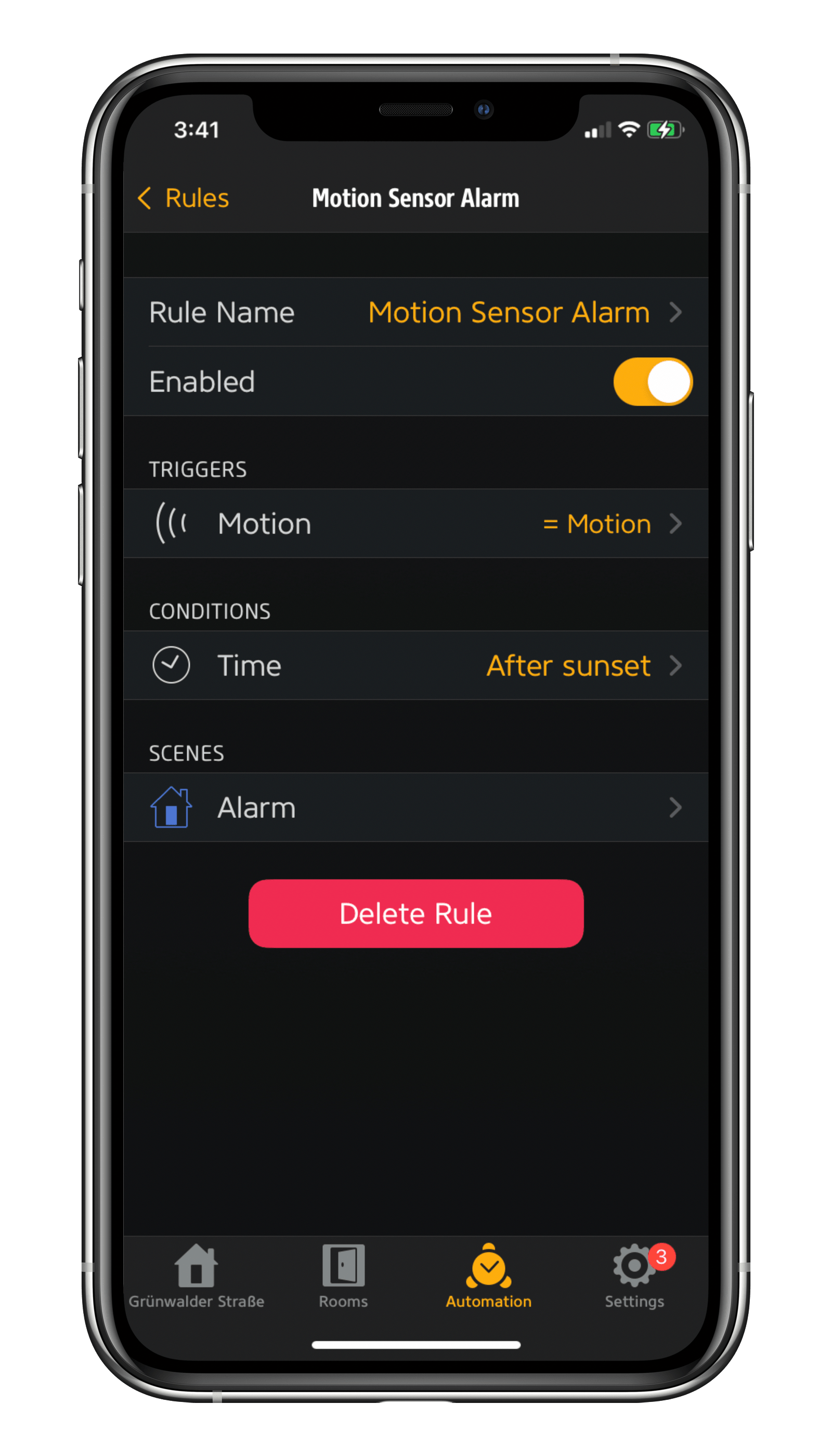 Motion-triggered recording
Enjoy peace of mind knowing your smart indoor camera is keeping an eye on your place, particularly if you find yourself away from home for days or weeks at a time. You'll then know if any motion is detected as well as who's just entered your home. And if it doesn't turn out to be your nice neighbor who's just come to water your plants, you'll have recordings in iCloud as evidence, you can notify the police, and you can warn the intruder of their immanent arrival thanks to the built-in mic and speaker.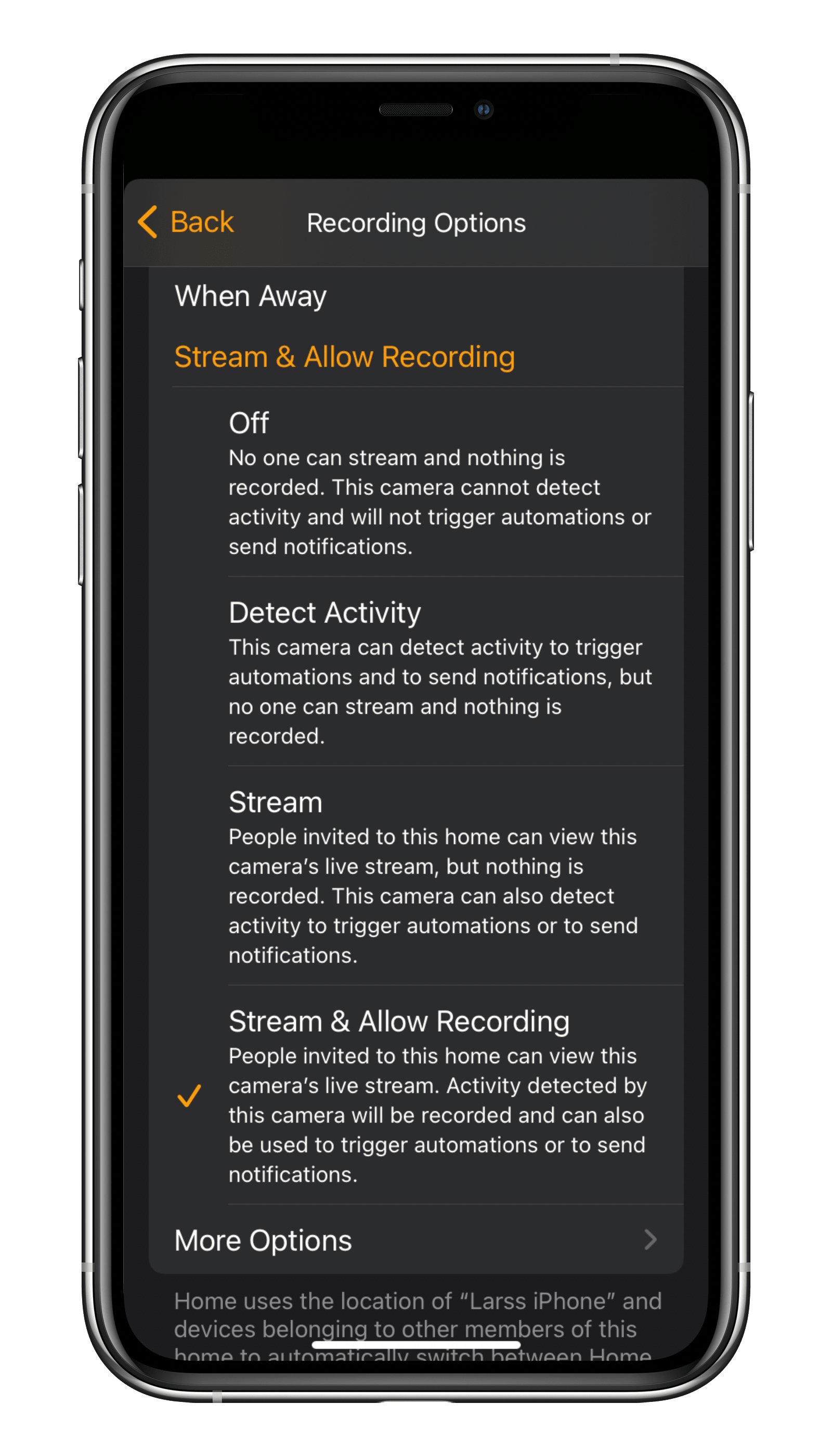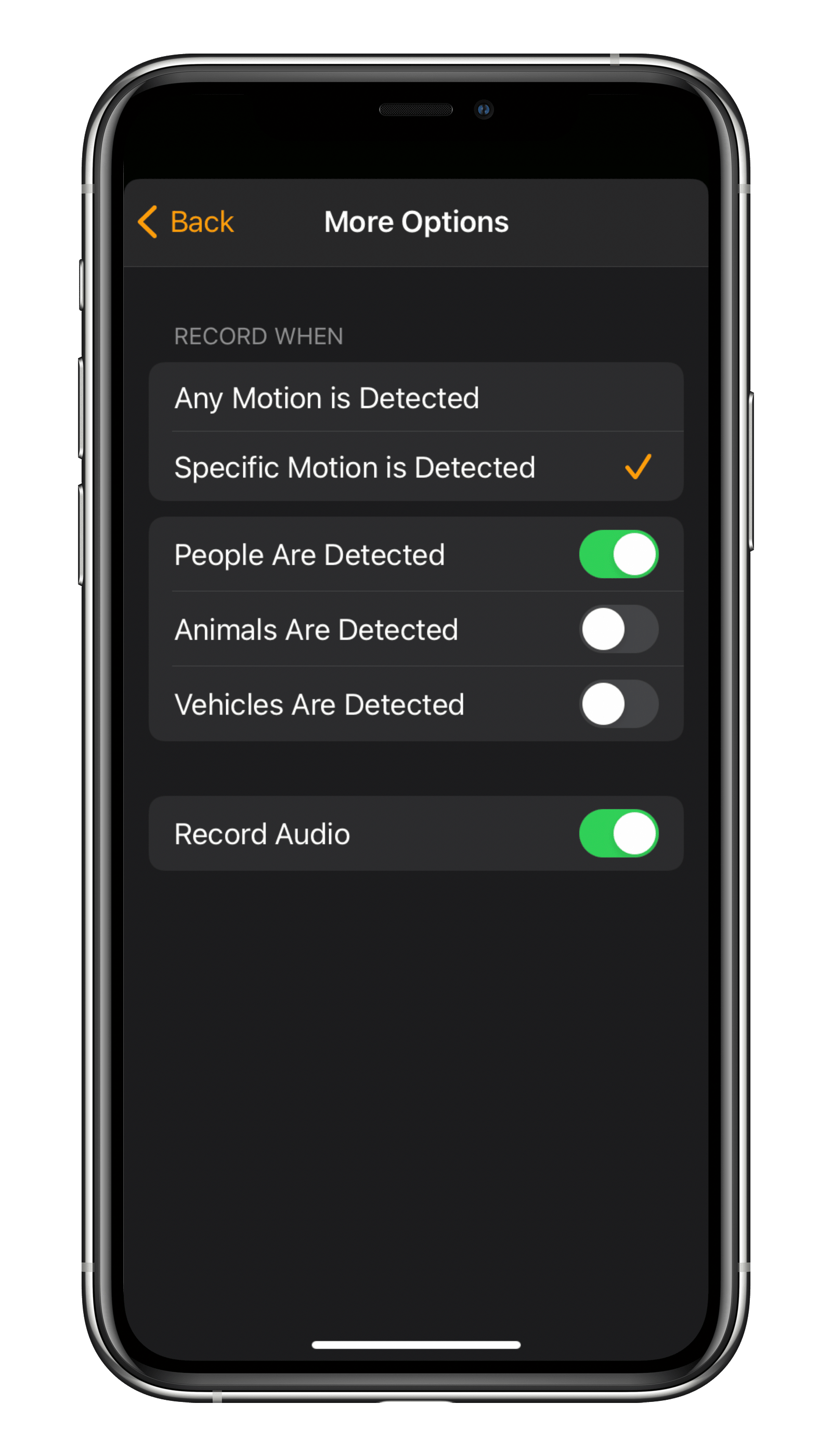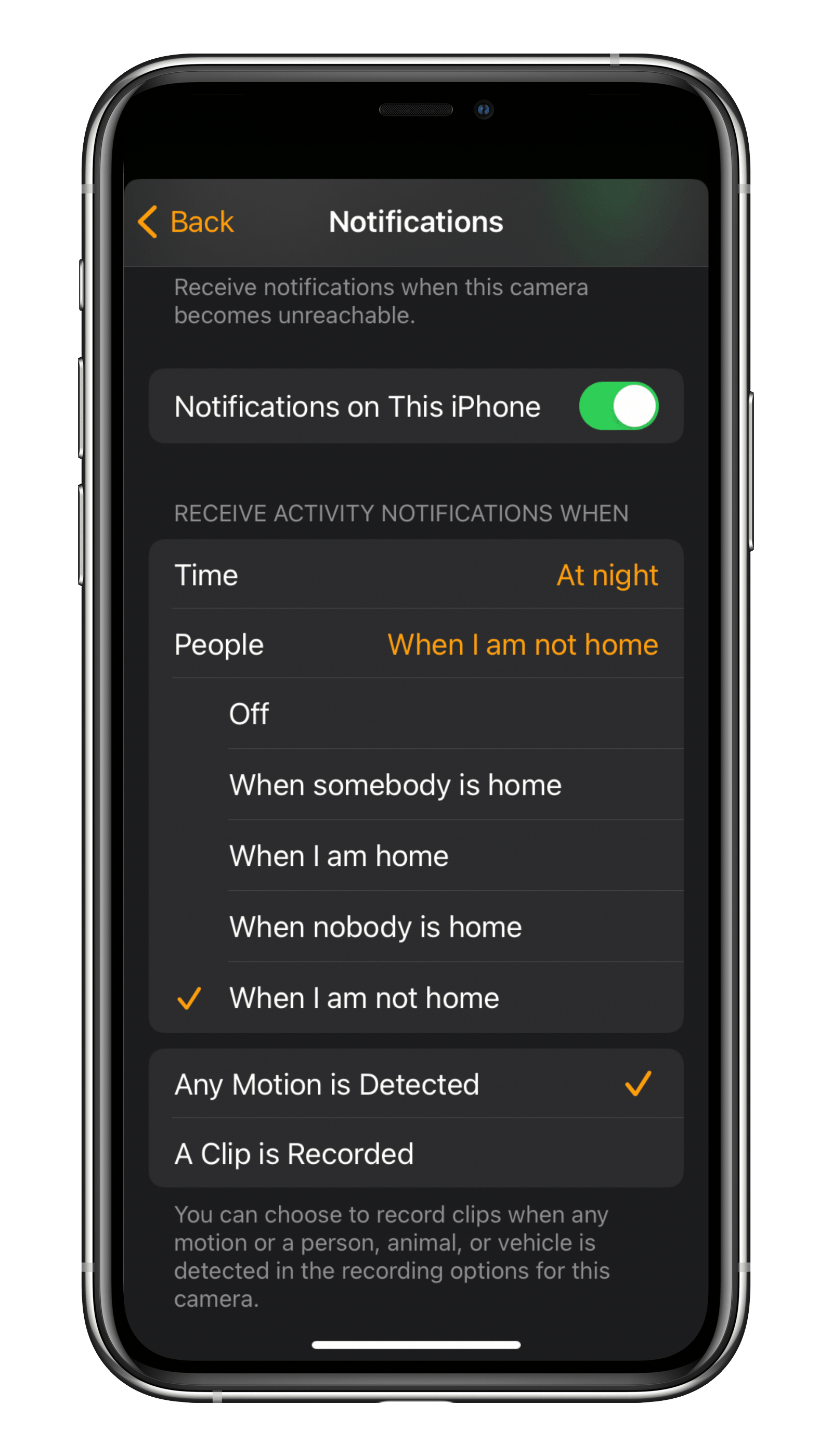 Contact sensor-controlled, HomePod-based alarm
You'll need a contact sensor, such as Eve Door & Window, fitted to a door or window to deter any intruder who has advanced far enough to pry one of them open. With a HomeKit rule and an audible alarm from your HomePod or HomePod mini, you can alert fellow residents and neighbors to the burglar. See iMore's blogpost on how to set up this simple, but effective HomeKit alarm system.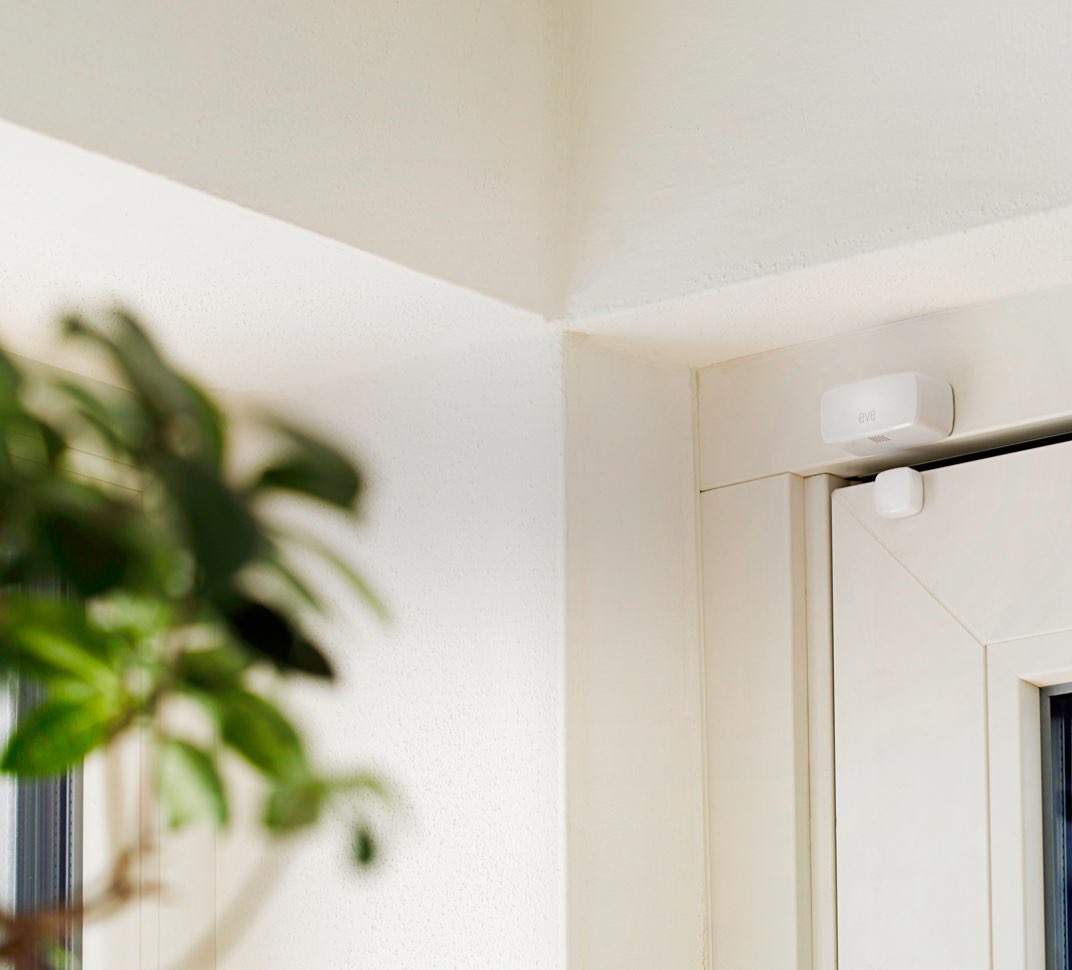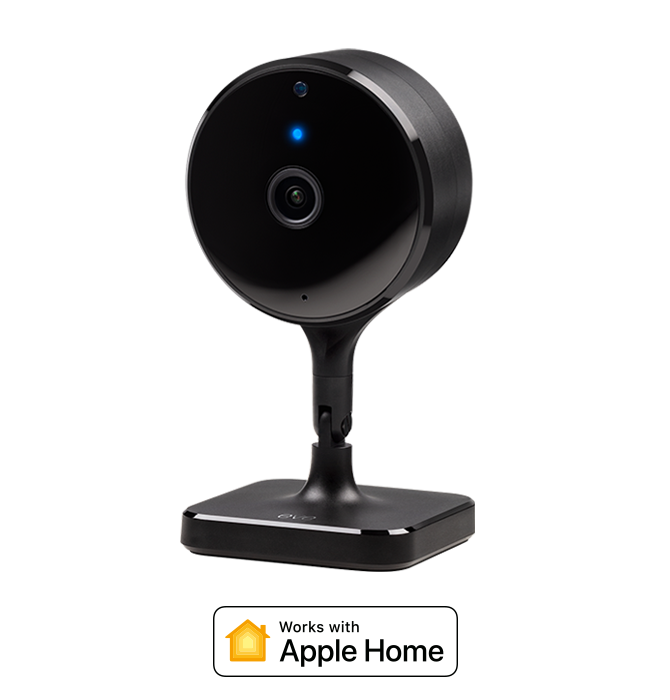 Secure Indoor Camera
Requires iPhone or iPad with the latest version of iOS/iPadOS, HomePod or Apple TV (4th generation or later) as a home hub, Wi-Fi network (2,4 GHz 802.11b/g/n)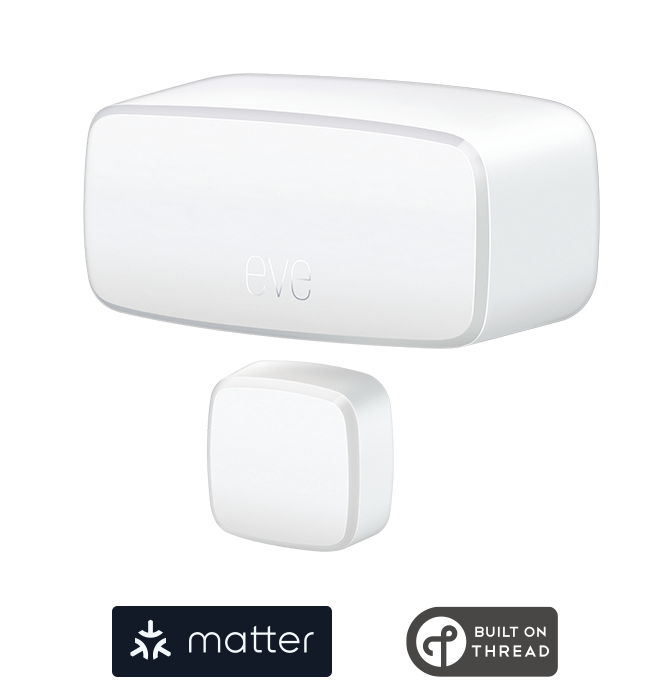 Wireless Contact Sensor
Requires iOS/iPadOS 16.4 (or later) / Android™ 8.1 (or later), Matter controller / Thread Border Router
Supports Matter & Thread
Add to cart