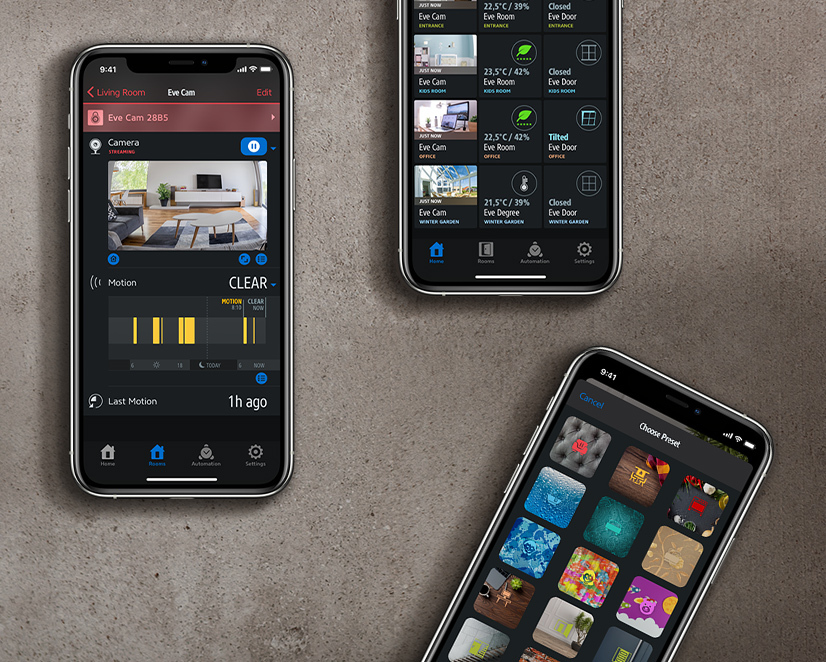 Meet Eve 4.2, your new favorite app for HomeKit-enabled cameras
Apr 14, 2020 - by
Tim
- Comments
A new version of the Eve app just appeared on the App Store, and here's all you need to know about it.
Cameras & Privacy, united.
HomeKit-enabled cameras are on the verge of becoming a cornerstone of every HomeKit setup. Why?
While smart home cameras have been around for a long time, the introduction of HomeKit Secure Video has finally addressed all of the security concerns that come with them. Live video never touches any cloud, and cameras can get switched off reliably and completely once any family member arrives home. And back on when everyone's left. All while clearly indicating their status with a clearly visible LED.
As home is your most private space, this assurance of never even offering the potential of being observed without your knowledge is a game-changer for smart home cameras. And Eve 4.2 is here to empower you to get the most out of your HomeKit-enabled cameras when you need them.
The perfect camera companion.
If you're already using the Eve app with a HomeKit-enabled camera, you know that you've always been able to take a quick look at your HomeKit-enabled cameras in At a Glance. Enter Eve 4.2, which takes camera support to a whole new level: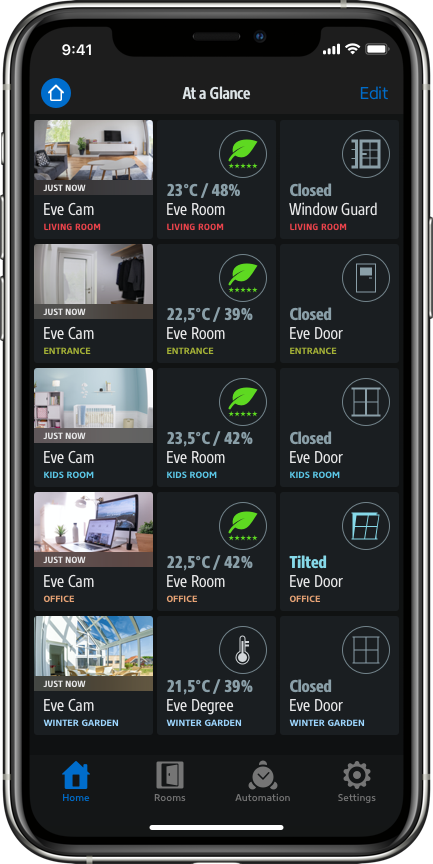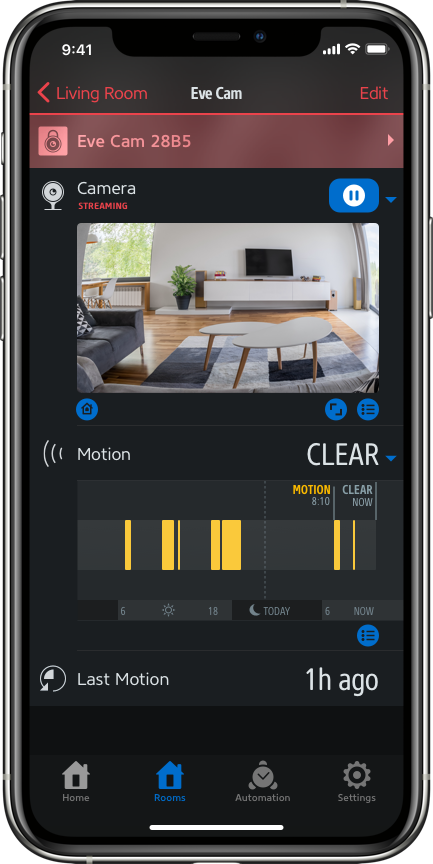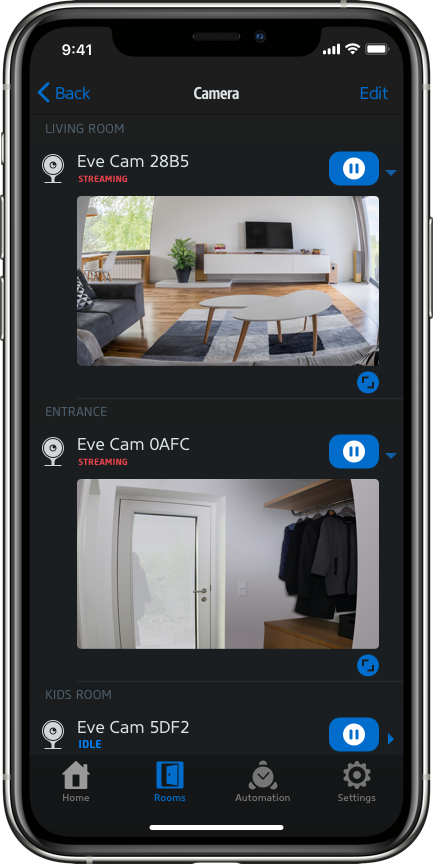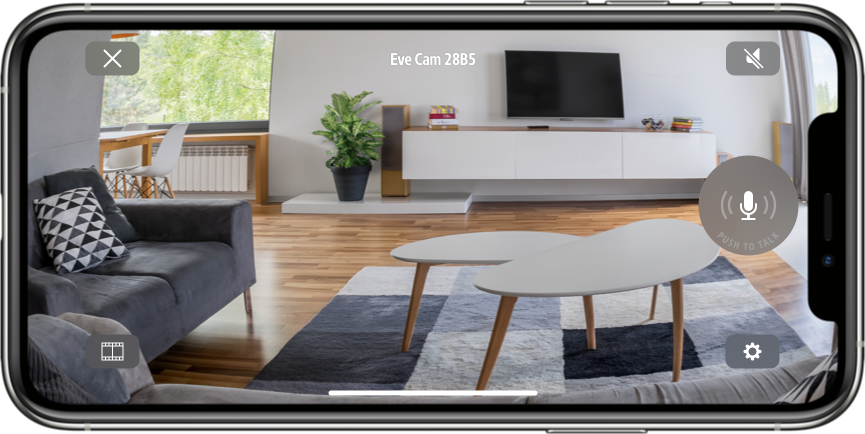 Meet Eve Cam.
As you might have guessed, we're gearing up for the release of Eve Cam - the camera built from the ground up to protect your privacy.
Eve Cam exclusively taps into HomeKit technology to deliver state-of-the-art privacy by design, with no parallel data sharing, no account or registration, and no tracking or profiling. And even when you're at home and have disabled all video features, you can still use Eve Cam as a full-blown motion sensor to control your other HomeKit-enabled accessories.
Eve Cam will start shipping end of May 2020 – learn more and sign up for updates here.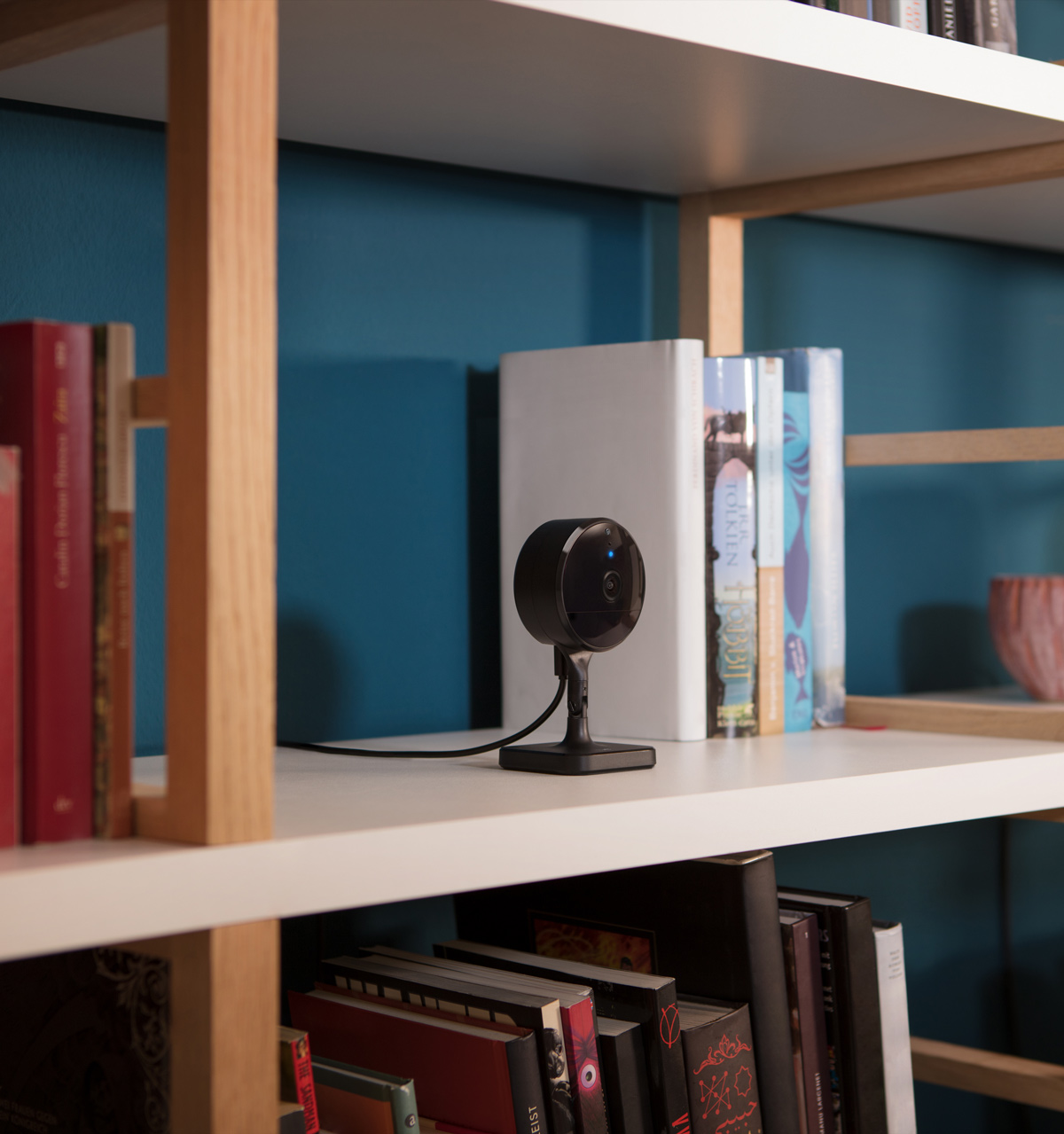 There's even more.
Cameras are not your cup of tea? Don't worry, Eve 4.2 has a lot more to offer. There are countless small improvements throughout all areas of the app, but most notably, your settings and customizations take a front row seat in this release.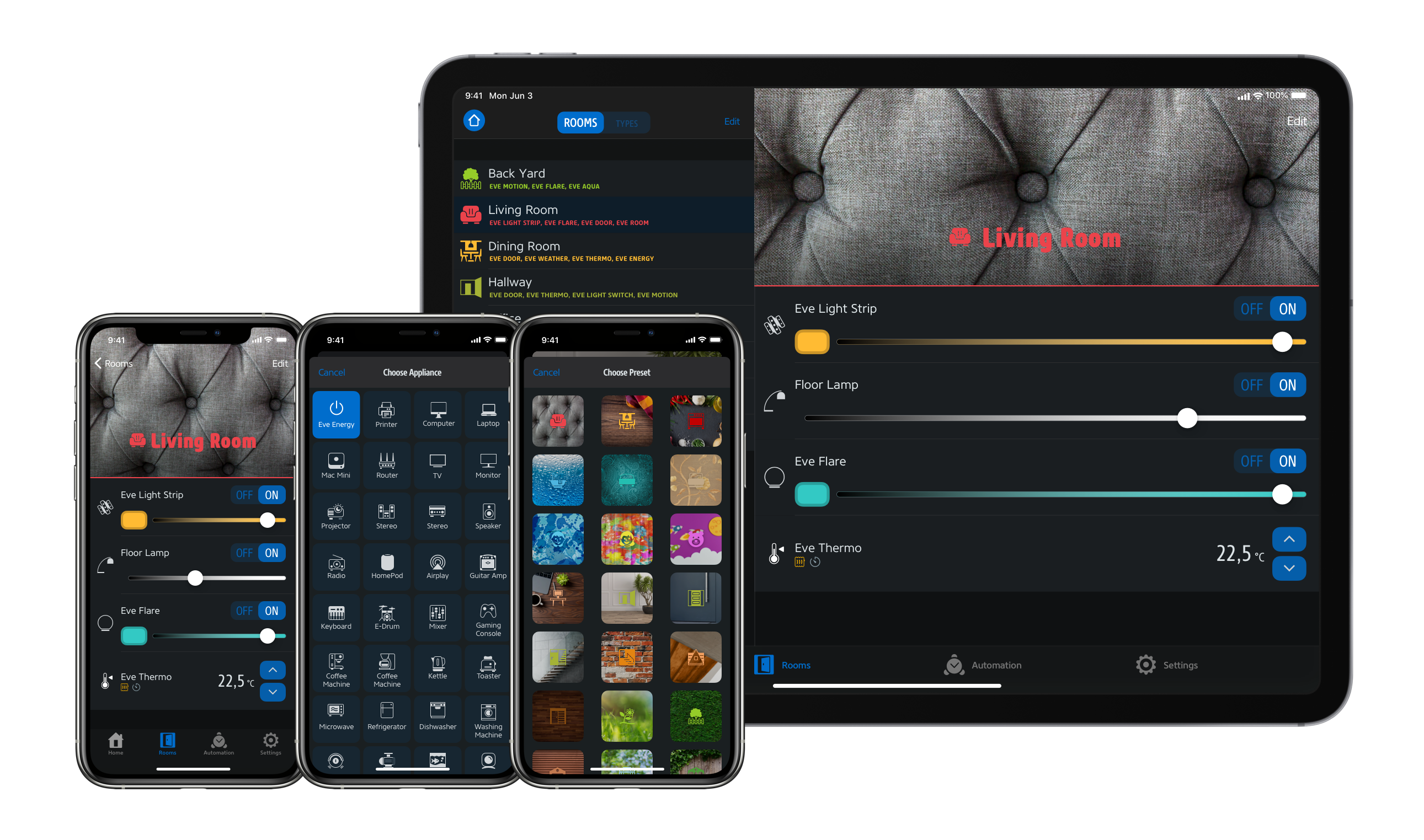 Introducing shared Eve settings.
Custom room images, accessory icons, sorting: with Eve, you can personalize your home down to the finest detail. With 4.2, Eve now securely shares your Eve settings between all your iOS devices using your personal iCloud account.
Any iPhone or iPad using the same iCloud account will now automatically share your customization settings, and your At a Glance view will honor different settings for iPhone and iPad.
As you would expect from us, this feature is built with uncompromising privacy in mind. Your Eve settings never touch any server beyond Apple's own iCloud - no Eve server, and no other proprietary cloud. They are shared using native iOS CloudKit technology and secured using all of the mechanisms you've come to expect from your iCloud-powered ecosystem, such as two-factor authentication and on-device Core Data security mechanisms. The current status and values of your HomeKit-enabled devices, including previous measurements and other historical accessory data, are not shared among devices and are exclusively stored locally on your iOS device.
As with other iCloud services, you can control access in the settings of your iOS device by navigating to Apple ID > iCloud.
Make each room yours.
The revamped room appearance editor makes it easier than ever to adjust your home to your liking. Many new room presets have been added, and you can tap Edit in any room and find the new customization options by tapping the icon next to your room's name. No matter whether you've picked the default image, a preset, or added your very own picture - you can now choose your room color from a unique palette based on image you've selected.
We hope you enjoy this feature-packed release of the Eve app! If you want to learn more about the Eve family, feel free to browse other blog posts or subscribe to our newsletter.