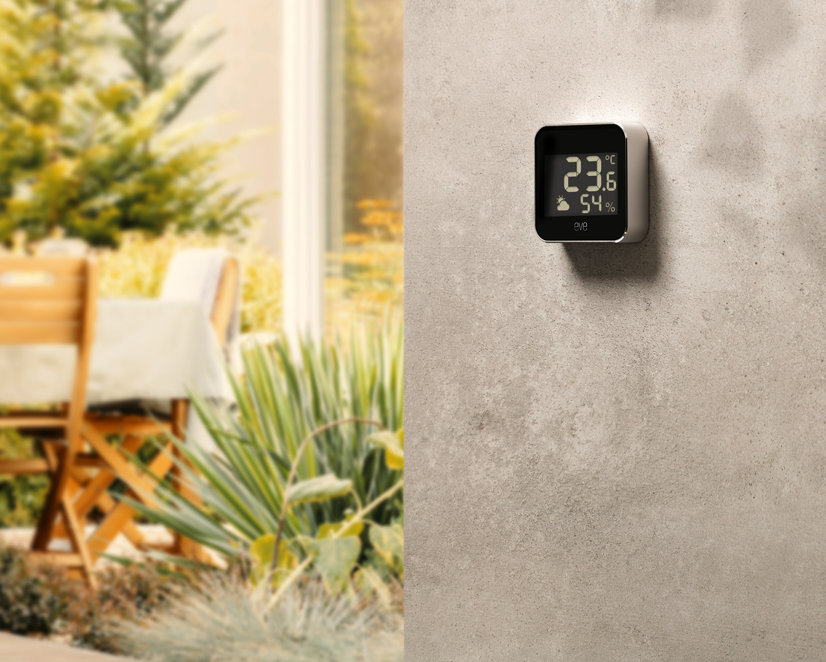 All features of Eve Weather
Mar 14, 2023 - by
Lars
- Comments
Eve Weather combines the advantages of all types of weather monitoring solutions to give you insights come rain, wind, sun, or snow. Just like when using an app, you have lightning-fast access to the information you need when you need it – all without you having to share your location with third parties clouded in mystery. A quick glance at Eve Weather, and you know exactly what's going on with the weather at your location – just like a regular weather station – but as Eve Weather records all its datasets, you can look back in time to see how today stacks up to previous days. And just like many other smart solutions, you get to enjoy a rich visual experience with historical data and trends presented graphically – all without you needing to register or use a cloud service or gateway. It's because of this unique approach that Eve Weather blew away the jury of the renowned iF Design Award.
Eve Weather supports Bluetooth and Thread, and joins your Thread network automatically. Thread makes your smart home network more responsive, robust, and increases its reach – the only other thing you need is HomePod mini or Apple TV 4K (2nd generation).
Read on to learn how to set up and get the most out of Eve Weather.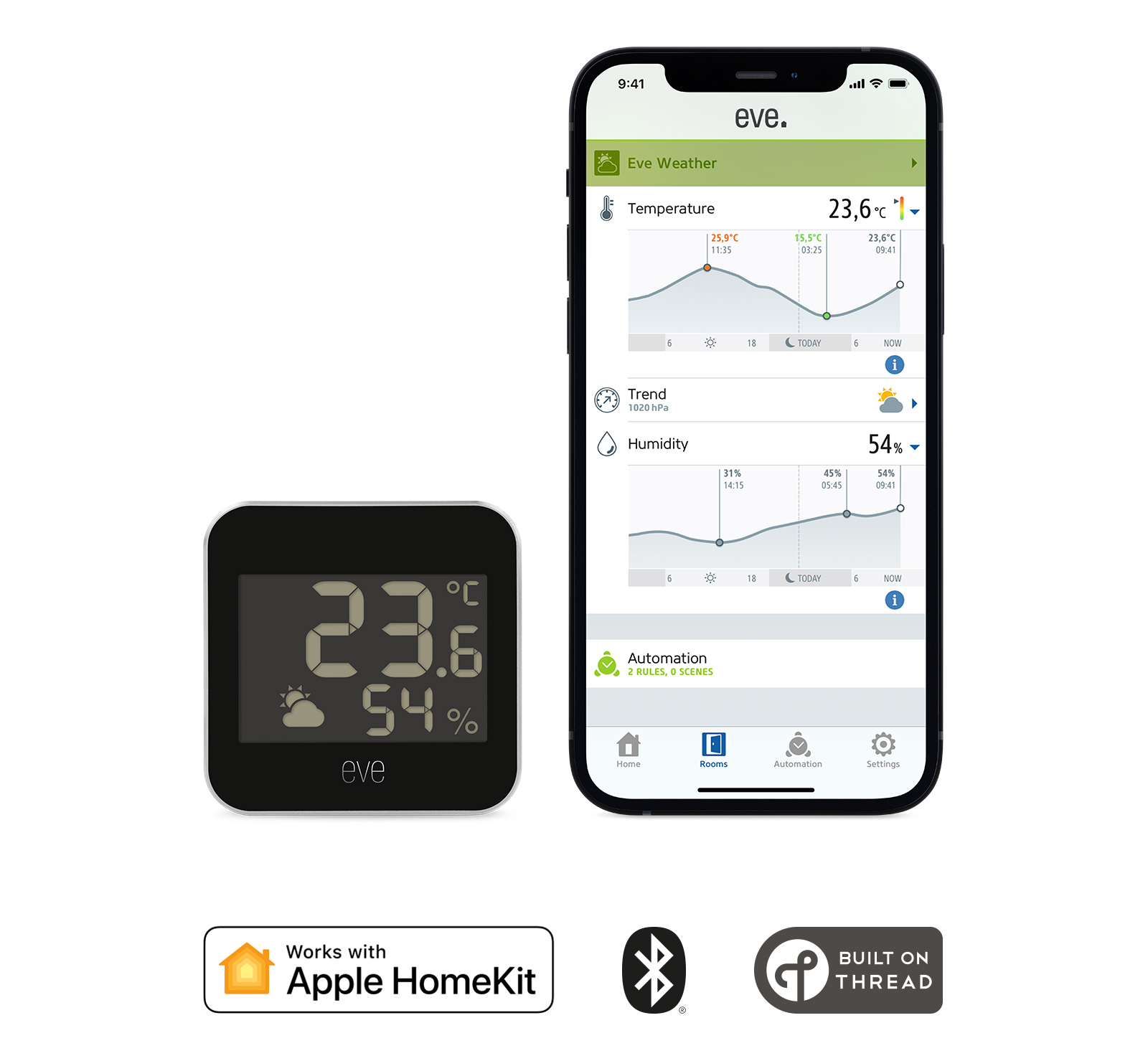 Set up and location
Eve Weather comes with a CR2450 coin cell battery already fitted, and the accessory ships in hibernation mode so battery life isn't impacted while it's on its way to you. To wake up Eve Weather, simply press the button on the back. You'll then see "HI" on the display, followed by the initial set of measurement results. Launch the Eve app and tap Settings > Add Accessory to include Eve Weather in your smart home setup. Then go to Settings > Accessories > [Eve Weather] > Elevation and check whether the value matches your location's actual elevation so Eve Weather can provide calibrated air pressure measurements.
Pro tip: If you've got yourself a new Eve Weather to replace an existing Eve accessory and you want to migrate your measurements, you can simply use the Eve app. Open the settings menu for Eve Weather and tap Migrate Measurements. The Eve app will then show you a list of accessories whose measurements you can migrate. To get going, simply choose the one you want — just make sure that the existing accessory is still included in your home setup.
Eve Weather in the Eve app
Just like the display on Eve Weather, the Eve app user interface also shows you a combination of the accessory's readings.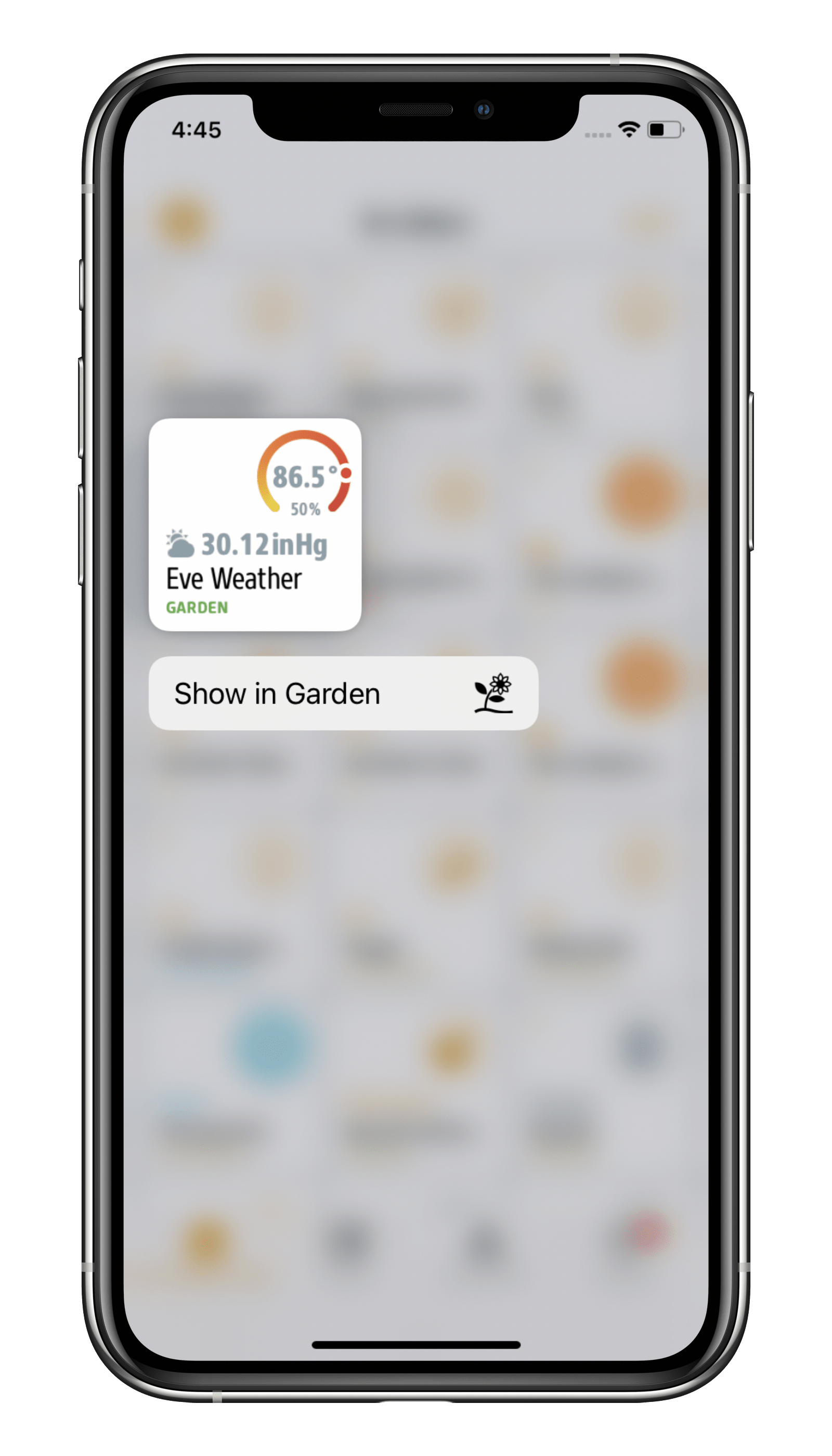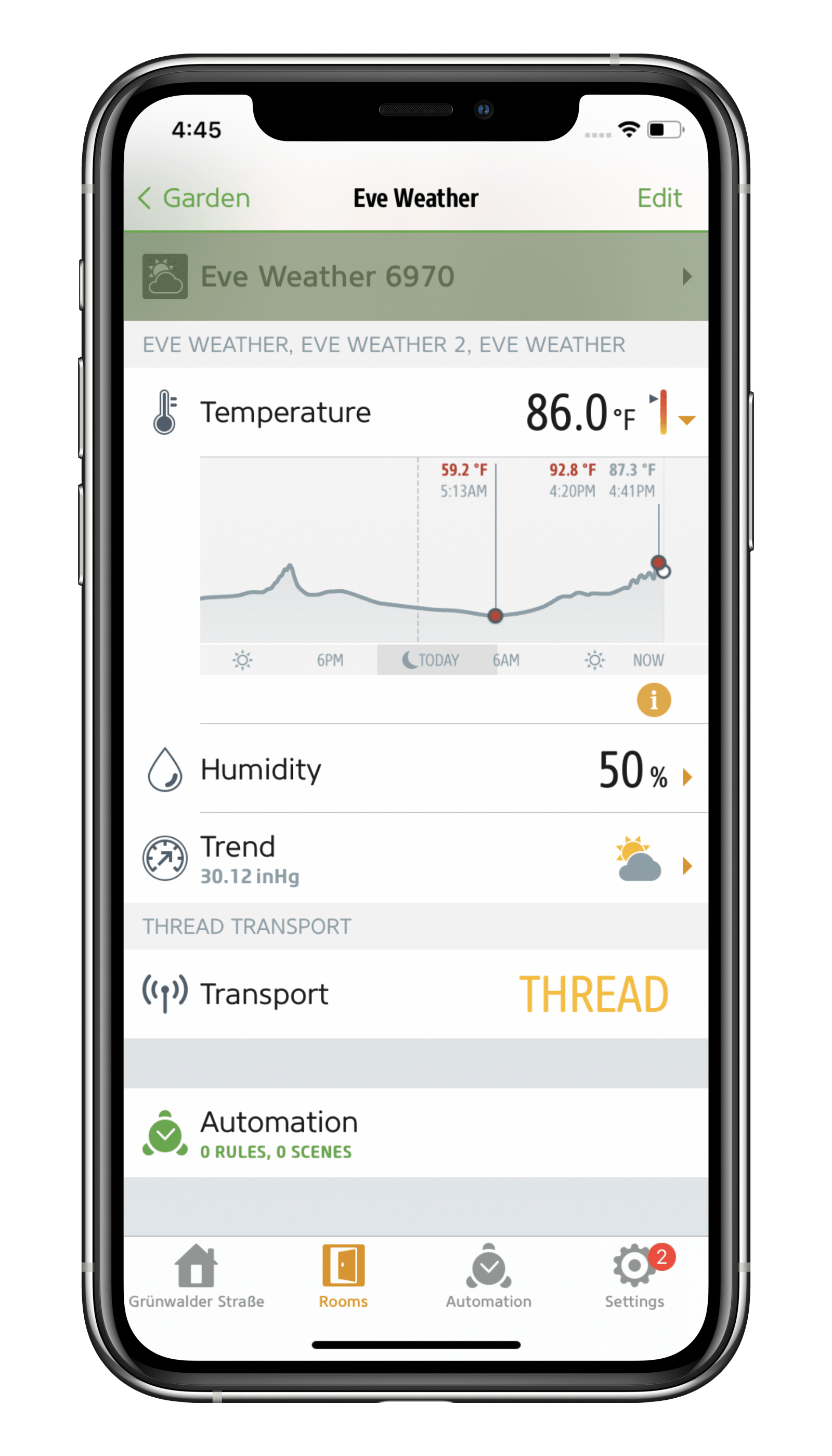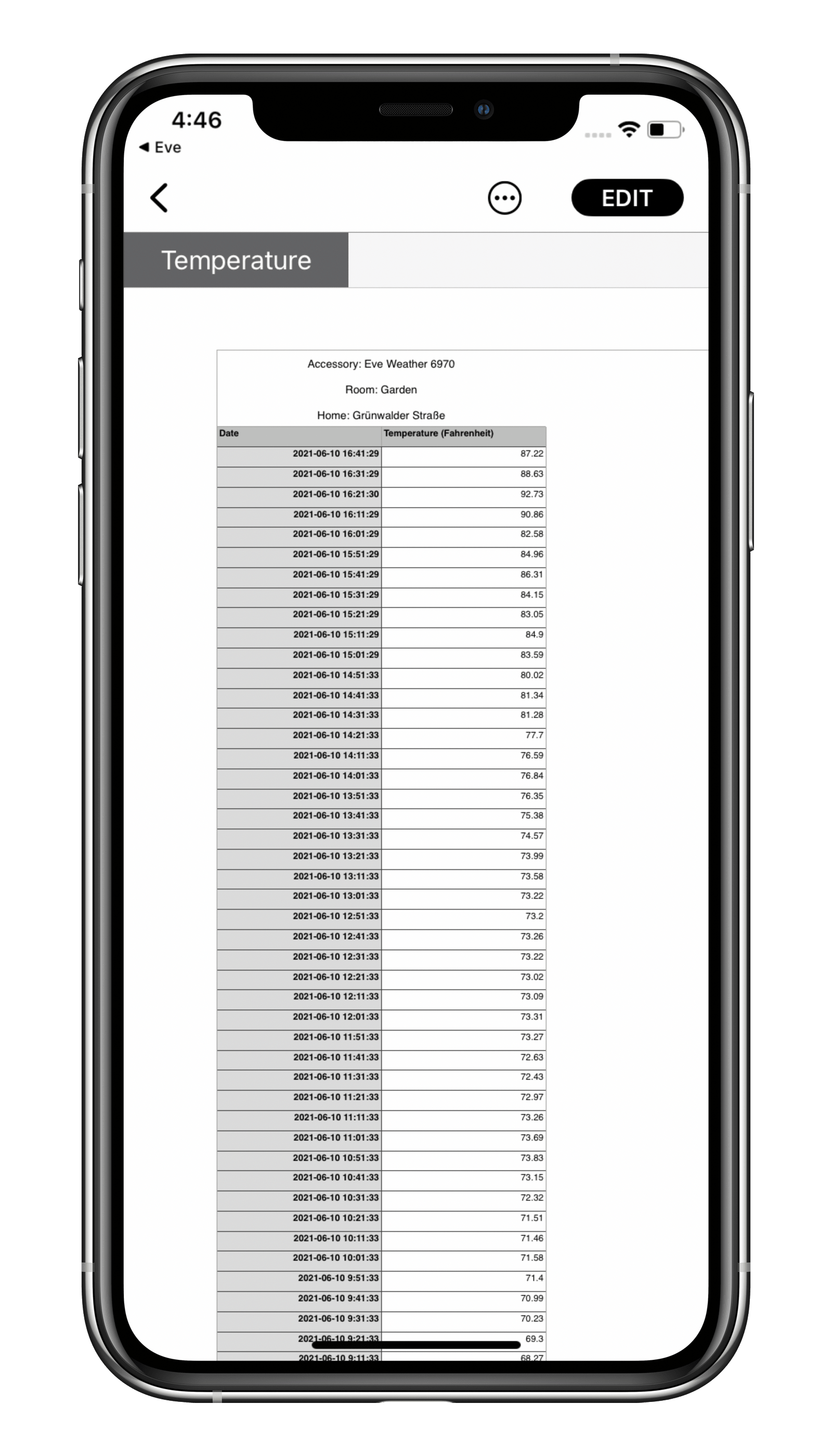 Know what the weather's going to do
Eve Weather uses meteorological rules to forecast whether the weather's going to change in the next 12 hours. To make this prediction, the accessory considers the local barometric pressure as well as if and how quickly this has changed over the past few hours. It's a tried-and-tested approach that delivers reliable results throughout the year for most of the time and for most locations. In general terms, the weather trend function works as follows: Eve Weather knows if the barometric pressure is high, medium, or low. Based on the initial reading, the accessory categorizes changes as very strongly increasing, clearly increasing, constant, clearly decreasing, or very strongly decreasing. Eve Weather then takes this trend, i.e. the level of the initial reading and the varying degree of change, and works out if it's going to turn sunny, the skies will remain clear, or if the skies are going to cloud over, it's going to rain, or it's going to turn stormy. The Eve app clearly depicts this via the graph in the Trend section of the Eve Weather detail view. For example, if the curve remains flat at normal barometric pressure (≥1009 ≤1022 hPA), the accessory and app display the cloudy icon; if the curve goes sharply up or down, a sunny or rainy trend is displayed respectively.

Handy automations
Currently, HomeKit doesn't notify you about outdoor temperature extremes. However, you can create a rule in the Eve app to get a smart heads-up — such as if the temperature has dropped below freezing overnight — by having your smart lamp glow blue (Eve Flare or Eve Light Strip). The rule will take data from Eve Weather about if a certain temperature has been reached, exceeded, or fallen below and then use this as a trigger to light up your lamp. That way, you'll be pre-warned as soon as you get up that you'll need to scrape ice off your car's windshield or take extra care when cycling on icy paths.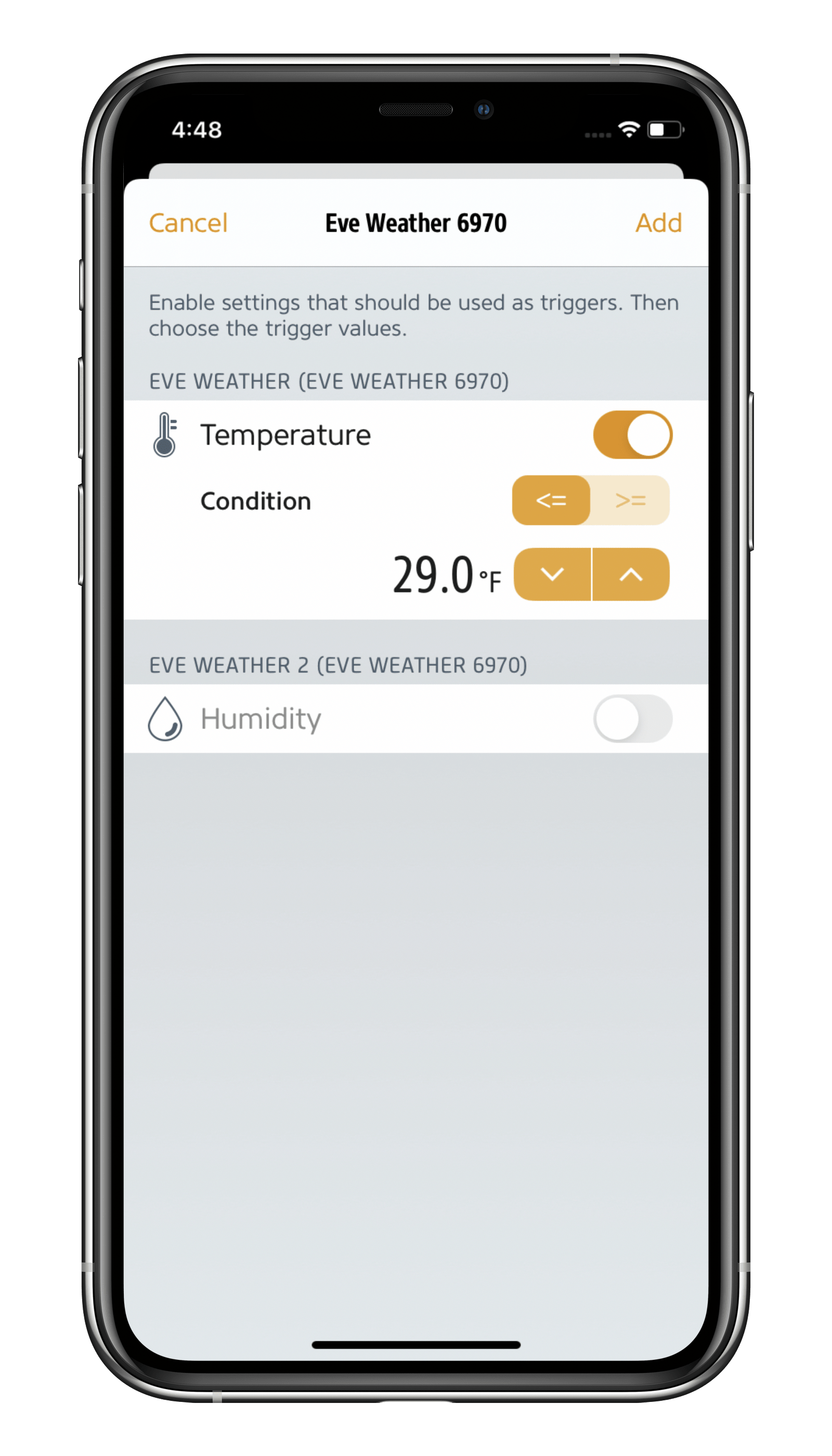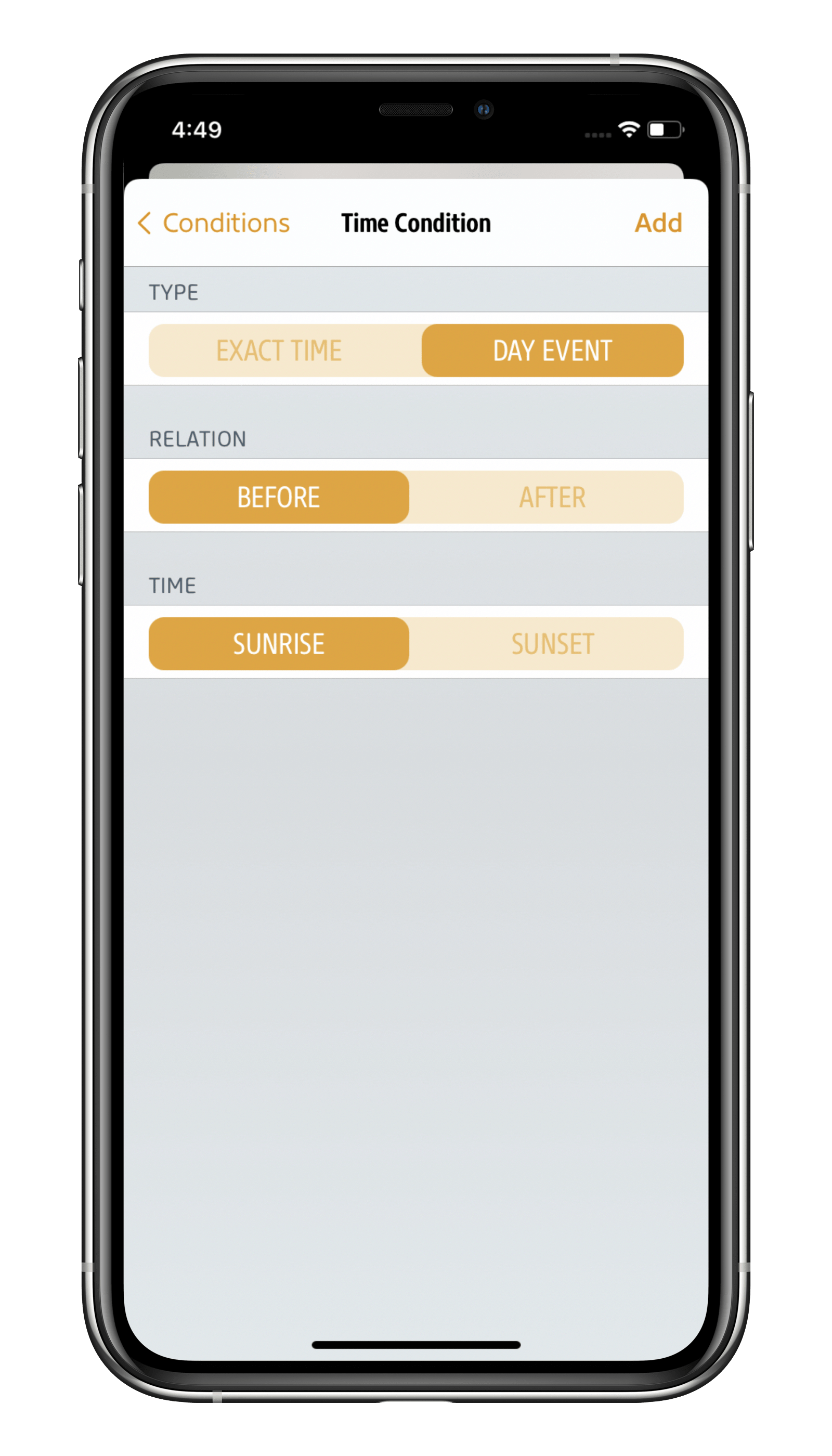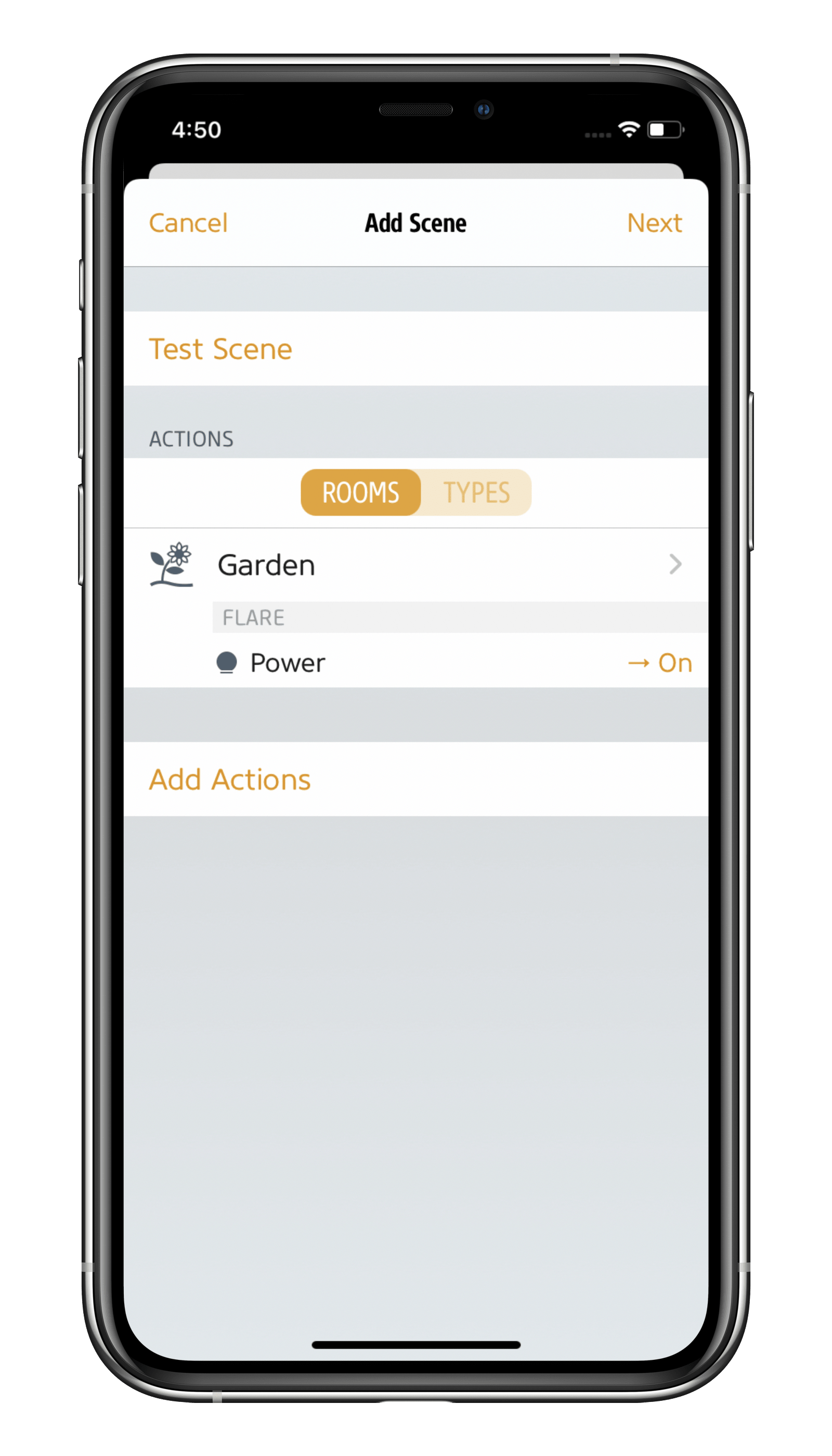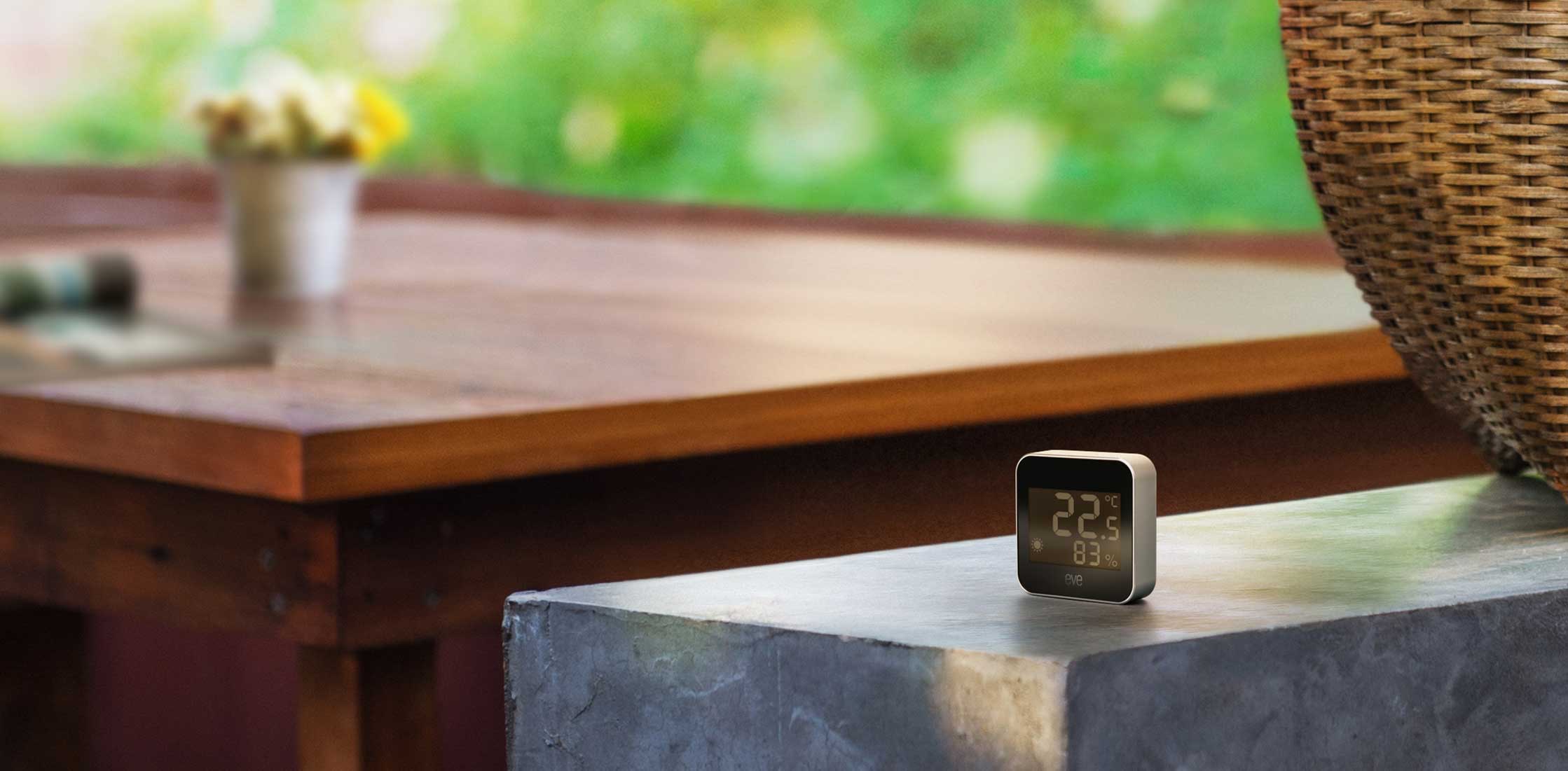 Eve Weather in the Home app and with Siri
The Home app really is missing another trick with no support for air pressure as a service. Instead, it highlights the other two values recorded by Eve Weather: The temperature and the humidity level. They're displayed along with the other status indicators on the Home or Rooms tabs, and in the form of a low and high reading if several sensors are present. To display readings that are as meaningful as possible, you can select – at least for the Home tab – which sensor readings you want to see. To do so, simply call up the settings for the accessory by tapping and holding the status indicator, then tapping and holding a service tile. Now tap Status and then choose whether you want the reading to be displayed by toggling the Include in Home Status switch.
The Siri voice commands for Eve Weather are "What's the temperature like in my [room name]?" or "How warm is it in my [room name]?" and "What's the humidity level in my [room name]?" or "How damp is it in my [room name]?". If you don't say the room name, Siri will not ask HomeKit but the Weather app instead.
Troubleshooting
A soft reset will help if implausible readings do not normalize even after a few days. Simply use a coin to open the battery compartment, remove the battery, then wait 60 seconds before reinserting it. If you continue to experience issues, you can perform a factory reset. To do that, press and hold the reset button for ten seconds until you see "HI" on the display.
Increase the reach of Eve Weather
Add HomePod mini to your home and your Thread-enabled Eve Weather will be able to communicate via Thread – the mesh network that reaches even the farthest corners of your abode. This happens automatically without you needing to configure anything. Simply position a Full Thread Device, such as Eve Energy, as close as possible to your Eve Weather. The Eve Energy accessory will then act as a router node and relay data packets from Eve Weather.
To view the structure of your Thread network and see where you can make improvements, simply go to the Settings area of the Eve app and tap Thread Network. Among other things, you'll be able to tell which node Eve Weather uses to communicate and whether you can further improve the stability and reach of your network and accessories by using an additional router node – such as by adding one more Eve Energy or moving one to a better location.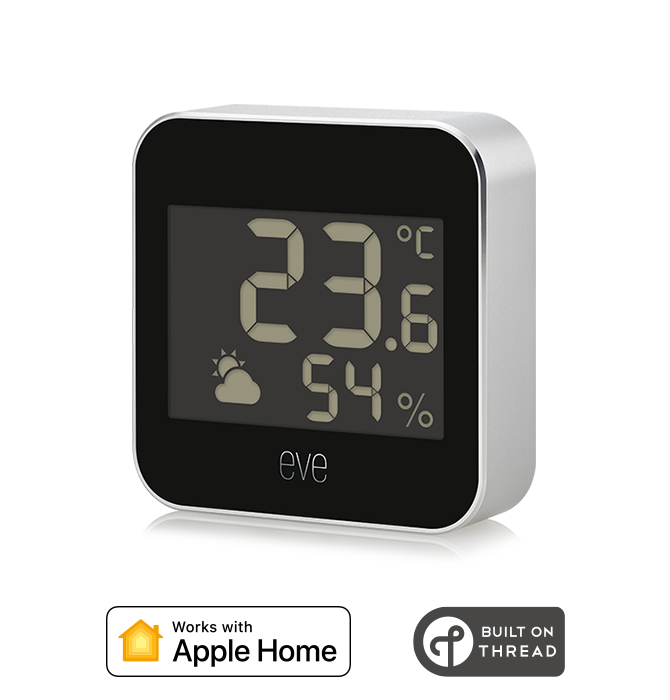 Connected Weather Station
Requires iPhone or iPad with the latest version of iOS/iPadOS
HomeKit, supports Thread
Add to cart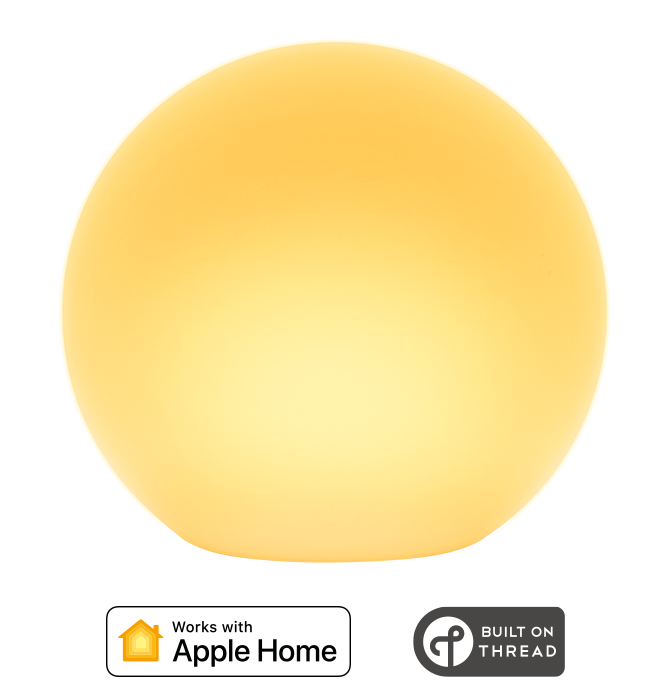 Portable Smart LED Lamp
Requires iPhone or iPad with the latest version of iOS/iPadOS
HomeKit, supports Thread
Add to cart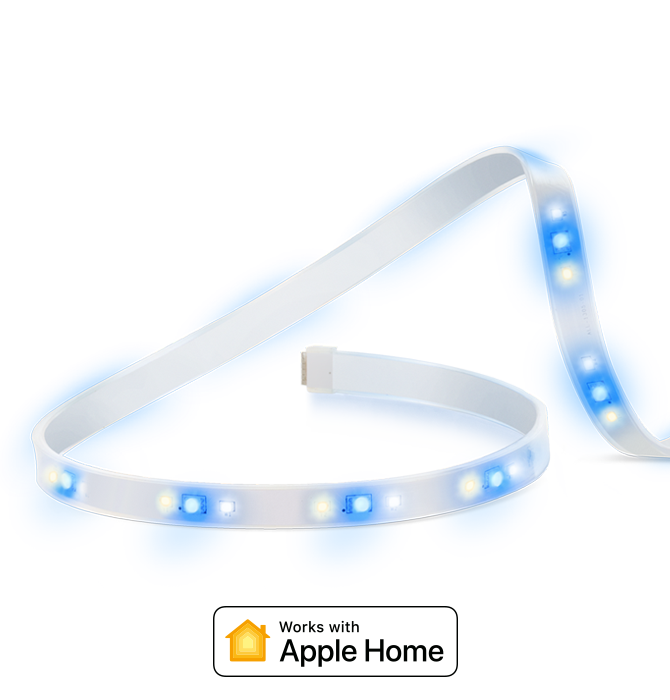 Smart LED Strip
Requires iPhone or iPad with the latest version of iOS/iPadOS, Wi-Fi (2.4 GHz 802.11b/g/n)