Eve to Add Thread Support to HomeKit-Enabled Accessories
Eve Door & Window and European Eve Energy models first to work with HomePod mini over Thread to create a fast, low-power wireless mesh network
San Francisco, CA – Nov 11., 2020 – Eve Systems today announced that Thread connectivity will be added to its Bluetooth-equipped Eve accessories. Free Thread-enabled firmware updates will be released later in the month for current Eve Door & Window and European Eve Energy models. Updates for the current generation of Eve Aqua and Eve Thermo will be available shortly after. Eve intends to expand hardware support for Thread to its entire product line, upgrading Eve accessories to connect over a fast, self-healing wireless mesh network enabled by HomePod mini, Apple's new smart speaker. HomePod mini delivers an immersive 360-degree audio experience, the intelligence of Siri, and smart home capabilities with support for Wi-Fi, Bluetooth, and Thread accessories. HomePod mini also acts as a home hub for controlling Eve accessories when away from home.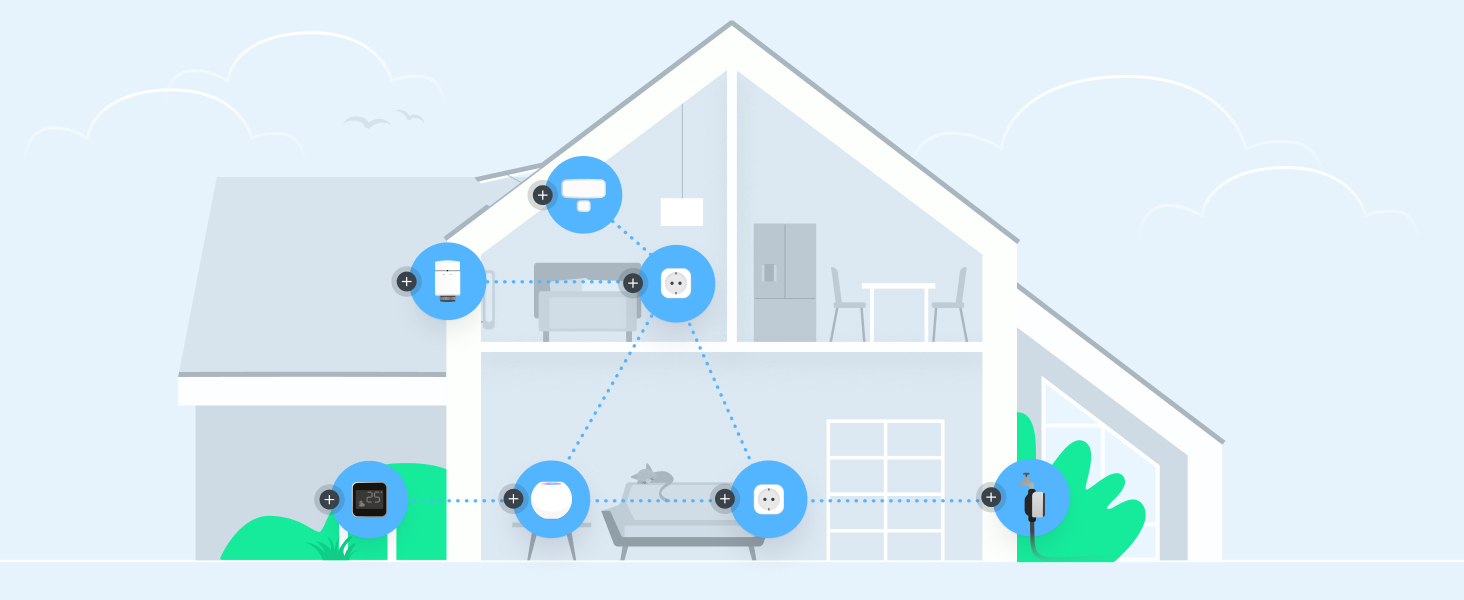 "Delivering powerful Home Hub functionality embedded into an affordable Siri-enabled speaker, HomePod mini is giving HomeKit a major boost," said Jerome Gackel, CEO of Eve Systems. "Support for HomeKit over Thread takes the entire Eve platform to the forefront of smart home innovation, and we're thrilled to be among the first to bring this cutting-edge smart home technology to HomePod mini users' homes."
"By enabling Thread on their devices, Eve delivers a meaningful value today, and lays the groundwork for a scalable, robust smart home ecosystem," added Sujata Neidig, vice president of the Thread Group. "This progressive approach improves their customers' experience now, and helps ensure they'll enjoy a dependable and seamless smart home for years to come."
Future-proof with Eve
Bluetooth is required for HomeKit over Thread so Bluetooth remains available, and existing accessories continue to work as they always have. Once a HomePod mini is added to the home network, Thread-enabled Eve accessories will automatically be able to communicate with it and each other. This happens automatically without users having to configure anything. No proprietary bridges or gateways are needed, and no starter kits.
Thread – alongside Wi-Fi and Bluetooth – is a pillar of the upcoming, open application layer standard being developed by the Project Connected Home over IP (CHIP) Working Group within the Zigbee Alliance. Thread's IP foundation means devices from across manufacturers can all connect to create a seamless network, which will ultimately make it easier for people to experience the true benefit of IoT.
Thread solves the challenges and complexities of the smart home. Its low-power mesh networking technology does not rely on a central hub, such as a bridge, so there's no single point of failure. And it has the ability to self-heal – if one accessory becomes unavailable, data packets automatically select an alternate route.
Pricing & Availability
Eve Door & Window is available for USD $39.95 and Eve Energy (EU) is available across Europe for 39.95 Euro. Thread-enabled firmware updates for compatible Eve Door & Window and Eve Energy (EU) models will become available this month via the Eve app.
Eve is a member of Zigbee Alliance and Thread Group. For further information on Thread, CHIP and Thread compatibility of Eve accessories read Eve Systems Managing Director Dr. Markus Fest's article on the Eve blog.
About Eve
Eve Systems builds beautiful connected home products that set superior standards of comfort, safety, and control. Products that turn everyday experiences into fulfilling moments that endure. Engineered in-house to combine seamless software with elegant hardware, Eve integrates into Apple HomeKit flawlessly, intuitively, and most importantly, securely. Because privacy is paramount, and what happens at home, must stay at home. Established in 1999, our company has an extensive history of developing premium products that enrich the Apple ecosystem, notably under the brands EyeTV and Elgato. Eve Systems is privately held with headquarters in Munich, Germany.

Press contact
Max Borges Agency
Patricia Nunez
[email protected]
305-374-4404 x139