IFA 2023: Eve Announces New Eve Thermo Control and Updates to Eve MotionBlinds to Enhance Energy Management and Home Comfort
The new wireless temperature sensor and controller delivers precise, efficient and convenient control to indoor climates, while a firmware update for Eve MotionBlinds adds Matter support and Adaptive Shading feature to enable even easier and more efficient smart shading.

Munich, August 31, 2023 - Eve Systems, a prominent pioneer in the smart home industry worldwide, today announced Eve Thermo Control, a wireless temperature sensor and controller for rooms equipped with the Eve Thermo smart radiator valve. Thanks to the new Matter smart home standard Eve Thermo Control and Eve Thermo can communicate directly with each other. Eve Thermo Control will be available starting November 14, 2023 from Eve (www.evehome.com/store) and Amazon for €79.95 alongside a free Matter firmware upgrade for Eve Thermo that can be installed via the Eve app for iOS.
Also on November 14, 2023, Eve will release a Matter update for the Eve MotionBlinds roller blind motors and Eve MotionBlinds Upgrade Kit for roller blinds, adding the Adaptive Shading feature as a free upgrade. Adaptive Shading is a feature of the Eve app for iOS that allows foolproof programming of the blinds, enabling them to automatically open and close depending on the location, date and time, to shade the room optimally according to the exact position of the sun relative to your Eve MotionBlinds.
Eve Thermo Control and Eve MotionBlinds, along with many other innovations, are being showcased at the Eve booth in Hall 22 at IFA Berlin (Sept 1 - Sept 5).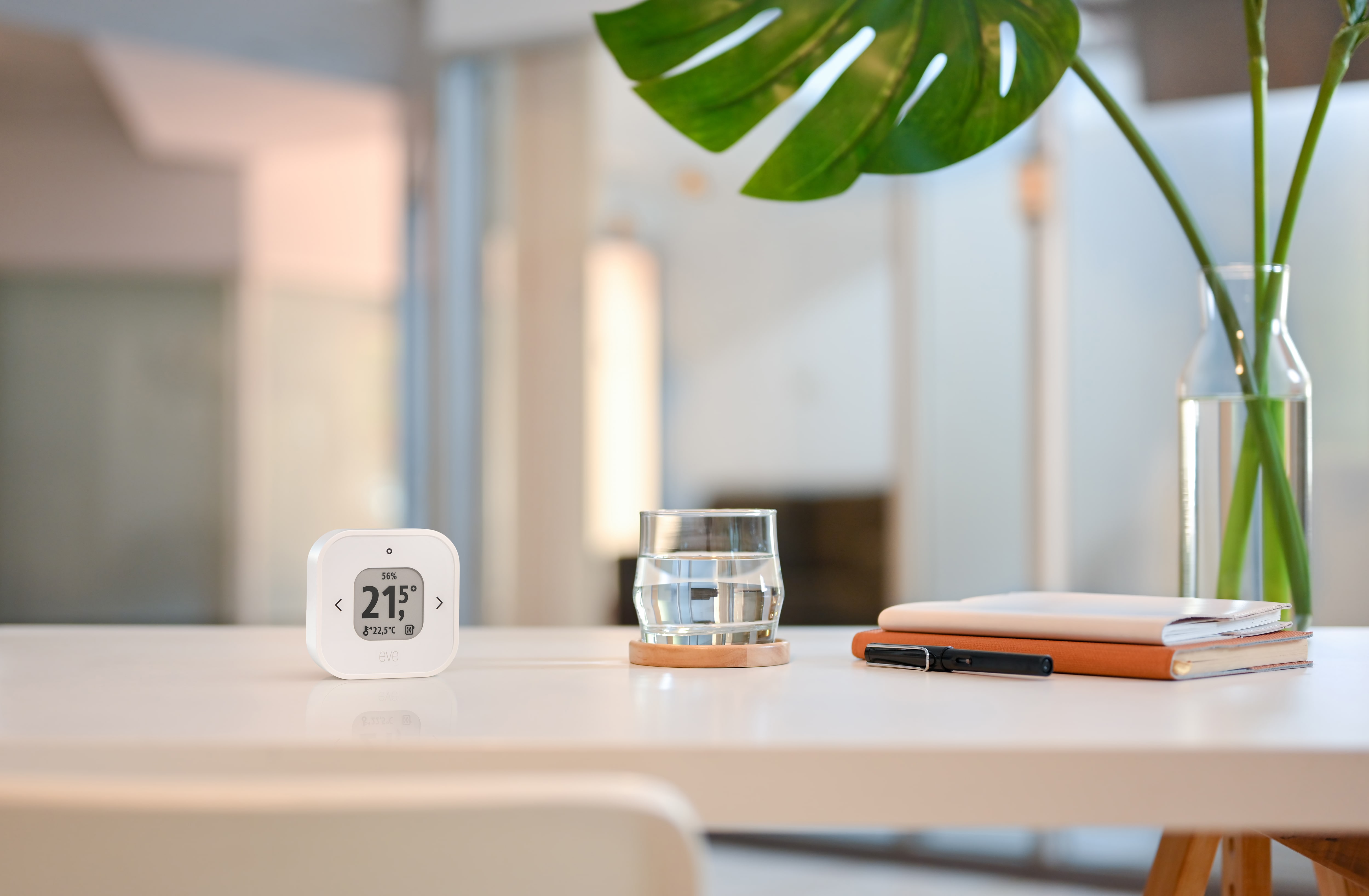 Eve Thermo Control: Add Comfort and Efficiency to the Smart Home
The proven and tested temperature sensing and regulation behavior of Eve Thermo can be optimized even further with Eve Thermo Control, as the temperature is no longer measured at the valve of the radiator, but in the room. With Eve Thermo Control, Eve Thermo will reach the target temperature more accurately, while users have more control at their fingertips. Eve Thermo Control is built around an e-ink display that shows the selected target temperature, and the heating status of the thermostat. Target temperature is set via two capacitive buttons on the front of the device. With its sleek and neutral look, Eve Thermo Control cuts a fine figure standing on a sideboard or mounted on a wall.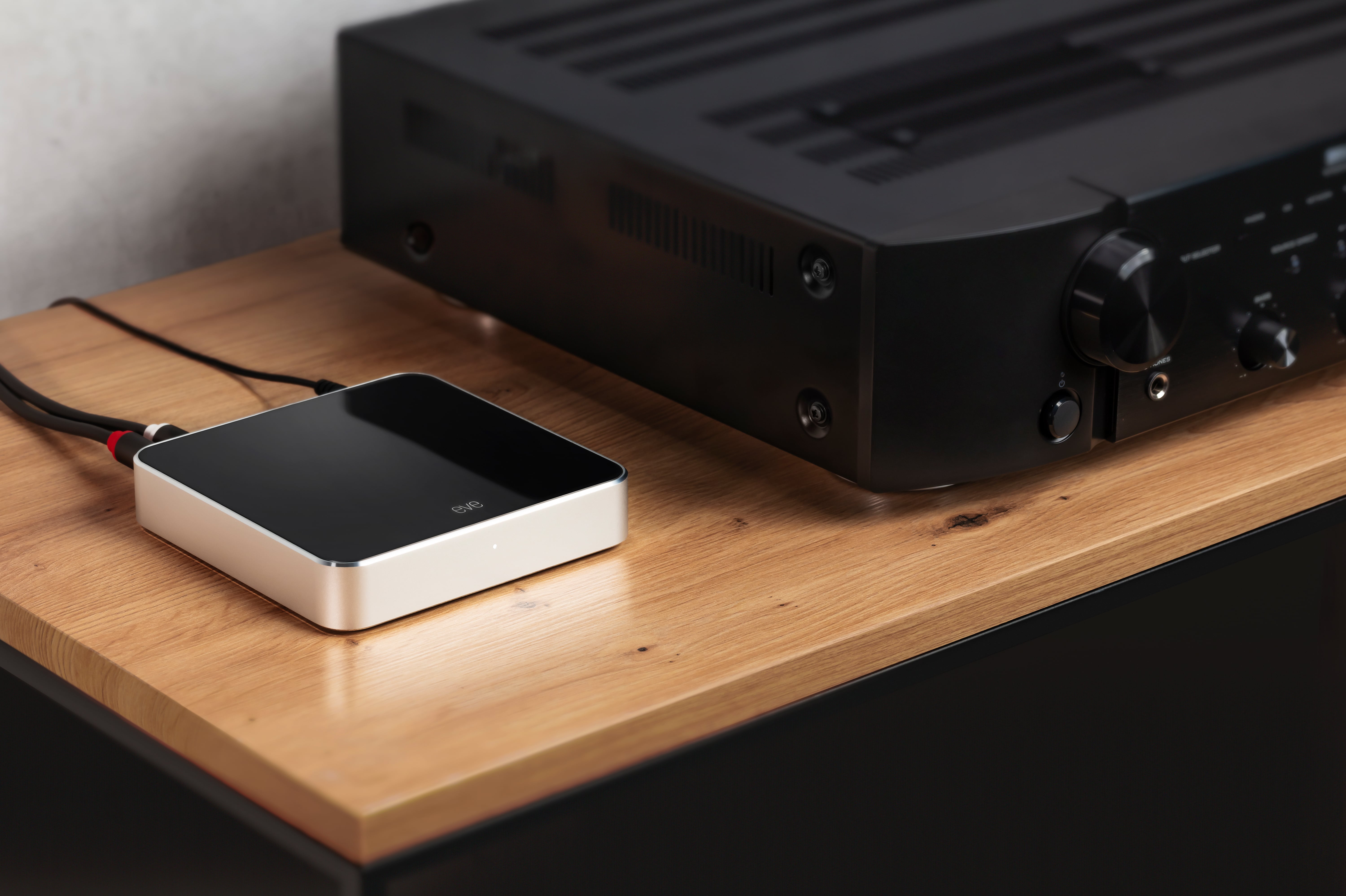 Eve MotionBlinds with Adaptive Shading: Smarter Indoor Climate Control
Smart blinds can help maintain a comfortable indoor climate, by darkening the room in summer and by insulating it in winter. The Adaptive Shading function available through the Matter firmware upgrade, known from the smart shutter controller Eve Shutter Switch, lets roller blinds with Eve MotionBlinds technology automatically close according to the position of the sun. Hyperlocal programming of the Eve MotionBlinds motor is handled by the Eve app for iOS which calculates based on the location and orientation of the window. This allows the blind to act dynamically according to the position of the sun and, for example, help to reduce heat loss during winter and save energy costs. Eve will expand its energy efficiency-focused portfolio at the end of the year with a curated collection of made to measure blinds featuring Eve MotionBlinds technology, which can be ordered from Eve's online store (www.evehome.com/store) as the Eve Blinds Collection.

Pricing & Availability
Eve Thermo Control will be available from Eve (www.evehome.com/store) and Amazon starting November 14, 2023 for €79.95. At the same time, a firmware upgrade to Matter for Eve Thermo will be made available via the free Eve app for iOS. 
Also on November 14, 2023, Eve will release a free firmware upgrade globally, which allows Eve MotionBlinds to be migrated to Matter. 
Roller blinds with Eve MotionBlinds are distributed through a growing network of Coulisse resellers listed in the store locator at motionblinds.com/eve as well as directly from Eve as Eve Blinds Collection powered by Eve MotionBlinds starting December 5, 2023. Eve MotionBlinds Upgrade Kit for Roller Blinds is available at a price of €199.95 at Eve and Amazon.

About Thread
Thread technology is specifically developed for smart home applications to improve connectivity between devices. Thread creates a mesh network, within which lights, thermostats, outlets, sensors, and more can also talk to each other free of the constraint of having to go through a bridge. If a single device fails, the data packets are simply relayed to the next in the mesh. In short: The network becomes more robust with every additional Thread device.

About Matter
Jointly developed by Amazon, Apple, Google, Samsung, Eve, and many other manufacturers, Matter eliminates incompatibilities in the smart home once and for all. Matter-enabled devices are a breeze to integrate into the smart home, enabling everybody in the home to seamlessly access and control devices across smartphones and voice assistants of all major platforms.

About Eve
Eve Systems builds beautiful connected home devices that set superior standards of comfort, safety, and energy efficiency. Engineered in-house to combine seamless software with elegant hardware, Eve devices integrate into the home seamlessly and securely, ensuring interoperability across smart home platforms. Because privacy is paramount, what happens at home, must stay at home. By leveraging Thread and Matter technologies, Eve devices are the pillars of a future-proof, functional and valuable smart home.
First established in 1999 as Elgato, Eve has grown a market-leading reputation for the user experience and quality of its devices for the Apple ecosystem, while guaranteeing 100% privacy. Eve Systems is part of ABB and headquartered in Munich, Germany.

About ABB Electrification
Electrifying the world in a safe, smart and sustainable way, ABB Electrification is a global technology leader in electrical distribution and management from source to socket. As the world's demand for electricity grows, our 50,000+ employees across 100 countries collaborate with customers and partners to transform how people connect, live and work. We develop innovative products, solutions and digital technologies that enable energy efficiency and a low carbon society across all sectors. By applying global scale with local expertise, we shape and support global trends, deliver excellence for customers and power a sustainable future for society. go.abb/electrification

Image Library
To download high-resolution images visit our press library.
Media Inquiries
Lars Felber