Eve Play: AirPlay Streaming and Multi-Room Support for Your Classic Stereo
Munich, August 31, 2023 – Eve Systems, a prominent pioneer in the smart home industry worldwide, today announced Eve Play, a high-quality audio streaming interface for AirPlay. Sporting RCA and digital outputs, Eve Play adds streaming capabilities to existing amplifiers, active speakers or soundbars streaming-capable, and also integrates them perfectly synchronized in multi-room setups with other AirPlay speakers such as Apple HomePods. In addition to 2.4/5 GHz Wi-Fi, an integrated Ethernet port ensures maximum stable streaming quality. The powerful digital-to-analog converter with a signal-to-noise ratio of 112 dB guarantees an audiophile sound experience. With its classic aluminum and glossy black finish, Eve Play is designed to blend in perfectly with your Hi-Fi components.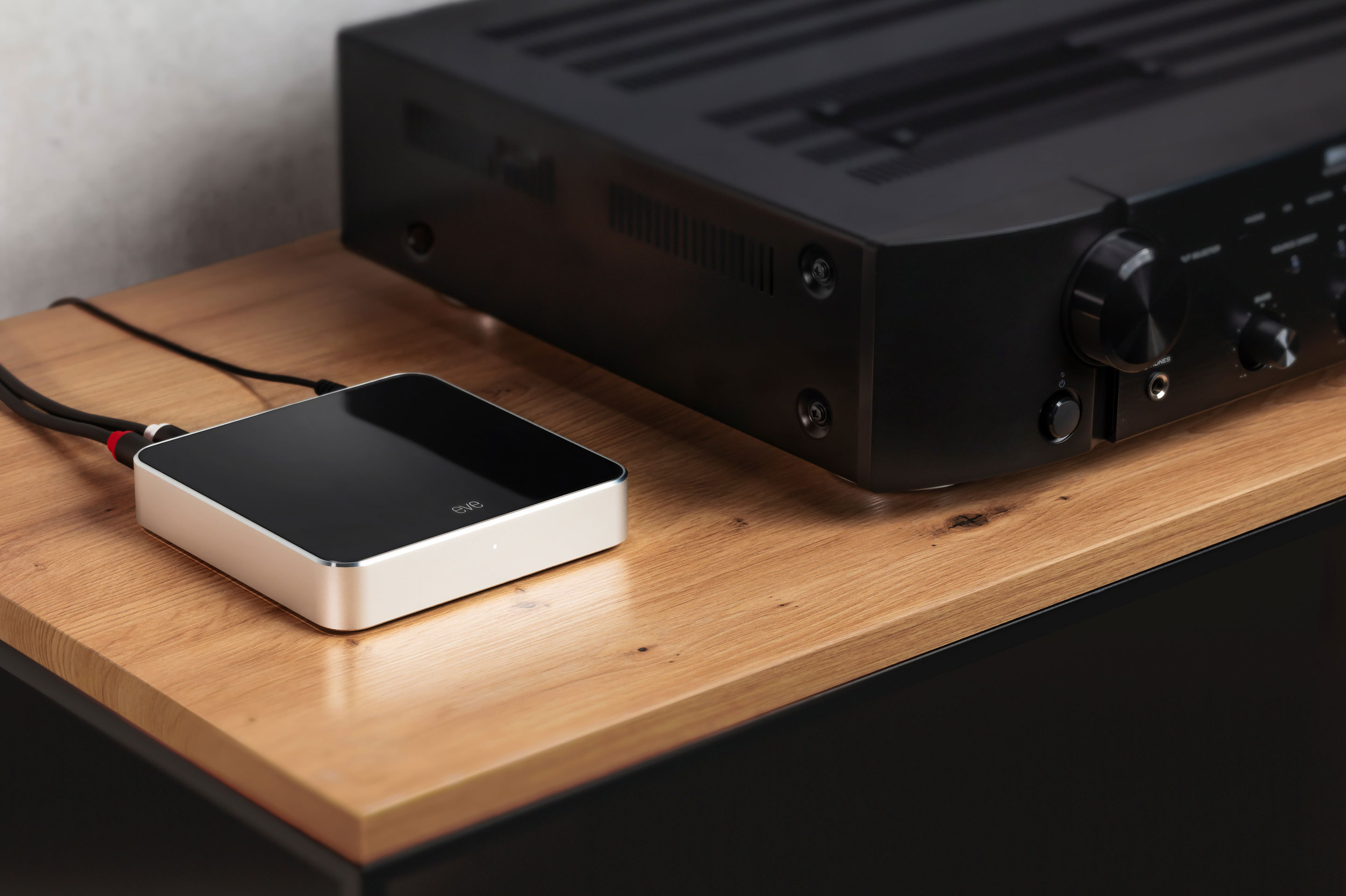 Eve Play will be available starting November 14 from Eve (www.evehome.com/store) and Amazon at a price of $149.95 / €149.95. Eve Play is on display at IFA Berlin (1 Sept to 5 Sept 2023) at the Eve booth in Hall 22, alongside many other innovations.
Dynamics & Style
Eve Play is built around a Texas Instruments digital-to-analog converter that processes recordings cleanly and in rich detail with a signal-to-noise ratio of 112 dB. While compact in size, Eve Play features a complete array of connectivity options, including an Ethernet port, 2.4/5 GHz Wi-Fi, RCA connectors, and optical and coaxial digital outputs.
When it comes to integration into the home, Eve Play not only shines visually - Eve Play is a Red Dot Design Award 2023 winner - but also in terms of its multi-room qualities: Eve Play groups your classic stereo system and other AirPlay speakers into a perfectly simultaneous orchestra, because any latencies can be adjusted either automatically or manually via the Eve app's Audio Sync feature.
And it gets even smarter – when you use Apple Home and have an Apple Music subscription, you can even integrate Eve Play into automations and have your favorite music welcome you when you arrive home.
Technical Specifications
Requirements: iPhone or iPad with the latest version of iOS/iPadOS; Wi-Fi network (2.4/5 GHz 802.11a/b/g/n) or Ethernet
Power Supply: Output: 5 V / 1.5 A; Input: 100 – 240 VAC, 50 / 50 Hz
Outputs: Coaxial digital, optical digital, RCA
Digital Analog Converter: Texas Instruments Audio DAC (PCM5122A) with 112 dB SNR
Dimensions: 126 x 126 x 25.7 mm
About Eve
Eve Systems builds beautiful connected home devices that set superior standards of comfort, safety, and energy efficiency. Engineered in-house to combine seamless software with elegant hardware, Eve devices integrate into the home seamlessly and securely, ensuring interoperability across smart home platforms. Because privacy is paramount, what happens at home, must stay at home. By leveraging Thread and Matter technologies, Eve devices are the pillars of a future-proof, functional and valuable smart home.
First established in 1999 as Elgato, Eve has grown a market-leading reputation for the user experience and quality of its devices for the Apple ecosystem, while guaranteeing 100% privacy. Eve Systems is part of ABB and headquartered in Munich, Germany.
About ABB Electrification
Electrifying the world in a safe, smart and sustainable way, ABB Electrification is a global technology leader in electrical distribution and management from source to socket. As the world's demand for electricity grows, our 50,000+ employees across 100 countries collaborate with customers and partners to transform how people connect, live and work. We develop innovative products, solutions and digital technologies that enable energy efficiency and a low carbon society across all sectors. By applying global scale with local expertise, we shape and support global trends, deliver excellence for customers and power a sustainable future for society. go.abb/electrification

Image Library
To download high-resolution images visit our press library.
Media Inquiries
Lars Felber