CES 2023: Eve Rings in the Year of Matter with New Out-of-the-Box Matter-Certified Devices
Eve Door & Window, Eve Energy and Eve Motion with Matter arrive in retail end of Q1. An Upgrade Kit for existing blinds and new motorization options for honeycomb and venetian blinds expand Eve MotionBlinds category.
LAS VEGAS, NV - JANUARY 4, 2023 – Eve Systems, pioneers of the Matter-over-Thread smart home standard, are announcing out-of-the-box Matter-certified devices at CES 2023 - including Eve Door and Window, Eve Energy and Eve Motion. The devices will be the first-of-their-kind by offering Matter technology without the need for an over-the-air firmware update, delivering plug-and-play interoperability and platform independence. Matter will enable the three devices to work with all four major smart home platforms, including Apple Home, Google Home, Amazon Alexa and Samsung SmartThings. The Matter-certified Eve Door and Window, Eve Energy and Eve Motion will be available from evehome.com and Amazon on March 28th, starting at $39.95 (US).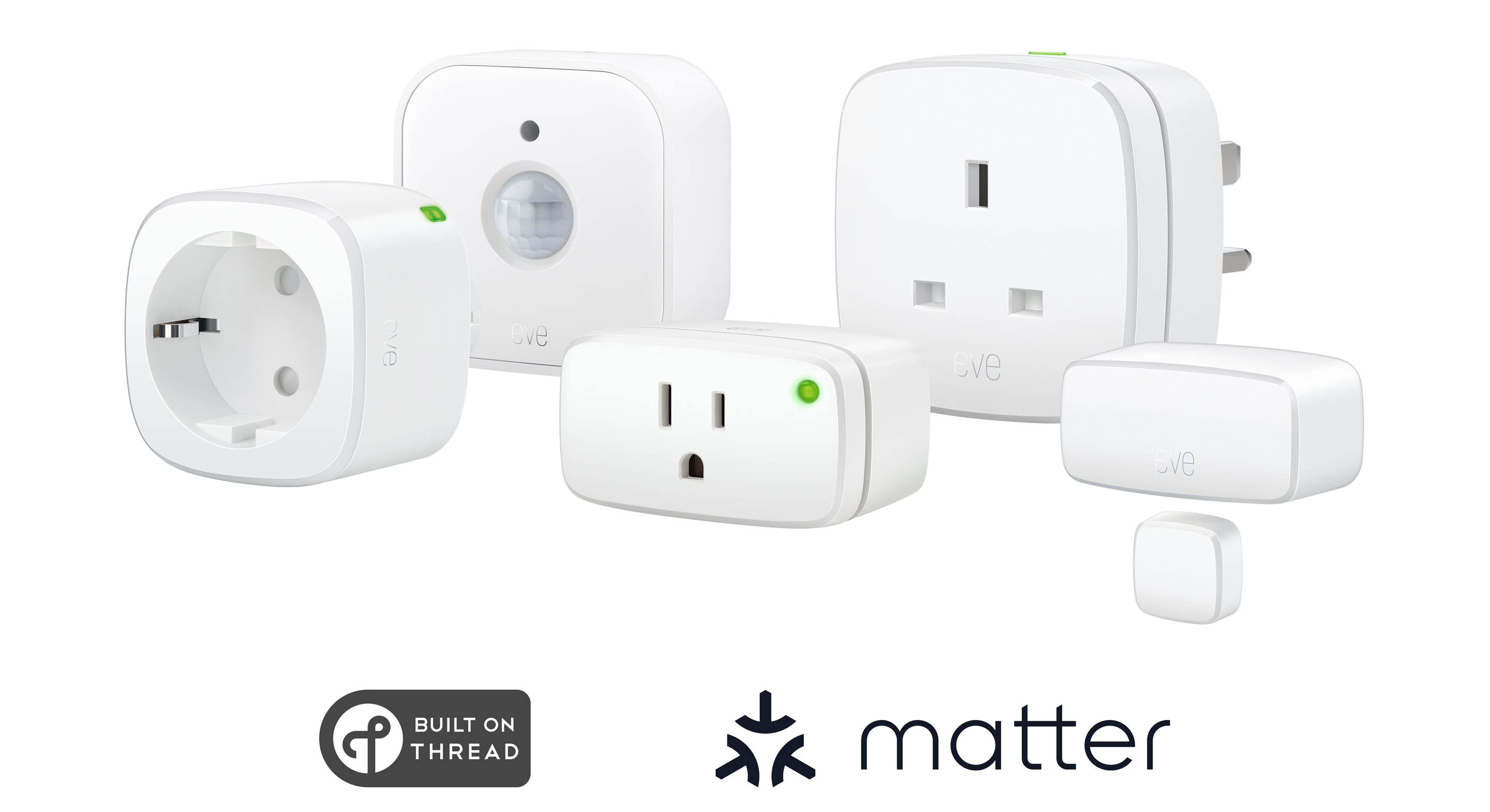 "A fast-mover on Matter, Eve was among the first to offer free over-the-air Matter updates for existing devices," says Jerome Gackel, CEO of Eve Systems. "Now, Eve will be one of the first to offer Matter right out of the box, delivering on the new standard's promise to finally bring simplicity, reliability, interoperability and security to your smart home."
Award-winning Eve MotionBlinds Upgrade Kit for Roller Blinds
Smart shading increases comfort, helps save energy and enhances security, making it an essential smart home product category that Eve is now massively expanding. Eve MotionBlinds Upgrade Kit for Roller Blinds – a CES 2023 Innovation Award Honoree - is yet another first-of-its-kind device. The retrofit solution enhances basic blinds everywhere with Thread technology and the rich feature set of Apple Home and the Eve App. The kit can be easily installed without any wiring or technical know-how. Included are mounting brackets, covers and a set of adapters that make the motors fit into a wide range of roller blind tubes. Starting on March 28th, the Eve MotionBlinds Upgrade Kit for Roller Blinds will be available from evehome.com for $199.95 (US).
Eve MotionBlinds Options for Honeycomb & Venetian
Expanding the range of custom-made blinds that are sold through a network of Coulisse partners, Eve MotionBlinds for Honeycomb is a multi-functional motor for high-performing cellular shades with excellent insulating properties, contributing to optimal thermal and acoustic comfort while the horizontal lines of the fabrics create a modern effect. Eve MotionBlinds for Venetian is designed for both tilting and lifting wood and aluminum blinds; a timeless classic that lets you play with light and create any desired privacy.
Matter comes to Eve MotionBlinds
Eve is working towards releasing a Matter firmware update for all Eve MotionBlinds products in late Q1. The original Eve MotionBlinds for Roller Blinds product, launched in collaboration with Coulisse at CES 2022, has already passed Matter certification.
Pricing & Availability
The Matter-ready Eve Door & Window, Eve Energy and Eve Motion will be available starting March 28th from evehome.com, Amazon and Apple. Customers can get Eve Energy for $39.95 (US). Eve Motion and Eve Door and Window are available at a price of $49.95 (US).
Also starting on March 28th, Eve MotionBlinds Upgrade Kit for Roller Blinds will be available for $199.95 (US) from Evehome.com. Eve MotionBlinds for custom-made Roller shades, Honeycomb and Venetian blinds are available from a global network of retailers, which can be found on the store locator at motionblinds.com/eve. Retailers in the U.S. include Blinds.com and Selectblinds.com.
To learn more about Eve's CES announcements, stop by our table at Pepcom Digital Experience or set up a time to meet at our Venetian hospitality suite.
Press Contact
Max Borges Agency on behalf of Eve Systems
Dan Turk
[email protected]
About Thread
Thread technology is specifically developed for smart home applications to improve connectivity between products. Now, HomeKit devices can communicate not only using Wi-Fi or Bluetooth but also using Thread. The big difference with this technology is that Thread creates a mesh network. Within this, lights, thermostats, outlets, sensors, and more can also talk to each other free of the constraint of having to go through a central hub, such as a bridge. That's because a Thread network doesn't need one. If a single device fails, the data packets are simply relayed to the next in the mesh. Learn more
About Matter
Matter is a new smart home protocol developed jointly by Amazon, Apple, Google, Eve, and many other manufacturers to eliminate incompatibilities in the smart home once and for all. Matter-certified products are a breeze to integrate into your smart home. Your entire family can control your home via a smartphone or voice assistant effortlessly using any device they choose. That's because Matter doesn't mind if you use an iPhone, Android device, Alexa-enabled smart speaker, Google Assistant, or Siri. Learn more
Maximum Privacy
Eve does not operate a manufacturer cloud, enabling a smart home that is 100% private. Eve does not harvest your personal data by forcing you to set up an account or registering your products. All communication is fully encrypted and only transferred directly between your Eve product and your smartphone or home hub. Your data will never be analyzed or used for advertising purposes - because it simply isn't accessible to anyone but you.
Image Library
To download high-resolution images visit our press library.