New Eve Motion Adds Light Sensor and Thread
The Latest Generation of Eve's Smart Motion Sensor is Ready for the Future of the Smart Home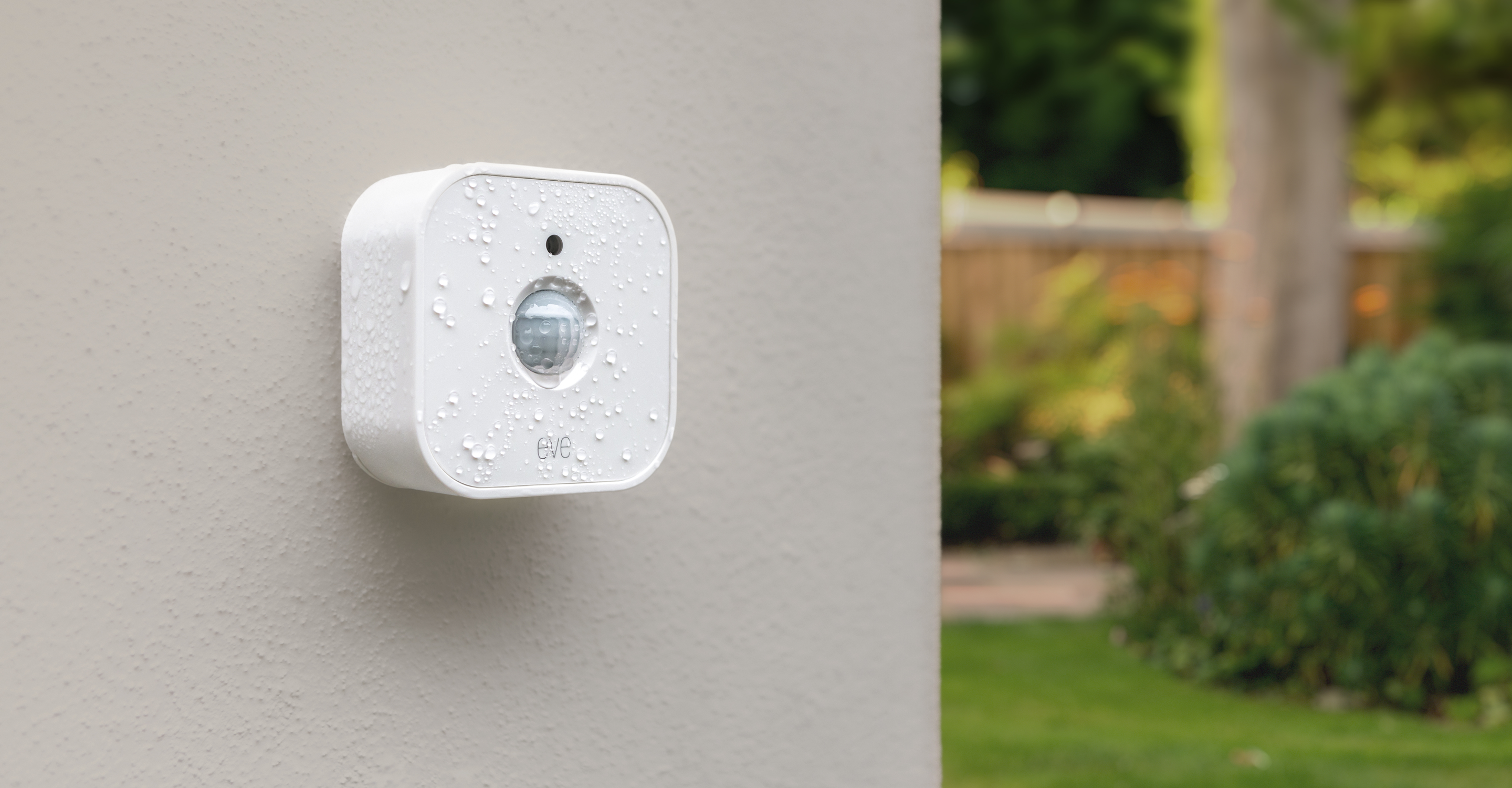 San Francisco, July 21, 2022 – Eve Systems, the renowned innovator in the global smart home industry, today announced availability of the second generation of Eve Motion. The popular wireless motion sensor with Apple HomeKit technology adds an integrated light sensor, support for the future-proof mesh networking standard Thread, and an even more attractive price. Eve Motion is battery operated and features a fully redesigned, ultra-compact and IPX3 water resistant enclosure, permitting total freedom of placement inside or outside the home. Eve Motion is quick & easy to set up, offers a 120-degree field of view spanning 9 meters of range – plenty of room to monitor for motion and ambient light changes. Eve Motion joins Eve's world-leading portfolio of products that support HomeKit over Thread, leveraging a HomePod mini or the new Apple TV 4K to make your smart home more responsive and robust.
Ready for the Smart Home of the Future
The new model of Eve Motion is the 14th product in the Eve portfolio to support Thread, a technology that is a pillar of Matter - the smart home standard of the future. Thread-enabled Eve products – including Eve Motion - will receive free over-the-air firmware updates so you can use them with other Matter ecosystems like Amazon Alexa, Google Assistant, or Samsung SmartThings.
"We can't wait for Matter to become available in Fall 2022. With the launch of the new model of Eve Motion we continue to deliver a wave of products prepared to shape the smart home of the future", says Jerome Gackel, CEO of Eve Systems. "Combining wireless motion and light sensors, Eve Motion is the essential tool to automate your HomeKit smart home."
For a Hands-Free Experience
Eve Motion enables countless highly beneficial use cases of controlling your home. By combining motion and light sensors it brings your devices to life as soon as you enter a room – even depending on brightness or time of day. When motion is detected, HomeKit can send a notification or trigger custom automations, turning on lights and music in the kitchen in the morning or powering up a fan on a bright summer day. Using the Eve app, you can set the sensitivity of the motion detector individually by location and view a protocol of detected movements and their duration. And, when paired with Eve MotionBlinds, Eve Motion's new onboard luminosity sensor creates a magical automation experience that will adjust the blinds' levels according to the room's brightness.
Technical Specifications
Requirements: iPhone or iPad with the latest version of iOS/iPadOS; controlling this HomeKit-enabled product automatically and away from home requires a HomePod or an Apple TV (4th generation or later) as a home hub; notifications away from home require a home hub
Operating Range: Field of view 120°; distance: 9 m / 30 ft. max at 2 m / 6.5 ft. mounting height;
Operating temperature: -18°C to +55°C (: 0°F - 130°F); indoors and outdoors: Certified IPX3; twilight setting: 0 - 15,000 lux
Installation: Freestanding or wall mounting

Power: 2x AAA replaceable batteries
Wireless Connection: Bluetooth Low Energy, Thread

Dimensions: 65 x 65 x 34 mm / 2.56 x 2.56 x 1.34 in

About Thread
Thread technology is specifically developed for smart home applications to improve connectivity between products. Now, HomeKit devices can communicate not only using Wi-Fi or Bluetooth, but also using Thread. The big difference with this technology is that Thread creates a mesh network. Within this, lights, thermostats, outlets, sensors, and more can also talk to each other free of the constraint of having to go through a central hub, such as a bridge. That's because a Thread network doesn't need one. If a single devices fails, the data packets are simply relayed to the next in the mesh. Learn more

About Matter
Matter is a new smart home protocol developed jointly by Amazon, Apple, Google, Eve and many other manufacturers to eliminate incompatibilities in the smart home once and for all. Matter-certified products are a breeze to integrate into your smart home. Your entire family can control your home via a smartphone or voice assistant effortlessly using any device they choose. That's because Matter doesn't mind if you use an iPhone, Android device, Alexa-enabled smart speaker, Google Assistant, or Siri. Learn more

Pricing & Availability
The second generation of Eve Motion is available at a price of 39.95 Euro / CHF 44.95 / GBP £34.95 / USD $39.95 / CAD $59.95 / AUD 69.95 / NZD 75.00 from the Eve Store (Continental Europe and North America) and later from Amazon and the Apple Store online.

Maximum Privacy
Eve does not operate a manufacturer cloud, enabling a smart home that is 100% private. Eve does not harvest your personal data by forcing you to set up an account or registering your products. All communications is fully encrypted and only transferred directly between your Eve product and iPhone, iPad or home hub. Your data will never be analyzed or used for advertising purposes - because it simply isn't accessible to anyone but you.

Image Library
To download high-resolution images visit our press library.

Press Contact
Lars Felber, Director PR
[email protected]