IFA 2022: EVE SHOWCASES MATTER IN LIVE DEMOS
Thread-enabled Eve products are ready to expand beyond Apple Home thanks to Matter, while the Eve App for Android will arrive in late 2022. Eve will also debut new motorization options for Eve MotionBlinds, an Eve Shutter Switch (EU), a new Eve Light Switch with Thread (North America), and a new Eve Outdoor Cam White Edition, all at the Berlin tech show.

Berlin, September 1, 2022 – Eve Systems, the renowned innovator in the global smart home industry, proudly previews Matter live at IFA (IFA Smart Home, Halle 5, Stand 117). Using voice assistants and smartphones of several platforms like Apple Home, Google Home, Amazon Alexa and Samsung SmartThings to control Eve products, Eve gives a glimpse of the simplicity and interoperability that will define future smart homes.
"We're pumped for Matter to become available this fall", said Jerome Gackel, CEO of Eve Systems. "A host of Thread-enabled Eve products is waiting to help shape the smart home of the future".
"We're excited to partner with Eve to bring Frustration-Free Setup to all their Matter-enabled Thread devices," said Chris DeCenzo, Senior Principal Engineer, at Amazon. "Adding this zero-touch setup experience which automatically connects devices as soon as they're powered on, coupled with our support for Matter over Thread across millions of new and existing Echo and Eero devices, are important steps toward creating a more seamless smart home experience."
"The launch of Matter will mark a significant milestone in the future of connected living," said Mark Benson, Head of SmartThings US. "Eve was one of the first to join our Partner Early Access Program, which allowed companies to test their Matter-compatible devices. Thanks to partnerships like these, we've been able to make substantial progress toward interoperability, and we're excited for what's ahead."
Eve's former Bluetooth range is now an all-Thread lineup, offering 14 products that are ready to support Matter. These Thread-enabled Eve products, currently working exclusively with Apple Home, will begin receiving free over-the-air firmware updates so, over time, they can be used with other smart home systems, like Amazon Alexa, Google Home, or Samsung SmartThings. Alongside these updates, Eve will release a version of the Eve App for Android by end of this year.
Matter, the new smart home protocol developed jointly by leading smart home service providers and device manufacturers to enhance interoperability in the smart home once and for all, will be launched this fall.

New Motorization Options for Eve MotionBlinds
What's more, Eve Systems announced five new products for fall/winter. Smart shading increases comfort, enhances security and helps to save energy, making it an essential smart home product category. That is why Eve, in collaboration with global window covering specialist Coulisse, adds new options for Eve MotionBlinds, the first connected blinds and shades motors in the market to support Thread and soon Matter. Motors for Venetian blinds and Honeycomb shades join the award-winning Eve MotionBlinds for Roller motor, forming a new product family.
Eve MotionBlinds for Venetian is designed for both tilting and lifting wood and aluminum blinds, letting you play with light and creating any desired privacy. Eve MotionBlinds for Honeycomb, a motor for high-performing cellular shades with excellent insulating properties, contributes to optimal thermal and acoustic comfort.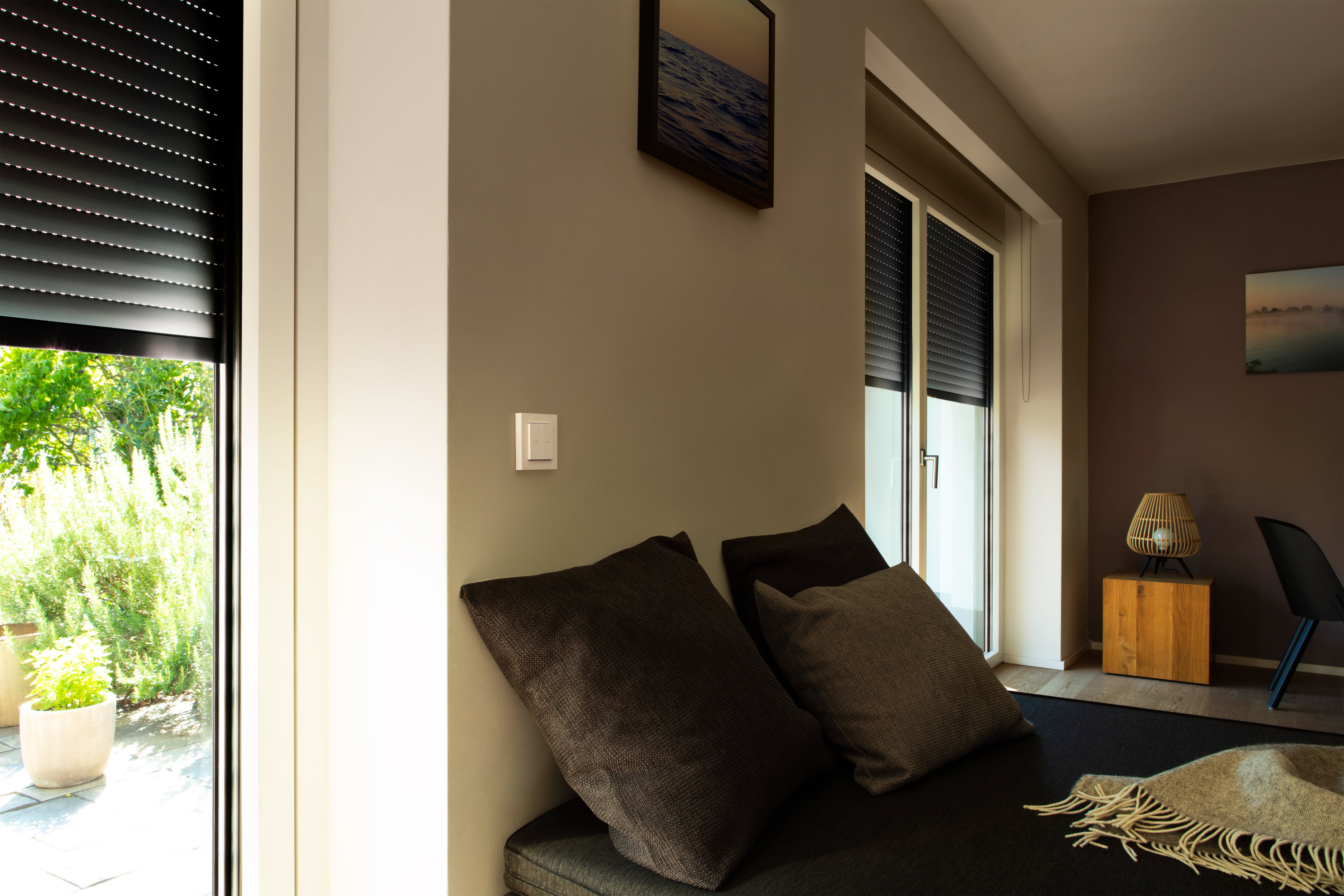 Eve Shutter Switch
After having partnered with Coulisse to develop state of the art window covering solutions, Eve is now adding a controller for motorized roller shutters and blinds with Eve Shutter Switch. Thread-enabled and available exclusively in Europe, Eve Shutter Switch converts an existing in-wall roller shutter switch into an automated shading solution. Thanks to autonomous schedules, you can have your shutters open and close automatically. Using Apple Home automations based on a light sensor like the one in Eve Motion you can even make your roller shutter respond to sunlight.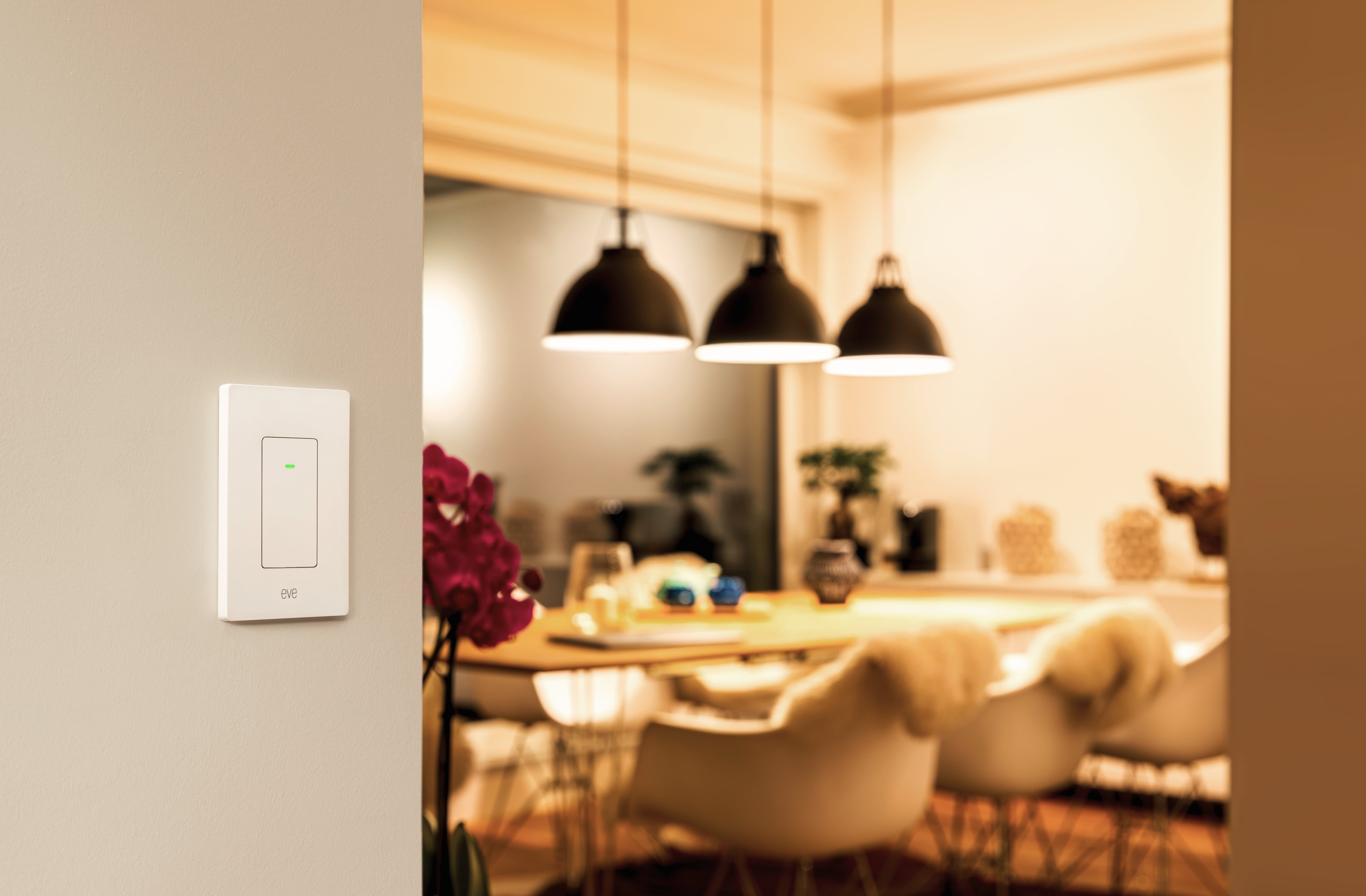 Eve Light Switch adds Support for Thread
The third generation of Eve Light Switch US does not only add support for Thread but it is also no longer limited to rooms with single-pole switches. It will now replace 3-way switches too, making almost any lighting setup smart without the need to replace a bulb. Turn your lights on or off via app or Siri, and effortlessly set up schedules that put your lights on autopilot, turning them on and off independently of your iPhone or internet connection. Or set idyllic scenes in which additional products work in unison. What's more, Eve Light Switch can act as a router node in your Thread network, enhancing its stability and reach by relaying other Thread devices' data packets.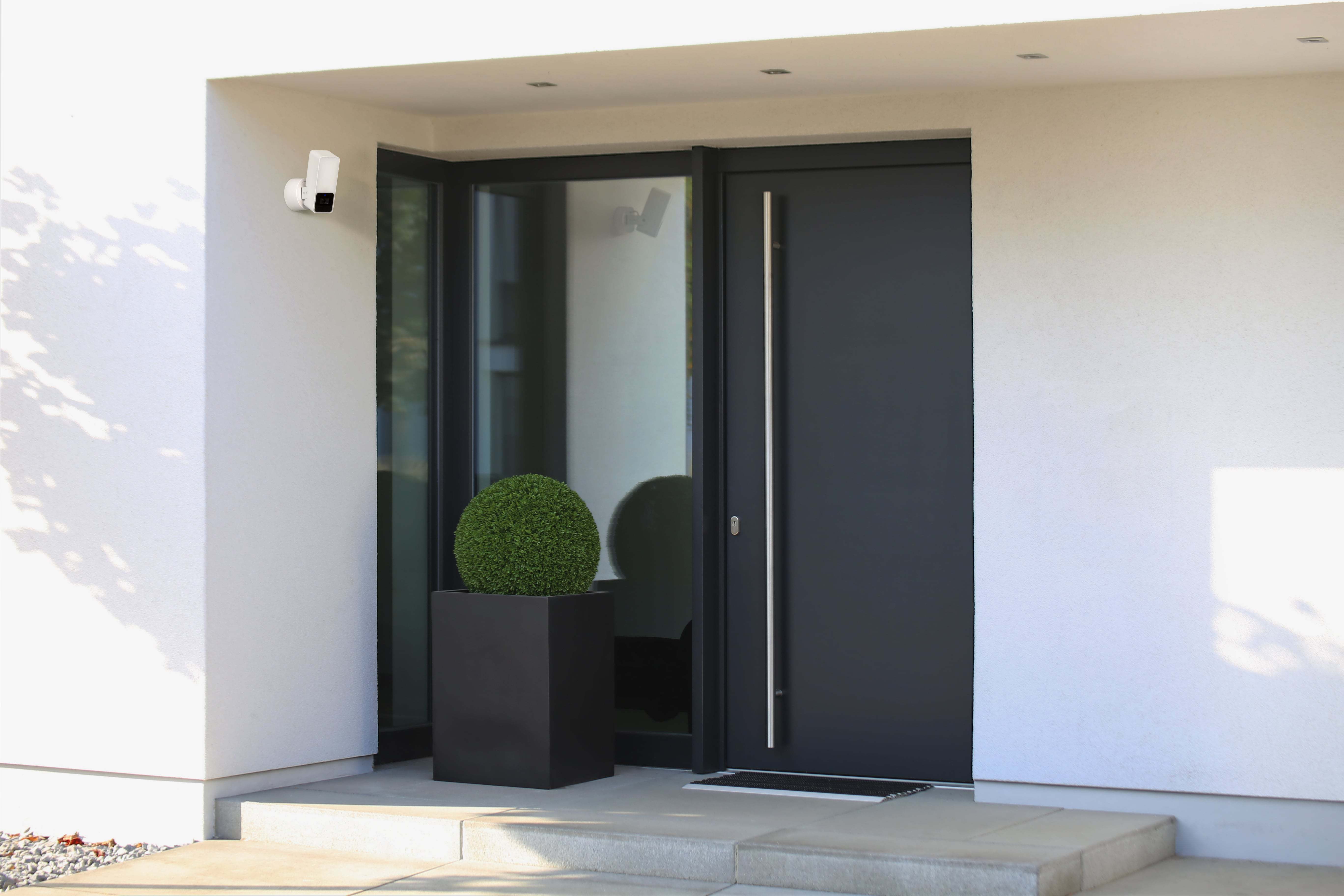 A White Edition of Eve Outdoor Cam
Eve's secure floodlight camera has not only won the prestigious iF Design and Red Dot Design awards. It is also beloved by users for leveraging HomeKit Secure Video exclusivity to guarantee 100% privacy. Celebrating the success of Eve Outdoor Cam, Eve adds a stunning White Edition. Like the original, Eve Outdoor Cam White Edition comes in a robust metal enclosure and features an autonomous, dimmable motion light with an ultra-bright boost. Through end-to-end encryption of live and recorded video, user data is secure at all times. Apple TV or HomePod take over the task of analyzing locally whether it's a person, pet, vehicle or package in the picture.

Pricing & Availability
Eve Shutter Switch will be available in December at a price of 99.95 Euro from Eve and Amazon in Germany, Austria, Belgium, Luxemburg and the Netherlands. Eve Light Switch (North America) will be available in October at a price of USD $49.95 from Eve, Amazon and soon Apple. Eve Outdoor Cam White Edition will be available in December at a price of USD $249.95 from Eve and Amazon.
Eve MotionBlinds for Honeycomb will be available globally and Eve MotionBlinds for Venetian will be available in Europe only. Alongside the already available Eve MotionBlinds for Roller and starting later in the year, they will be distributed through a growing network of resellers listed in the store locator on motionblinds.com/eve. In the United States, Eve MotionBlinds for Roller can today be purchased from Blinds.com, SelectBlinds.com, ModernShadeXpress.com and WindowFashion.com.

Image Library
To download high-resolution images visit our press library.

Press Contact
Max Borges Agency
Dan Turk
[email protected]