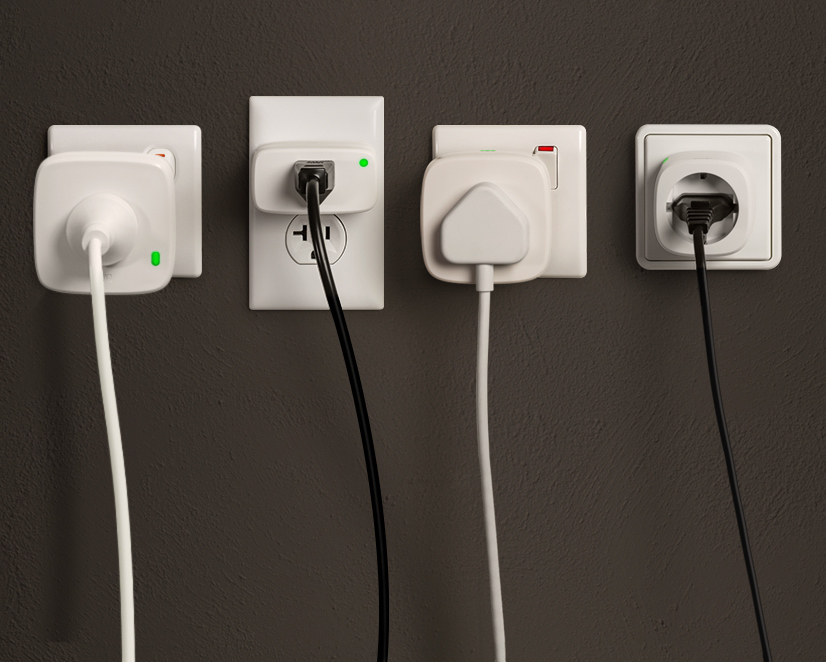 All features of Eve Energy
Apr 27, 2021 - by
Lars
- Comments
Make your home smart the easy way by equipping it with HomeKit-enabled smart plugs. They're super intuitive to use and you can set them up in no time at all. Once that's done, you're ready to make your lamps and appliances smart and control them via an app, using easy-to-learn voice commands, based on a schedule or even by your presence.
Within minutes, you'll have a Siri-enabled Christmas tree, your reading lamp will turn on in the evening automatically and your fan will start with a simple tap. Eve Energy also offers additional features including autonomous schedules, a power meter and a child lock – which is why our smart plug is one of the best-selling HomeKit products out there.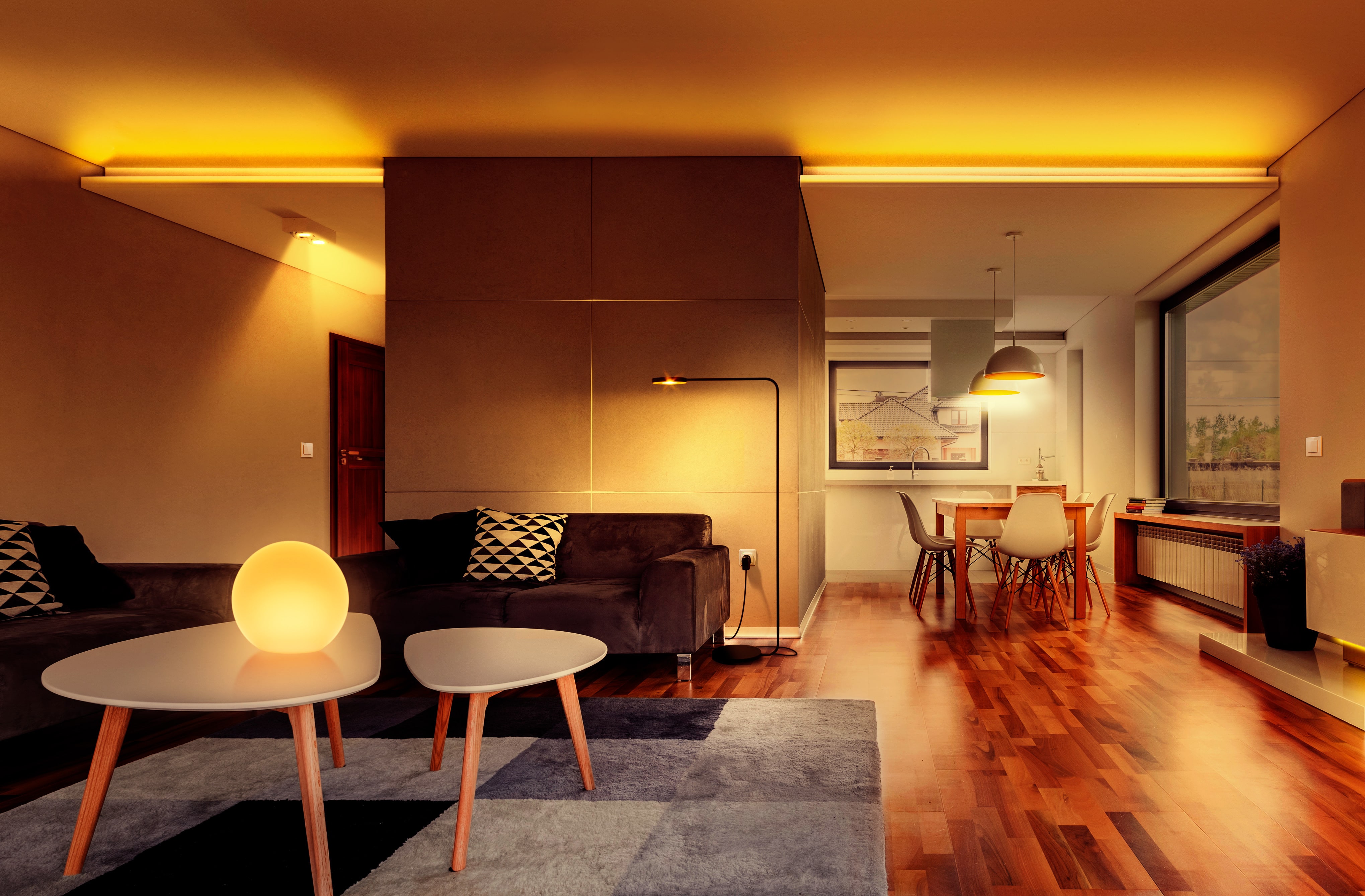 Easier to set up and more secure
Another of Eve Energy's stand-out features is that it supports both Thread and Bluetooth. Compared to even the latest Wi-Fi chips, which are still power-thirsty, Thread and Bluetooth are energy-saving, high-performance wireless technology standards – perfect for smart plugs that are usually only ever switched on and off a few times a day. Eve Energy is also easy to set up and works completely independently of your home network, saving you the hassle of having to jump through all the set up and security hurdles – who needs yet another device crowding their home network anyway?!
Eve Energy joins your Thread network automatically. As a router node, Eve Energy relays other Thread accessories' data packages and enhances the stability and reach of your smart home. Thread accessories don't need a proprietary bridge to communicate with each other – they simply need a Border Router, which for HomeKit over Thread is HomePod mini. Discover all you need to know about HomeKit over Thread here.
You can even add Thread support to your latest-generation Eve Energy simply by updating the accessory's firmware. Discover if your Eve Energy can support Thread by visiting evehome.com/identify.
Setup
For best performance, plug Eve Energy directly into a wall outlet and only plug one appliance into the accessory – don't go plugging Eve Energy into a power strip, and don't go plugging one into the accessory either. Eve Energy is rated for a maximum current of 11 A / 2500 W (European model; see this link for all other variants). Eve Energy is the only smart plug with HomeKit technology that bears the TÜV Rheinland seal, offering you unparalleled reliability. To get started with installing and customizing Eve Energy, simply follow these steps: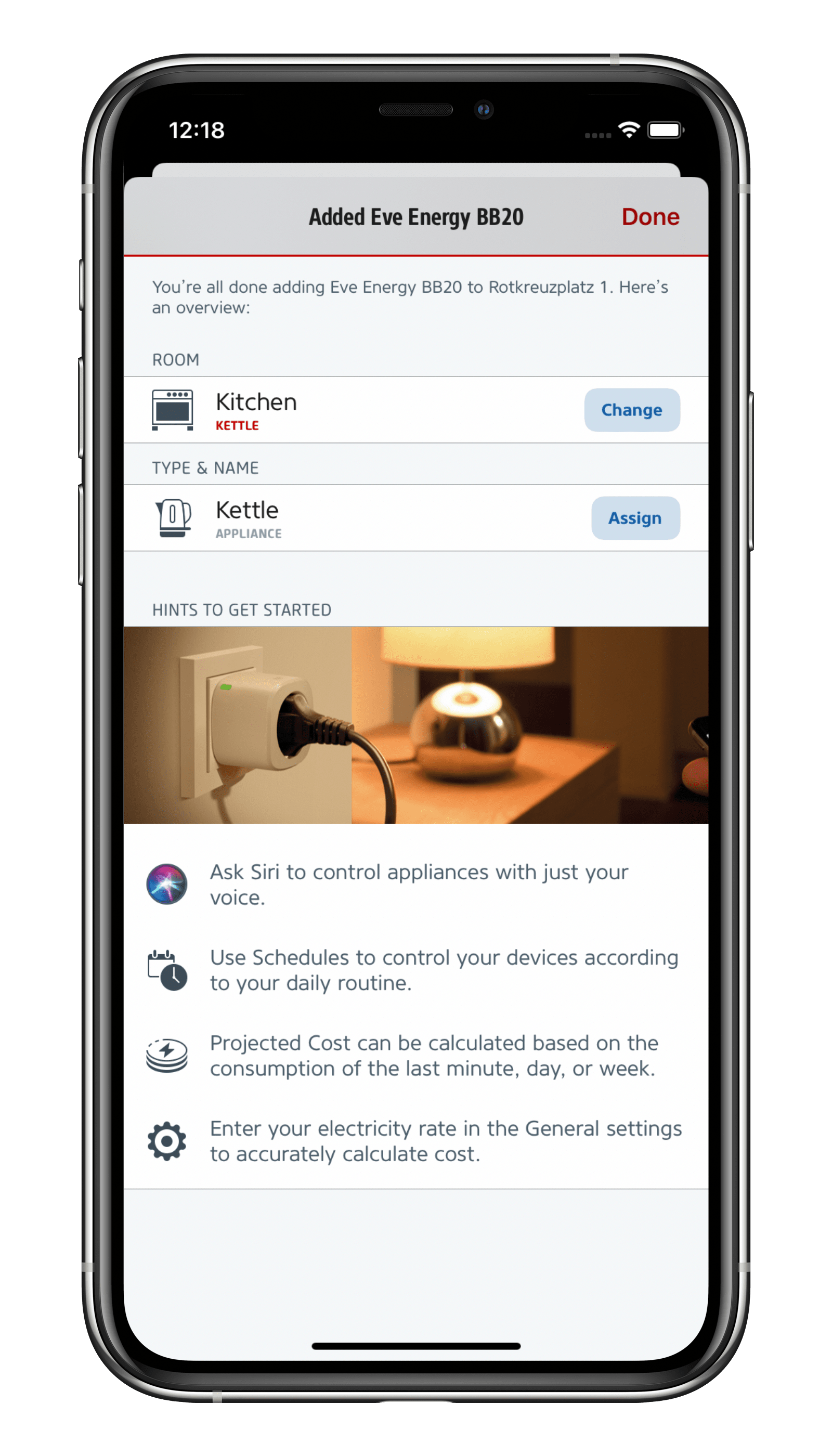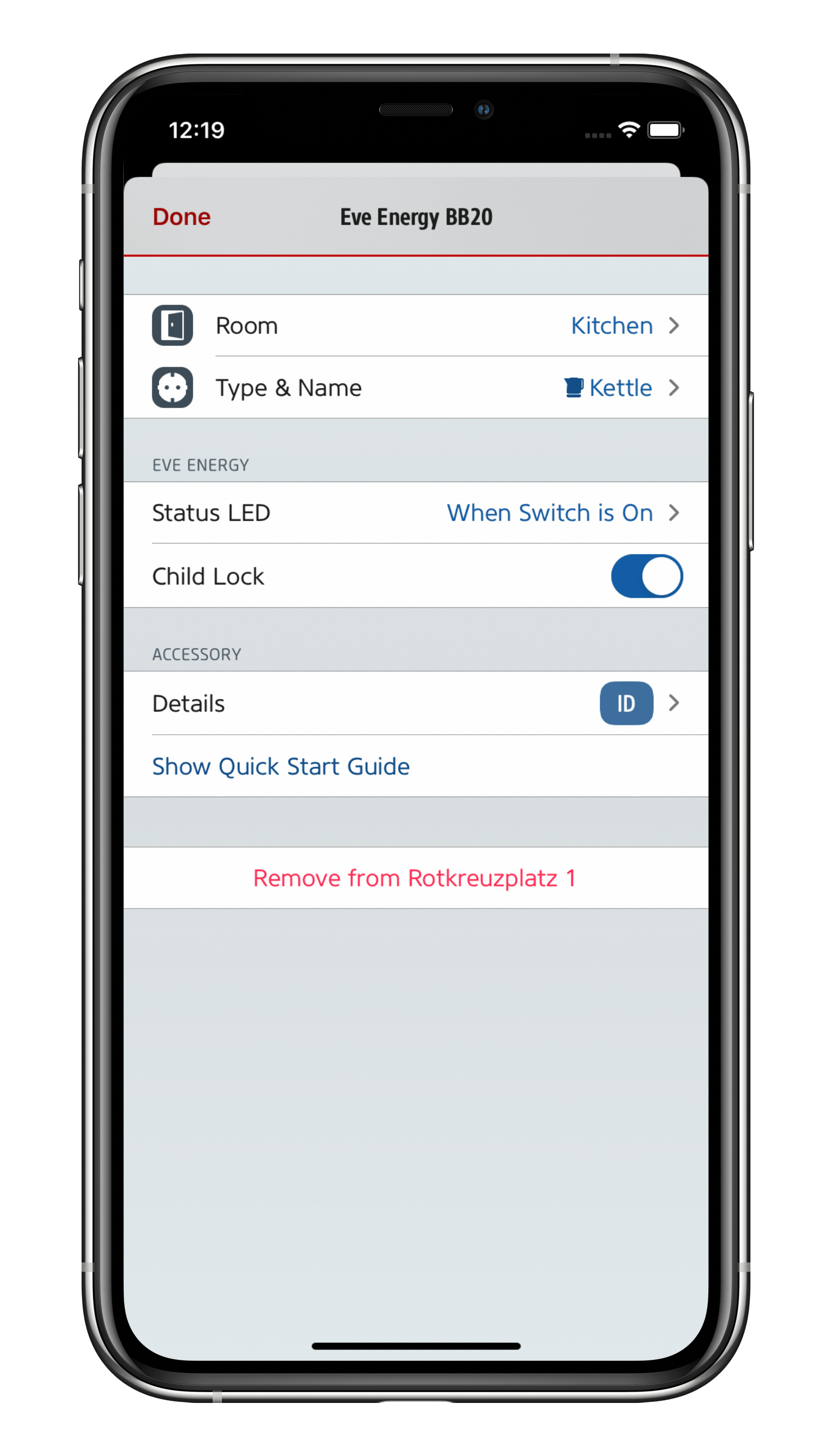 Eve Energy in the Eve app
The detail view of Eve Energy contains the main controls such as the power on/off button, the schedule editor, plus a range of report and measurement functions showing you when Eve Energy was last switched on/off, how much power is currently being consumed and the projected cost. You can also display additional parameters such as current and voltage in the detail view and change the order in which everything is arranged simply by tapping Edit.
The Eve app not only shows you how much power the appliance plugged into your Eve Energy is consuming, but also keeps a record of how much power has been consumed and shows you the projected annual cost of powering this appliance based on these consumption figures and your electricity rate.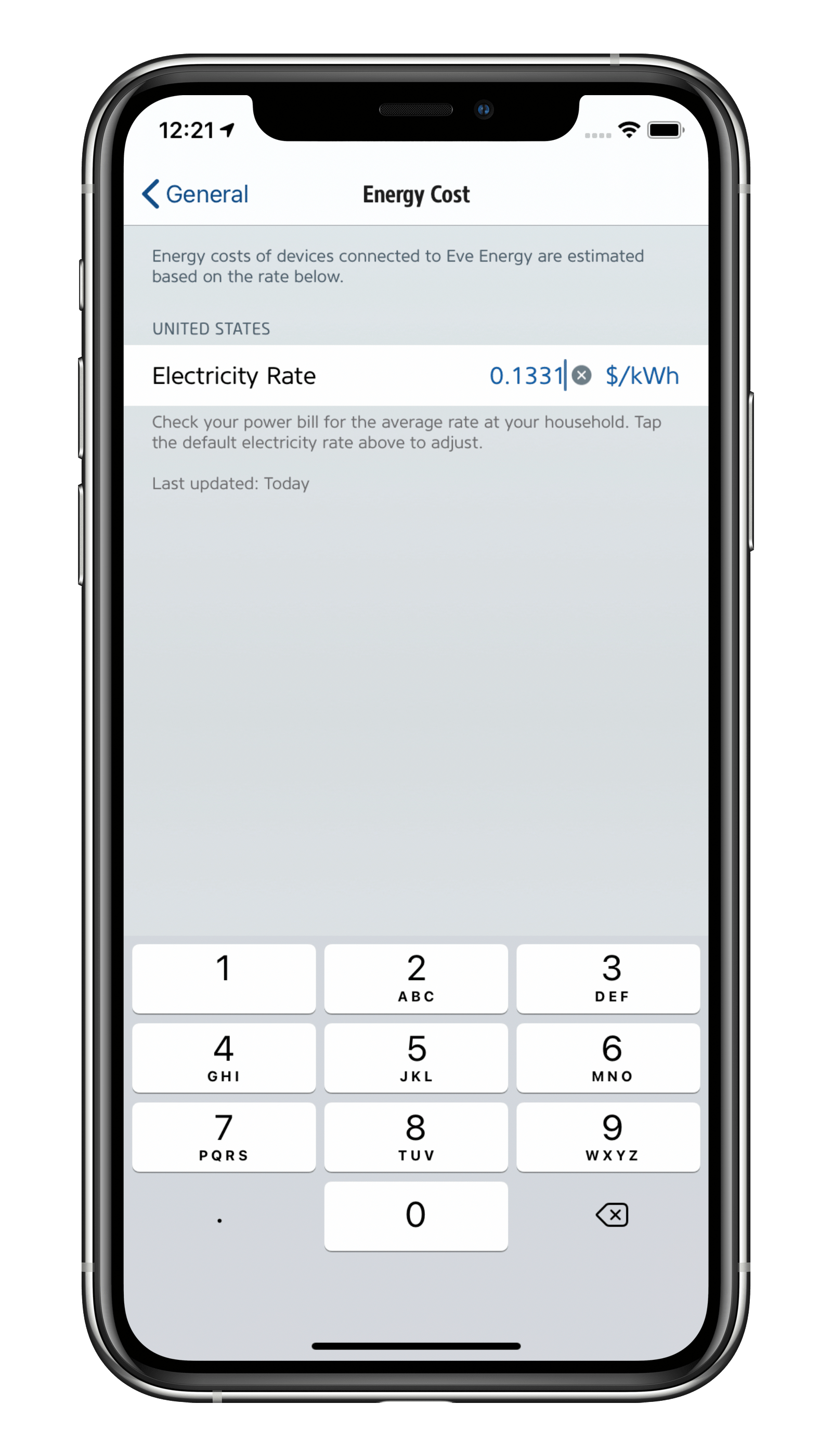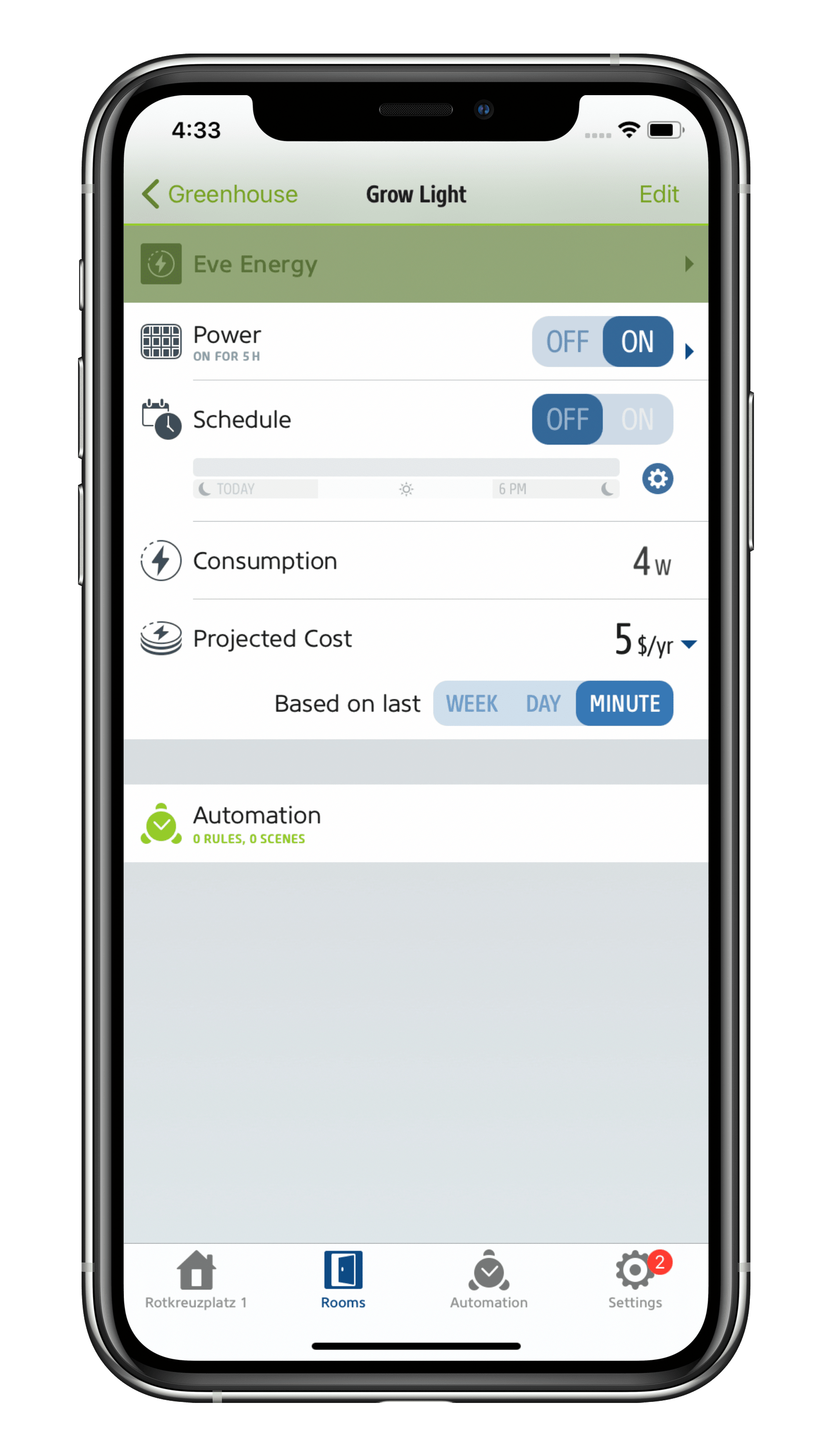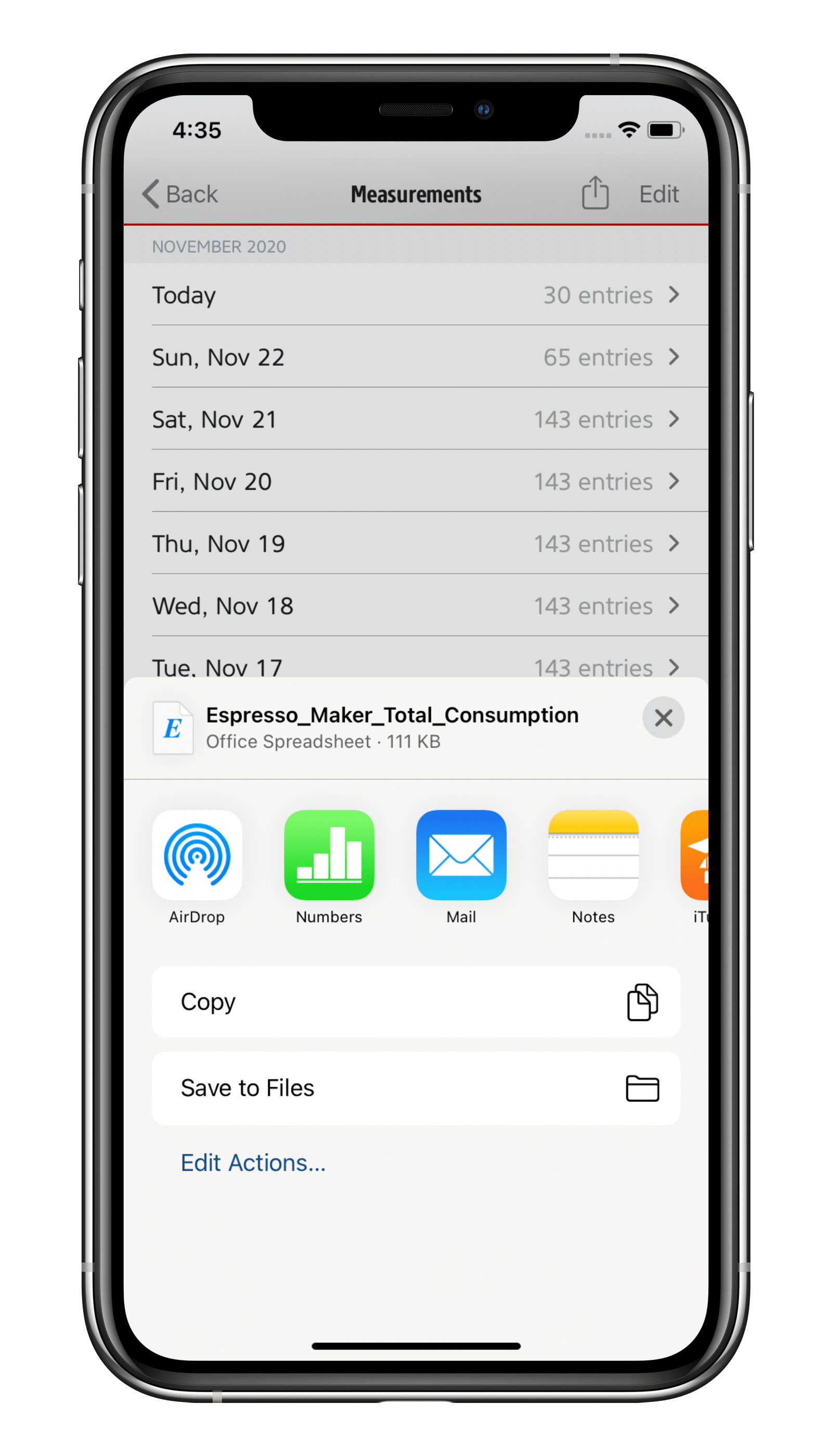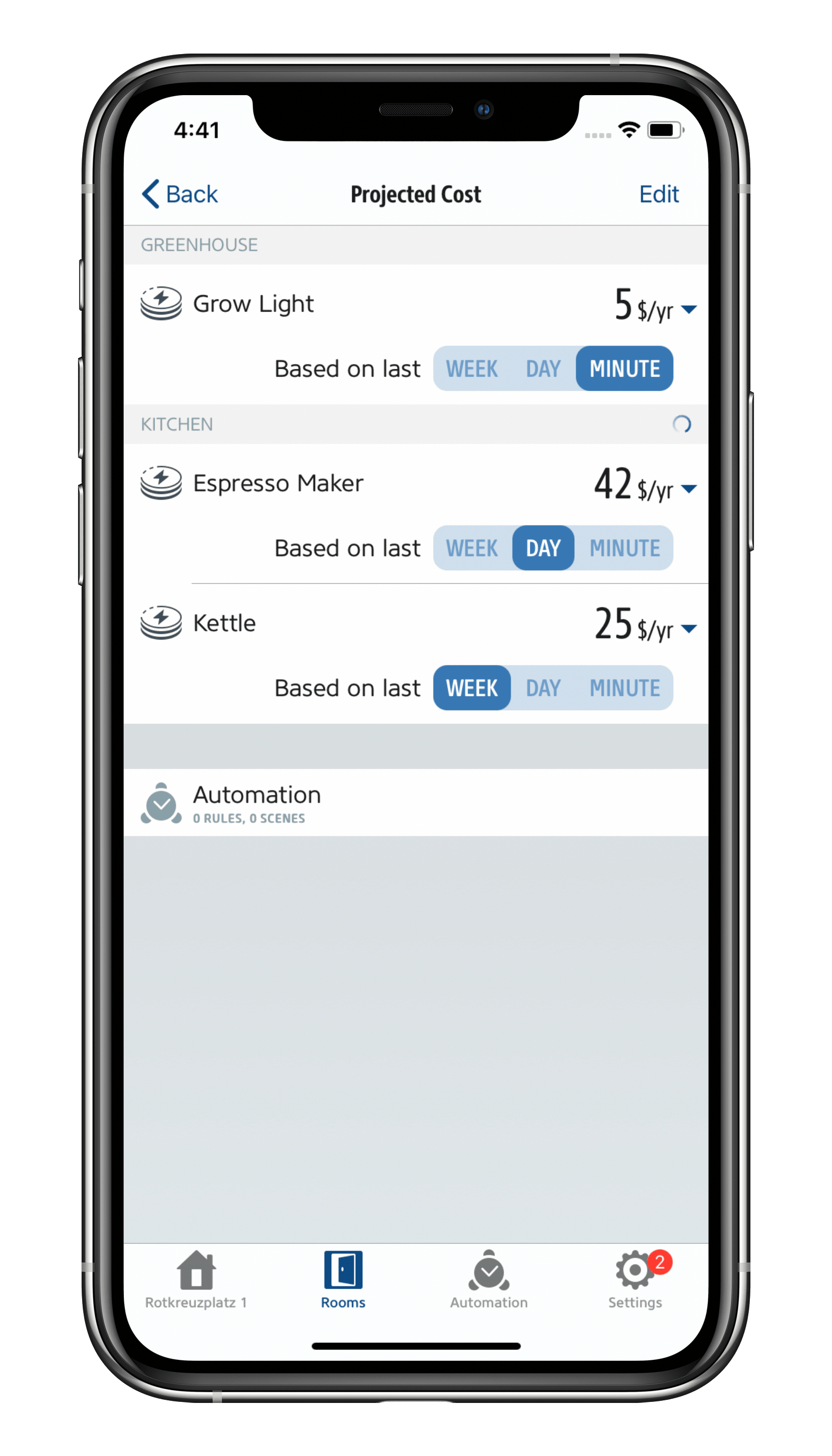 Autonomous schedules
Like several other Eve accessories, Eve Energy, also offers you autonomous schedules. They are stored on the accessory itself and even run when Eve Energy is not connected to your iPhone or home hub. They're perfect for countless purposes as you can add schedules based on sunrise or sunset. Want to set your plant light to bathe your plant in a constant stream of growth-promoting light with a break at nighttime?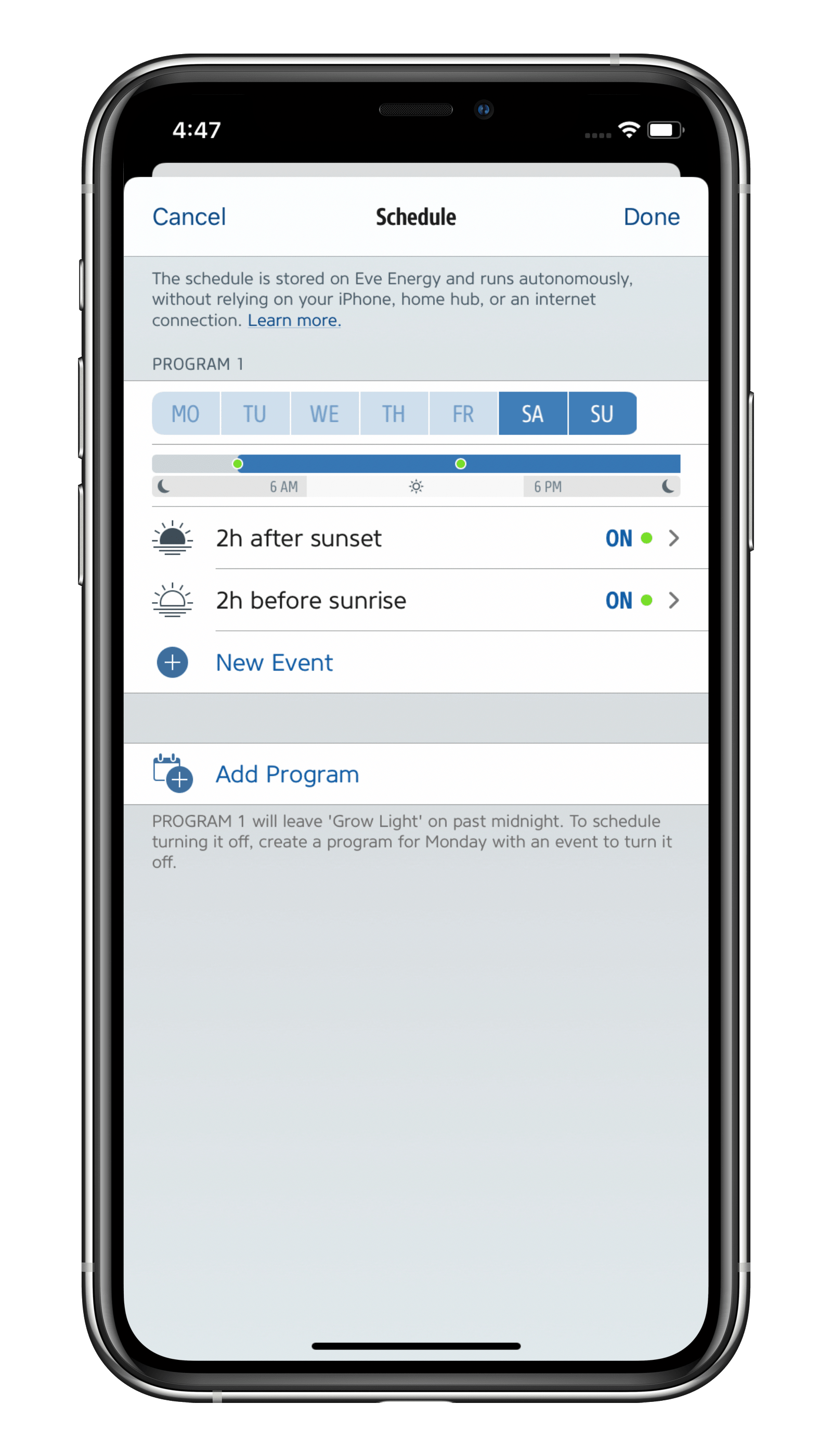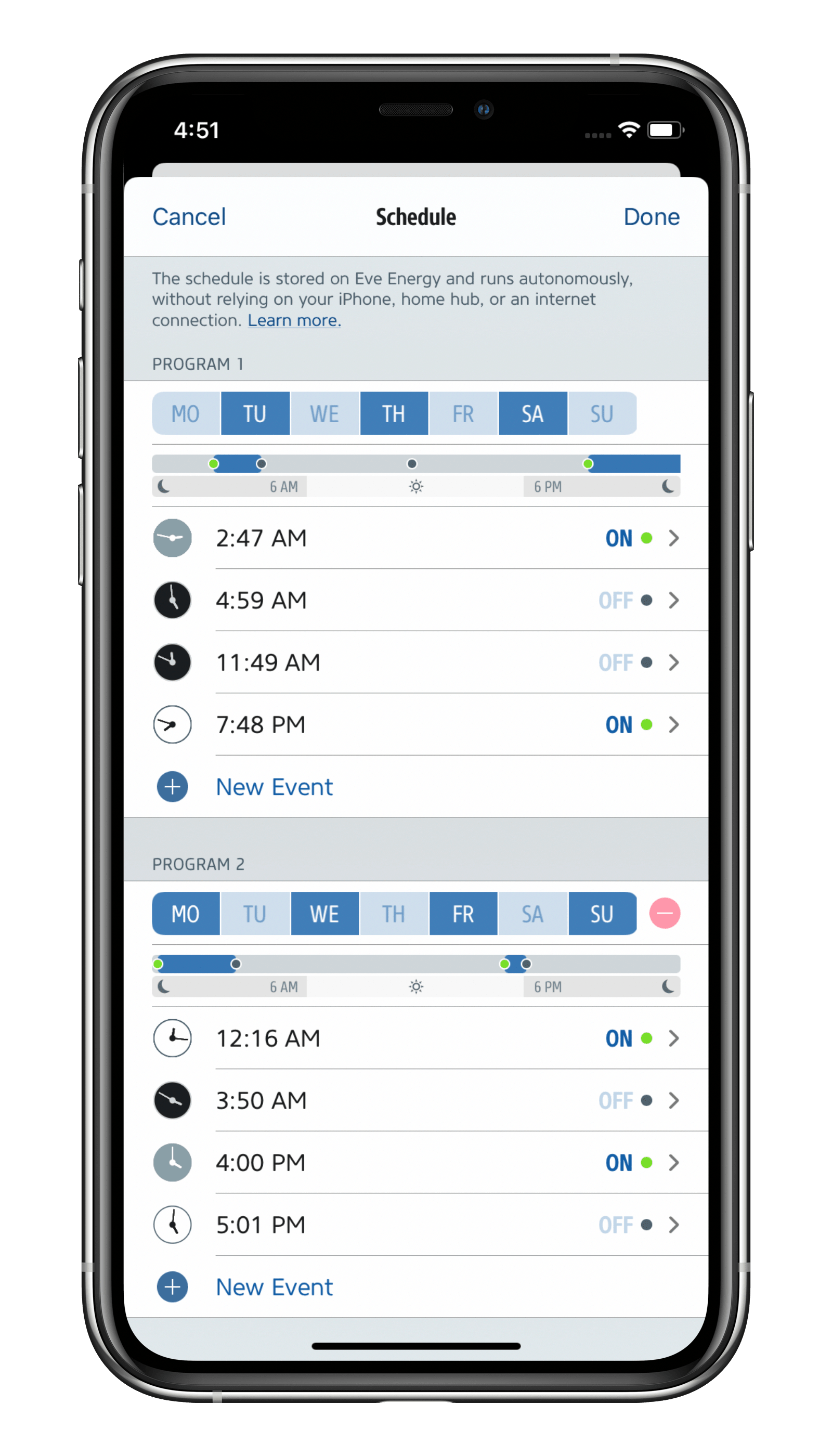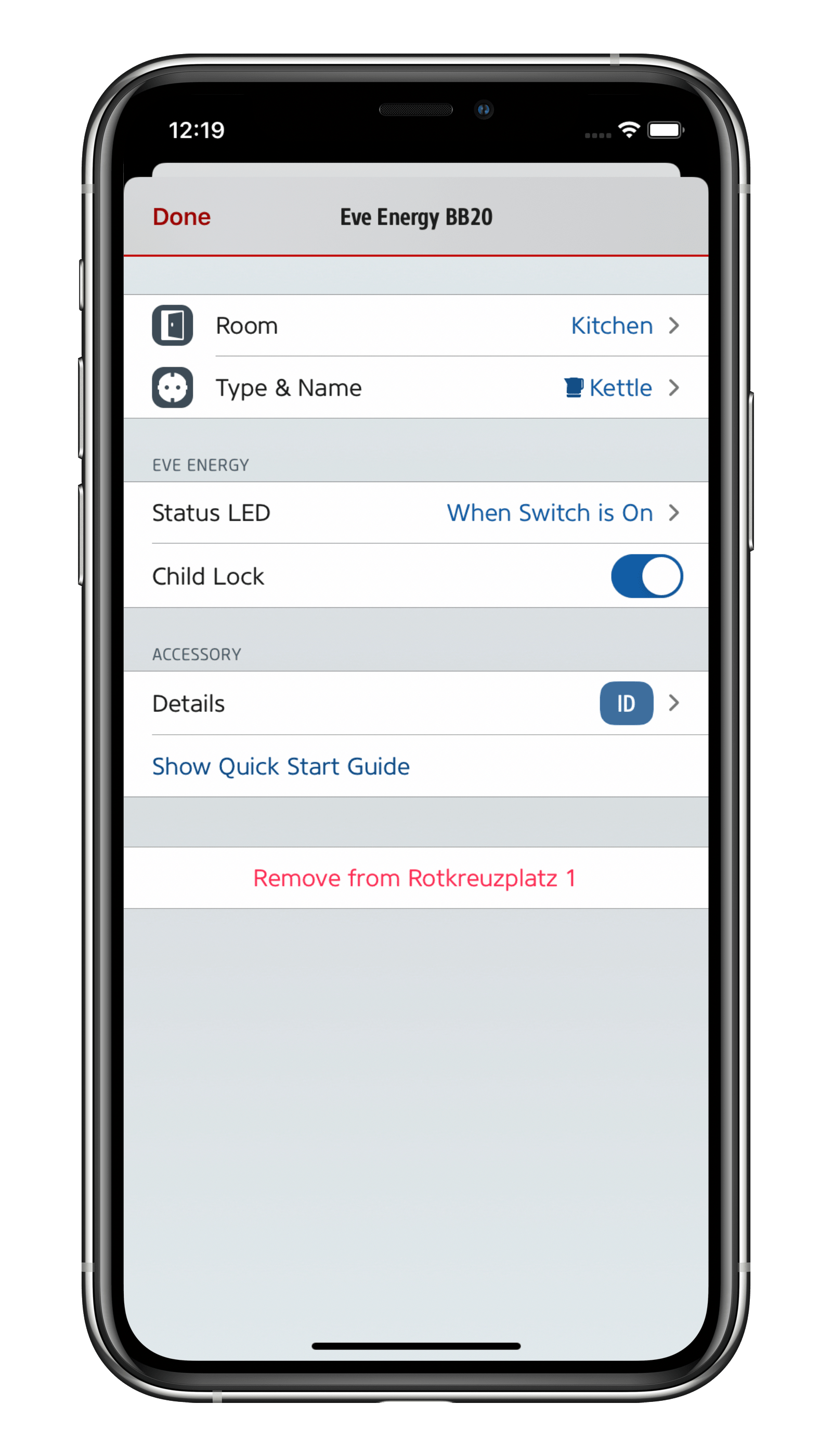 Top tip: Other Eve accessories, including Eve Thermo, Eve Aqua, Eve Light Switch (EU / US), and the sister product of Eve Energy – the smart power strip Eve Energy Strip – also feature these handy autonomous schedules. Please note that this feature is not available for Eve Energy models sold in China, Japan.
HomeKit automations
Using automations to switch the power on or off makes sense if you need to control several appliances at once or if you only want them to be active when you're actually at home. This is where HomeKit comes into play (or more accurately: an essential home hub).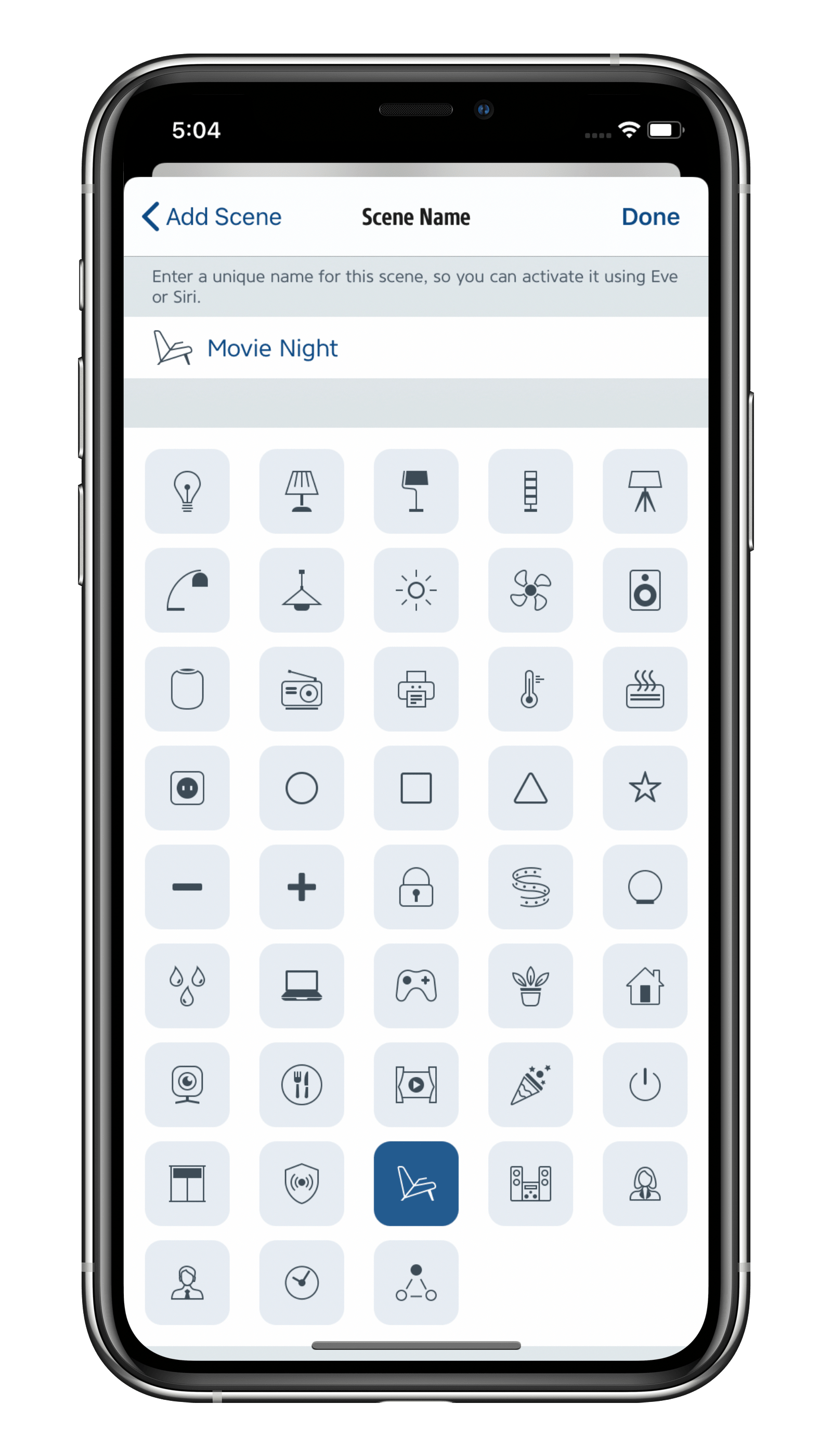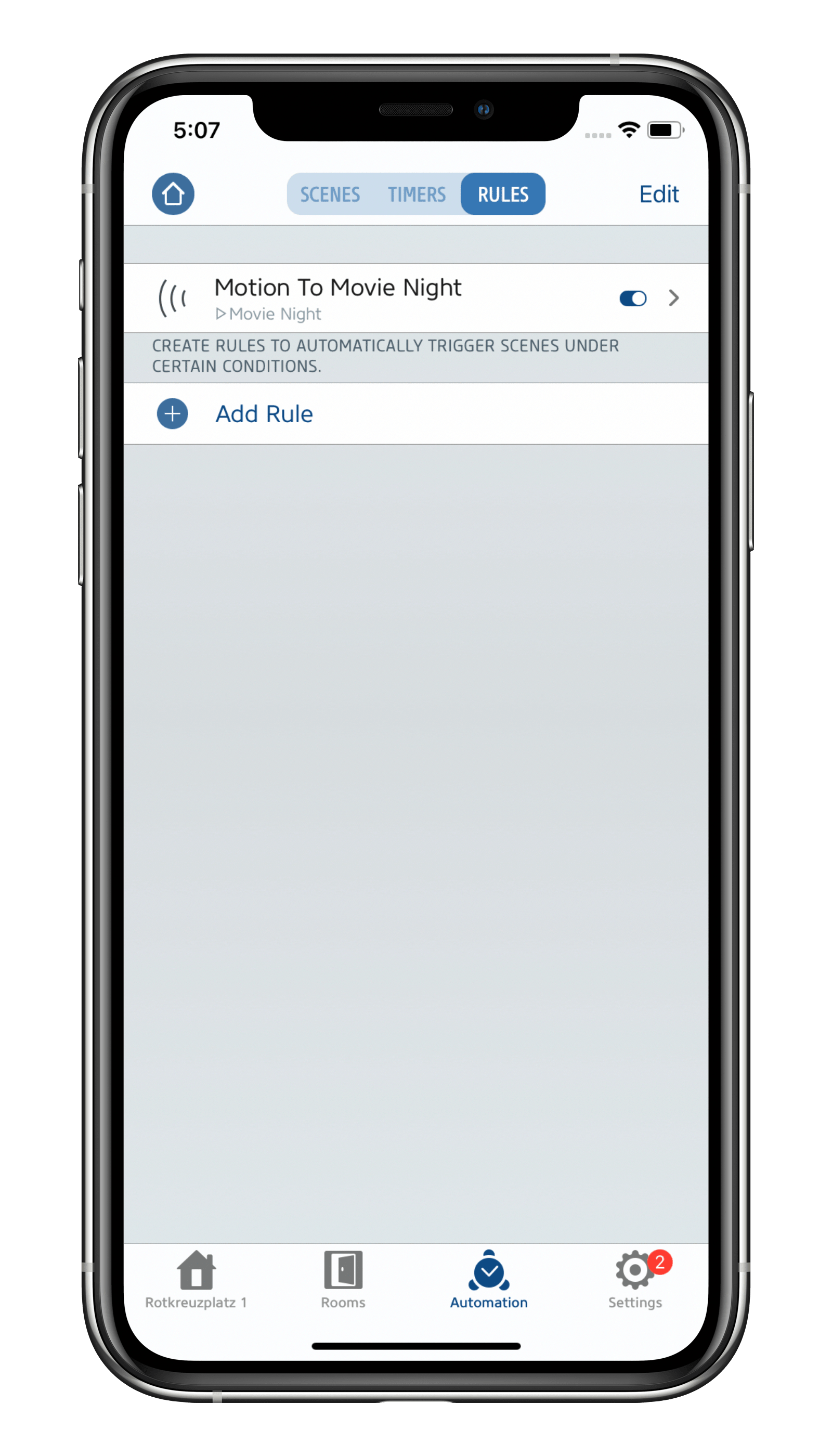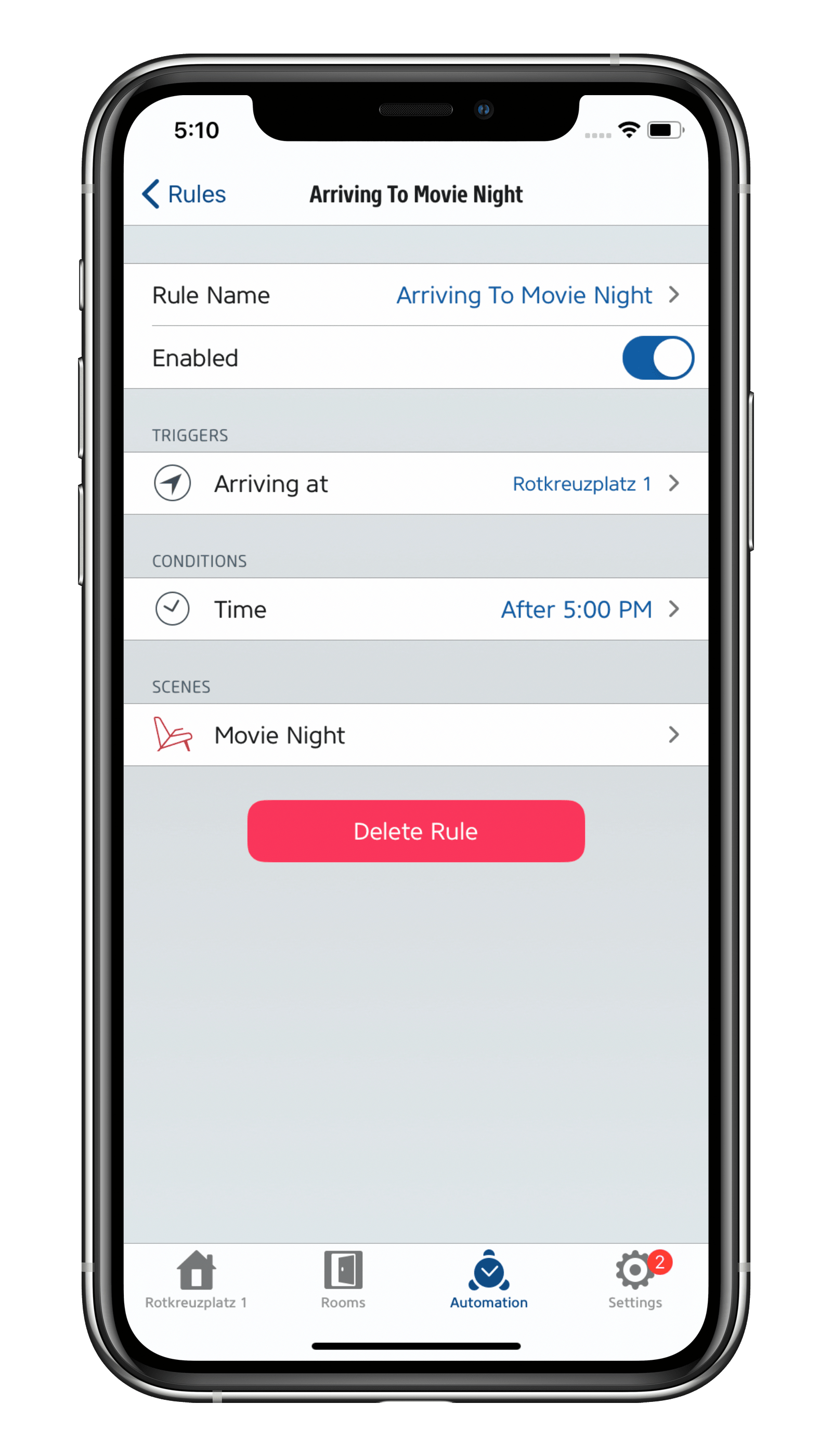 Top tip: In many respects the Apple Home app offers fewer automation options than the Eve app. However, it does offer several special options due to the privacy architecture of HomeKit. Thus, the Home app lets you add rules that run based on your or a family member's presence such as "When somebody/nobody is home" or "When I am home/When I am not at home". Scenes which remain active for a set duration are another automation option exclusive to the Home app. While rules and scenes configured in the Home app are displayed in the Eve app, you can't change them at the relevant points.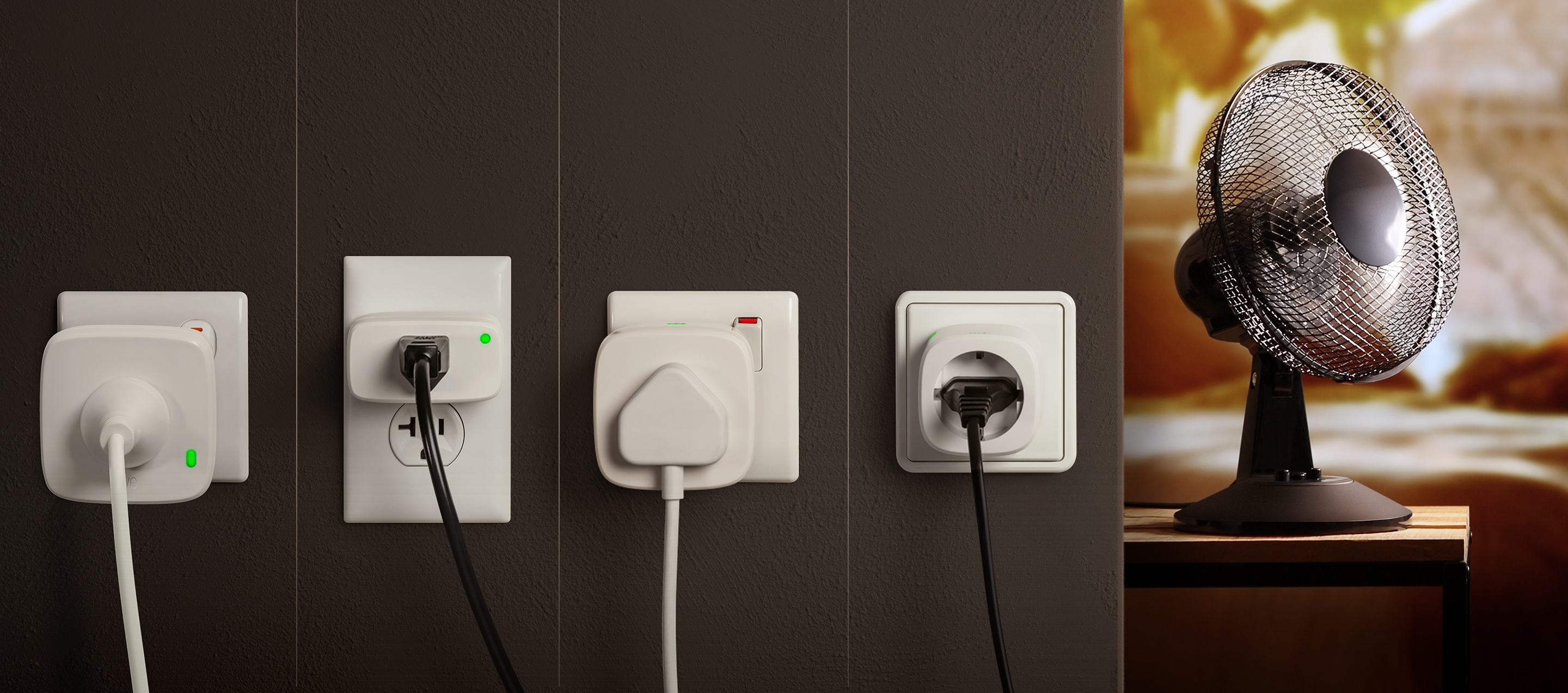 Control using Siri
Smart plugs and Siri are a match made in heaven. First, you can phrase really simple commands as the plugs only have an on or off state. Second, you can tag plugs in multiple ways because they carry a Siri name, represent a type of accessory and are assigned to scenes, groups, rooms or zones.
Control using the Siri name: "Hey Siri, turn on the Christmas Tree."
Control based on device type: "Hey Siri, is my light on?"
Control as part of a scene: "Hey Siri, Good Morning!"
Control as part of a group: "Hey Siri, turn off all kitchen appliances."
Control by room: "Hey Siri, turn off the power in the Bathroom."
Control by zone: "Hey Siri, turn on the air dehumidifiers in the Basement."
Use cases
with Eve Motion:
Automate your festive lights with Eve Energy and Eve Motion
with Eve Room:
Improve indoor air by automating your dehumidifier
Tackle dry air caused by your heating
Enhance your morning routine:
Lighting the Way to a Peaceful Routine
Enjoy the perfect espresso in a shot with Eve Energy serving it up nice and hot
The perfect way to start your day – with HomeKit
Increase the reach of your devices
Add HomePod mini to your home and your latest-generation Thread-enabled Eve Energy will be able to communicate via Thread – the mesh network that reaches even the farthest corners of your abode. This happens automatically without you needing to configure anything. A Full Thread Device, such as Eve Energy, can act as a router node and relay data packets from other Thread devices.
To view the structure of your Thread network and see where you can make improvements, simply go to the Settings area of the Eve app and tap Thread Network. Among other things, you'll be able to tell which nodes your Thread devices use to communicate and whether you can further improve the stability and reach of your network and devices by adding one more Eve Energy or moving one to a better location.