Getting started
All you need to know about adding Matter to your Eve device
Matter, meet Eve! Eve has been one of the most ardent supporters of the new smart home standard, so we are happy to finally invite our community to update their Eve devices to work with Matter and enable control from the smartphone or voice assistant of their choice.
Supported Matter Platforms
Matter is already available on some of the most popular platforms with many more to join soon:

Apple Home

Samsung SmartThings

Google Home
Your favorite features – now on Matter
Eve devices have offered and will continue to offer unique functionality on the Apple Home platform. When you decide to upgrade to Matter, you'll continue to enjoy the seamless experience in the Eve and Apple Home apps that you've come to love – including custom features like autonomous schedules, child lock, or advanced automations.
Note that once you've upgraded your devices to Matter, you can't migrate them back to HomeKit.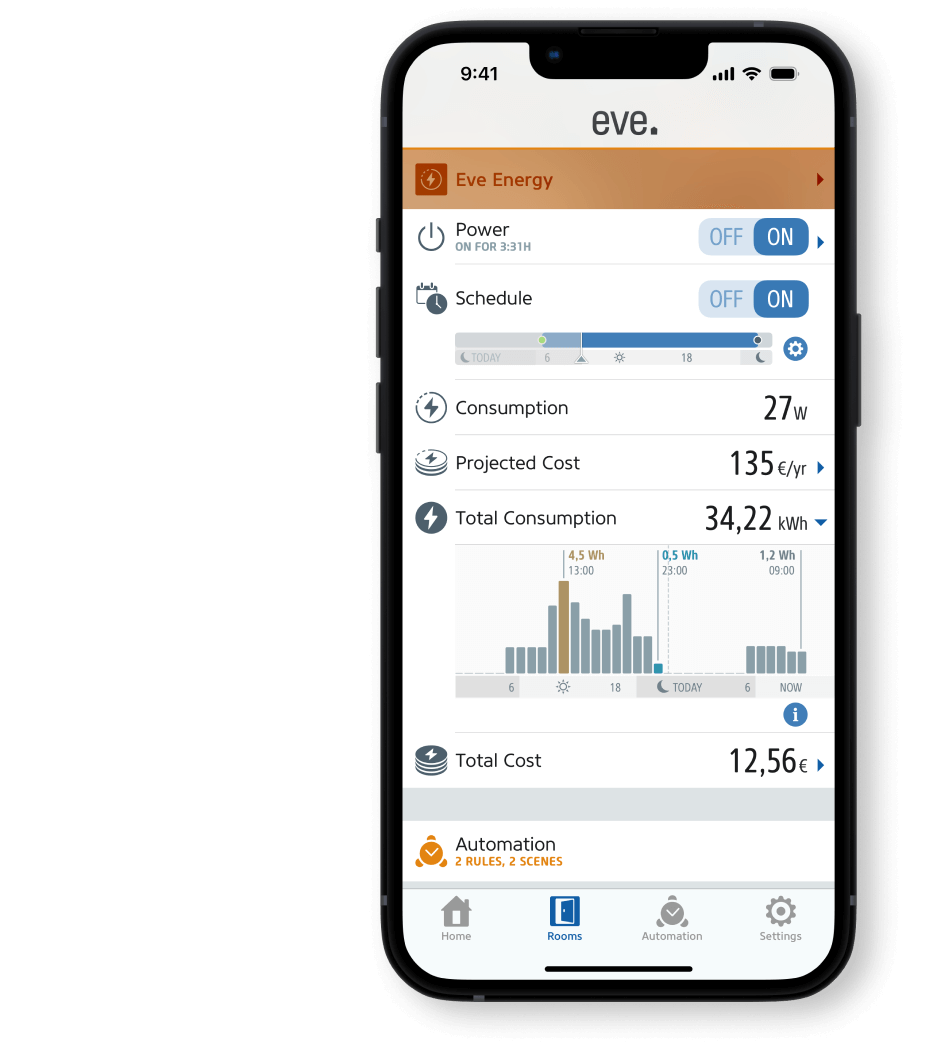 Make sure a Thread Border Router capable Home Hub like a HomePod mini or Apple TV 4K (2nd gen. / 3rd gen. 128 GB) is connected to your network, updated to version 16.3 (or later).
Update HomePod mini by choosing Home Settings > Software Update in Apple Home. On Apple TV, choose Settings > System > Software Updates and select Update Software.
Upgrading the firmware on an Eve device to Matter requires an iPhone or iPad running iOS/iPadOS 16.3 (or later).
Go to Settings > General > Software Update to make sure your iPhone or iPad is up to date.
.
Apply to enroll in the Early Access Program by completing the form below.
Apply for the Early Access Program

Control your Eve devices using Siri, Apple Home and Eve. Enjoy advanced functionality like schedules and historical data in the Eve app.

Use the SmartThings app on your Android phone to control your Eve devices. Requires a SmartThings Hub v3.

Access Eve devices using your voice with Google Assistant or the Google Home app on your Android phone.
Amazon Alexa
Access Eve devices using your voice with Amazon Alexa or the Alexa app on your Android phone.
Privacy & Security
Matter allows your whole family to control your home, using their preferred smartphone or voice assistant. Access from platforms beyond Apple Home is granted on a per-device basis. So based on your privacy and security preferences, you decide who can control a specific Matter product in your house, and from which platform. Rest assured Eve will always safeguard your personal data. Find the platforms' privacy rules below.
Which Eve devices can be upgraded to Matter already?
I don't have an iPhone or iPad. How do I upgrade my Eve devices?
Why are HomePod mini or Apple TV 4K (2nd gen. / 3rd gen. 128 GB) required?
Will my existing, non-Matter product receive a Matter upgrade, and if so, when ?
Which platforms currently support Matter devices over Thread?
How do I add a secondary Matter platform?
Is there a disadvantage upgrading to Matter?
Which apps can I use to upgrade to Matter ?
Can I use Eve specific, custom functionality like energy monitoring or historical data on all platforms?
Good to know