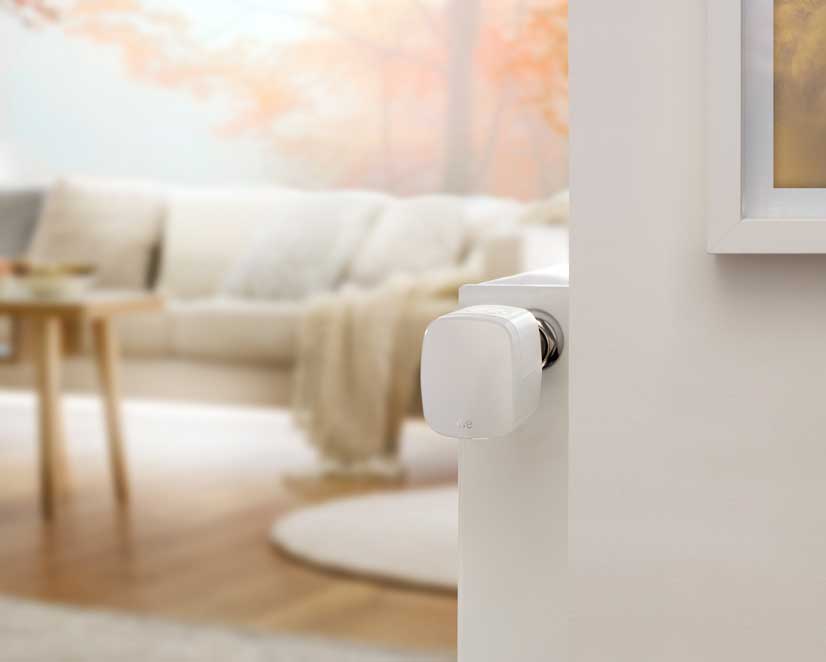 Smart heating in three easy steps
Oct 19, 2022 - by
Lars
- Comments
Lower heating bills with smart thermostats
Saving heating energy is the order of the day, and smart technology is ideal for this. When you choose Eve Thermo, it's easy to get started. Just replace your existing thermostat, pick up your iPhone and get started. You don't need to create an account or register anything.
Schedules are at the heart of Eve Thermo and the easiest method for smart heating. You simply set up schedules in the Eve app and they're saved directly to the device. And your family doesn't have to get used to anything new, because comfort functions such as window detection and Child Lock prevent any operating errors.
We'll show you how to use your iPhone to convert your rooms to smart heating using schedules in three simple steps - install, define schedules and optimise.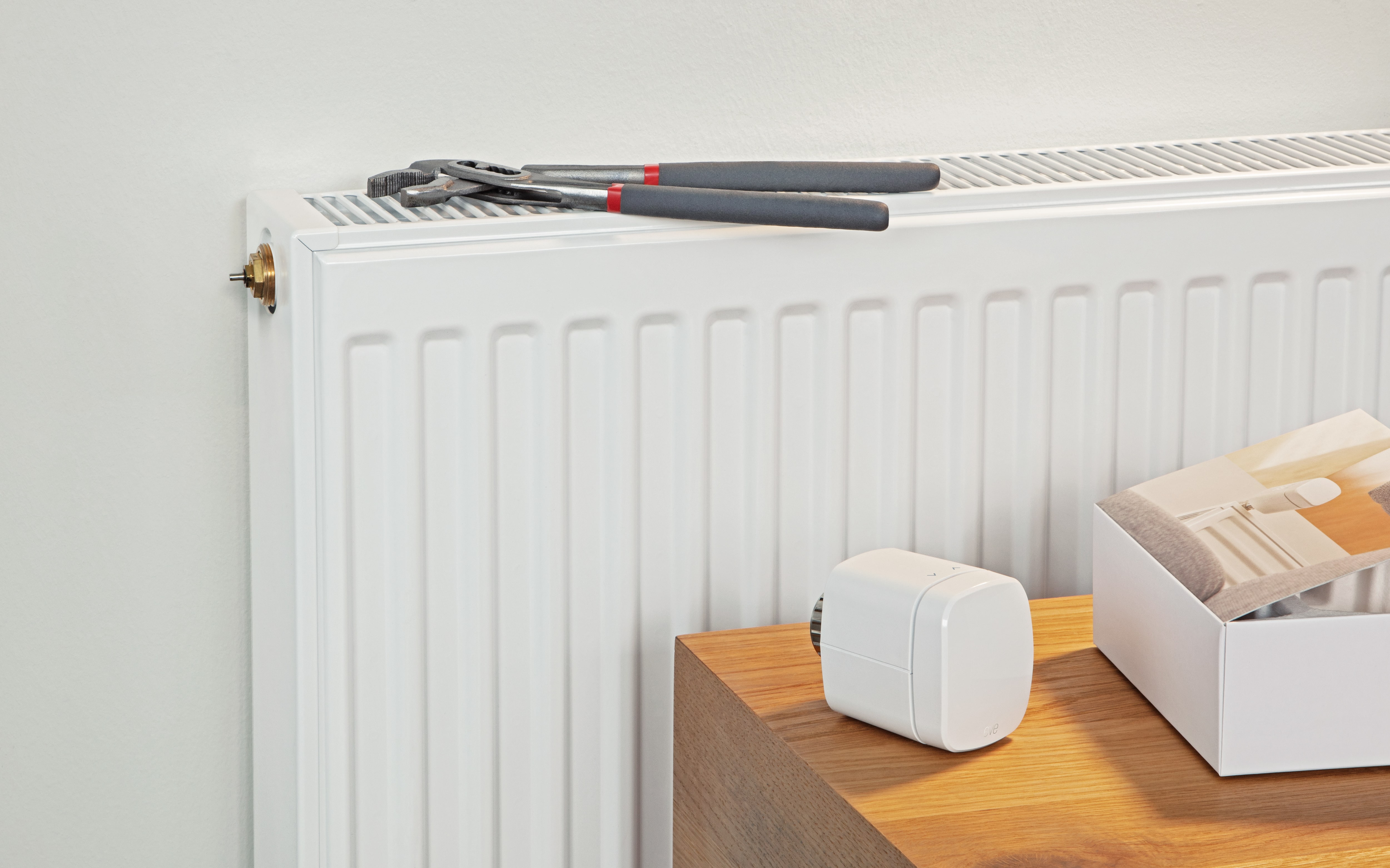 1. Add, mount, set temperature offset.
Add to Apple HomeKit: After you've inserted the included batteries, Eve Thermo says "Hi" to let you know that it's ready to be added to the Eve app. If Eve Thermo is your first HomeKit device, the app will welcome you with the "Add device" button. Otherwise, you can also find the same command in the app settings. Now scan the QR code on the device or on the back of the Quick Start Guide, select or create a room, maybe even choose a unique device name such as "towel radiator" - and you're done.
Mount on the radiator:
Continue to follow the step-by-step instructions in the Eve app: first unscrew the old thermostat, then briefly clean the valve and thread with a cloth and make the valve pin smooth-running by repeatedly pressing it in to loosen limescale deposits inside. Now you can screw on Eve Thermo - by hand and without a pipe wrench so as not to damage anything. Once Eve Thermo is correctly in place, it automatically calibrates itself for the respective valve.
Eve Thermo comes with the most common connection (M30x1.5), so you should easily be able to attach it directly in place of your existing thermostat. If your radiator differs from this standard, use one of the included adapters. In the rare case that Eve Thermo cannot be installed even with this, you can find out the specific adapter you require from the specialist Eurotronic, see also here in the blog.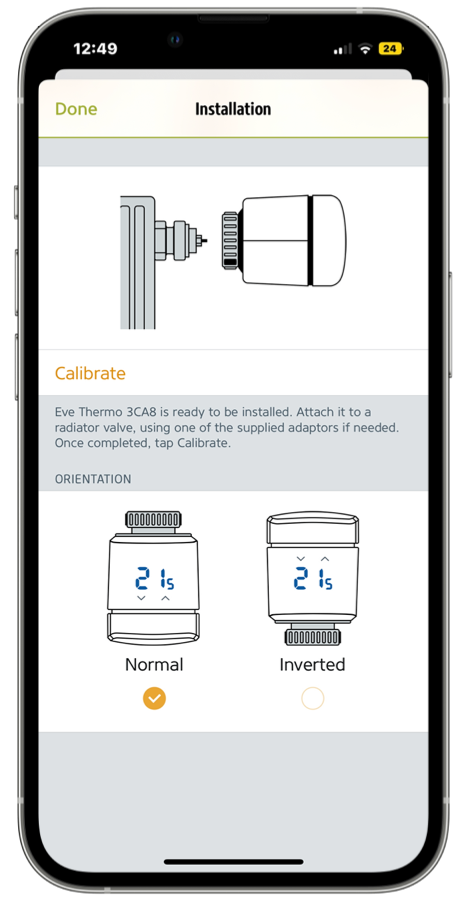 Setting the temperature offset:
Eve Thermo determines the room temperature with an internal sensor. Since the thermostat is usually installed very close to the radiator, often also under windowsills, the temperature measured here can be different to that of the centre of the room. To compensate, you can configure a temperature offset which Eve Thermo factors in when controlling the valve. To do this, tap the small triangle at the top left of the Eve Thermo detailed view in the Eve app and open the settings using the gear symbol.
If the temperature you have measured in the centre of the room at a height of 1 m is lower than the ambient temperature displayed in the app, set the temperature offset to a negative value. For example, if your lounge is 20°C, but Eve Thermo reports 21.5°C, set the temperature offset to -1.5°C. Over time, you'll need to work towards finding the ideal temperature offset that works for the particular room.
You can find our video instructions on installing Eve Thermo here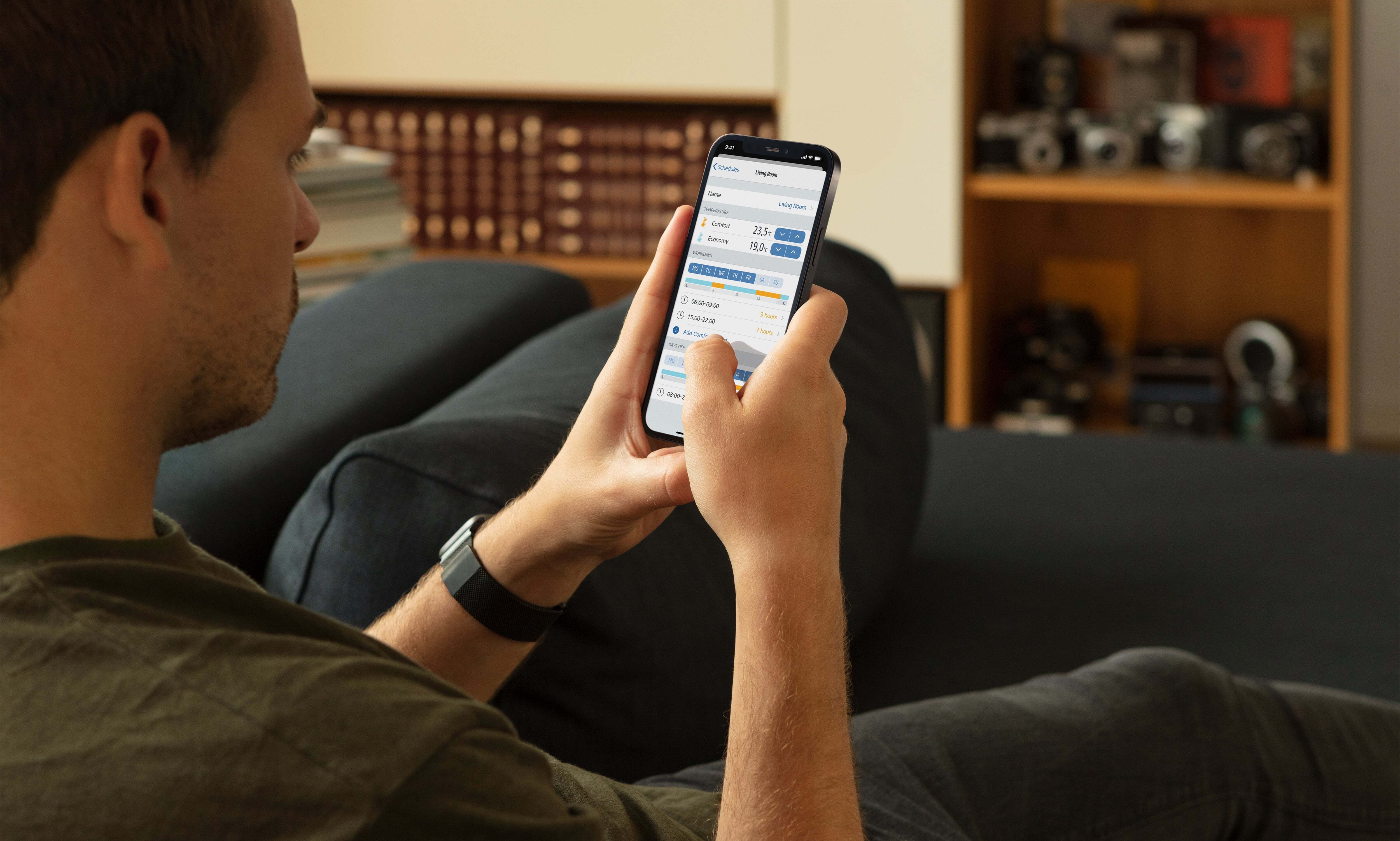 2. Create schedules
Create and edit:
In the Eve app, go to the Eve Thermo detailed view and tap the gear icon in the Schedule section. Select a suitable one from the existing templates for typical rooms and customise it. Or create a new schedule with its own characteristics and comfort and economy temperatures.
Schedules can contain several programmes. In a newly created schedule, the first programme includes all seven days of the week. Add more programmes if, for instance, you want different settings for the weekend or individual weekdays. Each schedule offers 3 comfort phases such as mornings, afternoons, and evenings. As soon as you finish creating and editing, Eve transfers the schedules to the thermostat - so make sure you are nearby.
Corrections:
Even if a schedule is active, you can still adjust the temperature via the app, Siri or manually on the accessory itself. This setting is then overruled with the next scheduled temperature change.
Suspend:
If you want to pause the schedule because the room is being used differently to usual, set the Schedule > Off option in the Eve Thermo detailed view. If you don't want to heat at all, select Mode > Off.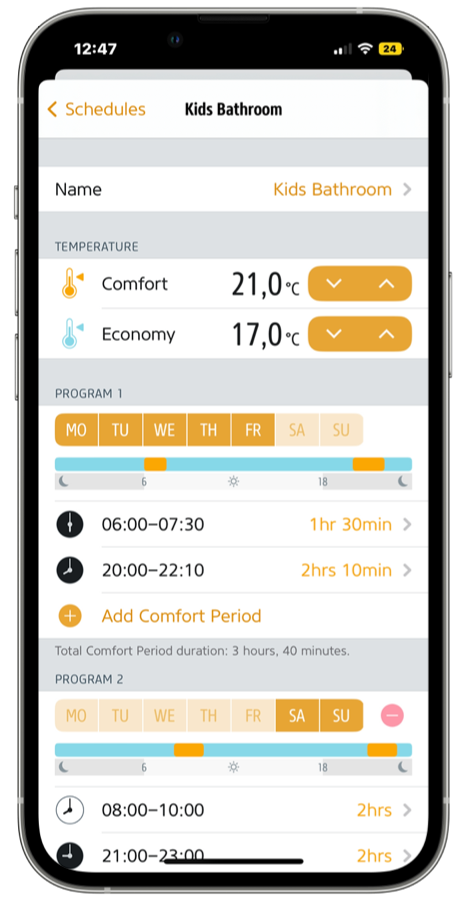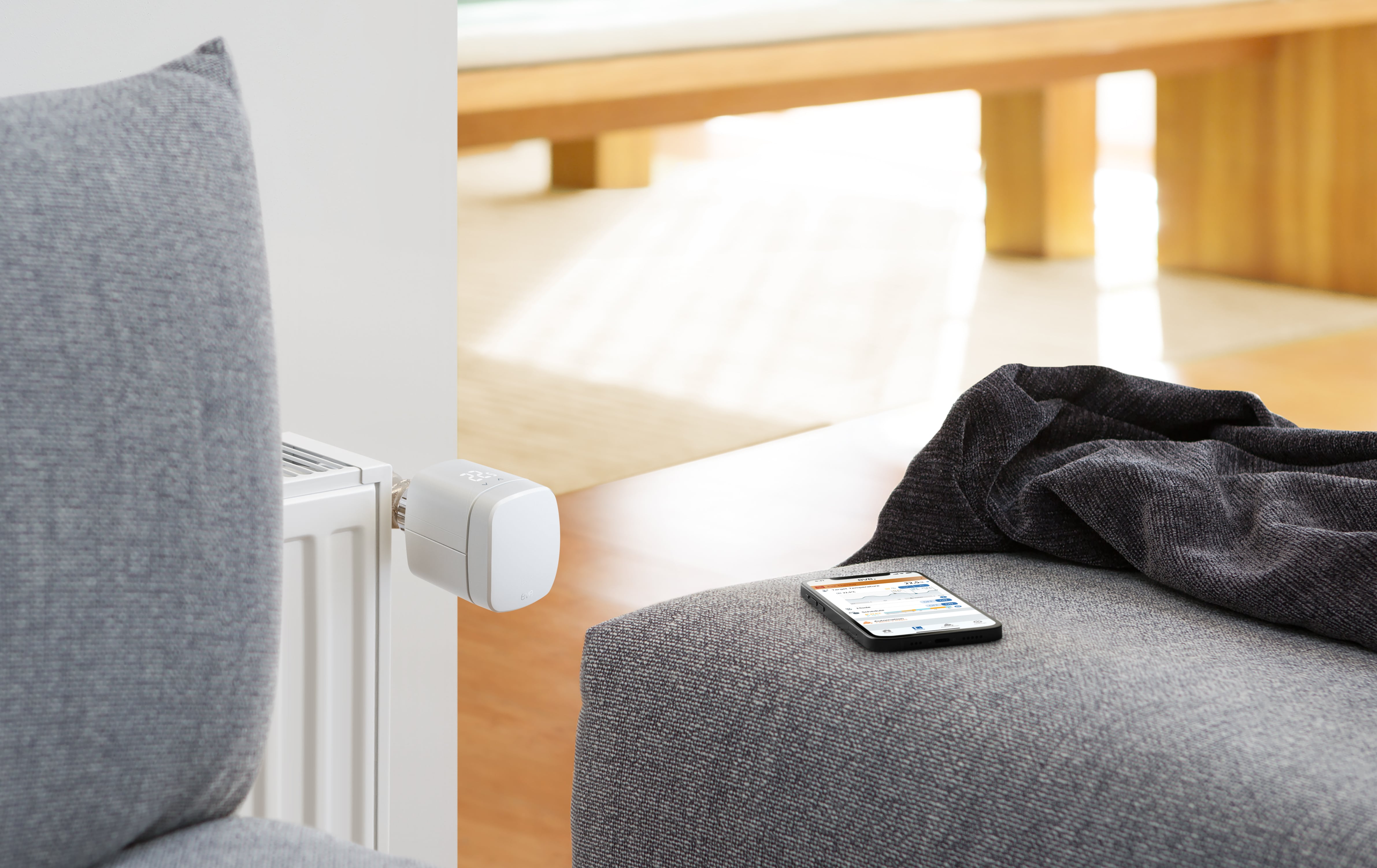 3. Optimise
You can adjust the following settings in Eve > Settings > Devices > [Eve Thermo].
Window detection:
Thanks to the integrated temperature sensor, Eve Thermo detects rapid drops in temperature and can turn down the heating when you open windows. The window detection plays it safe: If you forget to shut the window, heating resumes automatically after 10 minutes to prevent the building from cooling down.
Child Lock:
To prevent unwanted temperature adjustments, activate Child Lock to disable the touch controls of Eve Thermo.
Heat on days off like at weekends:
Navigate to Settings > General > Days Off Calendar you can select a calendar that is active in your calendar app and determine how Eve Thermo behaves on days for which this calendar has entered all-day events. Simple example: You select a bank holidays calendar as the Days Off calendar to make Eve Thermo use your weekend heating programme on events in this calendar, i.e. holidays. This way you can sleep in on holidays without waking up to a cold house at an economy temperature.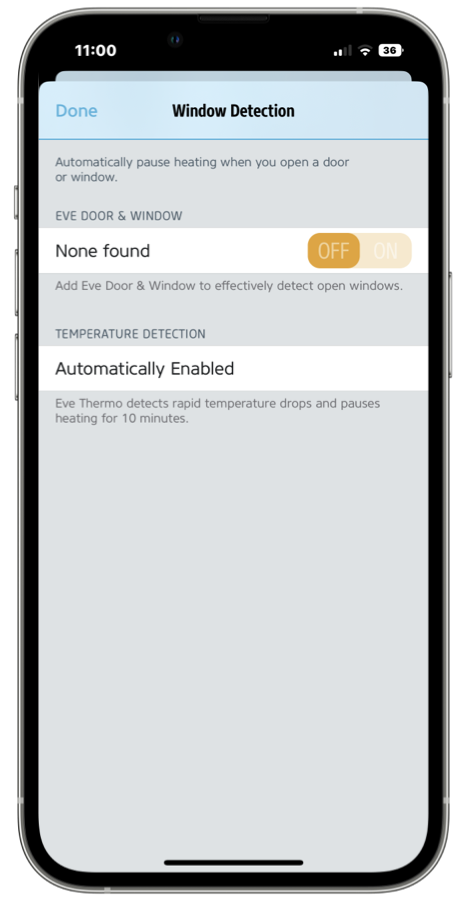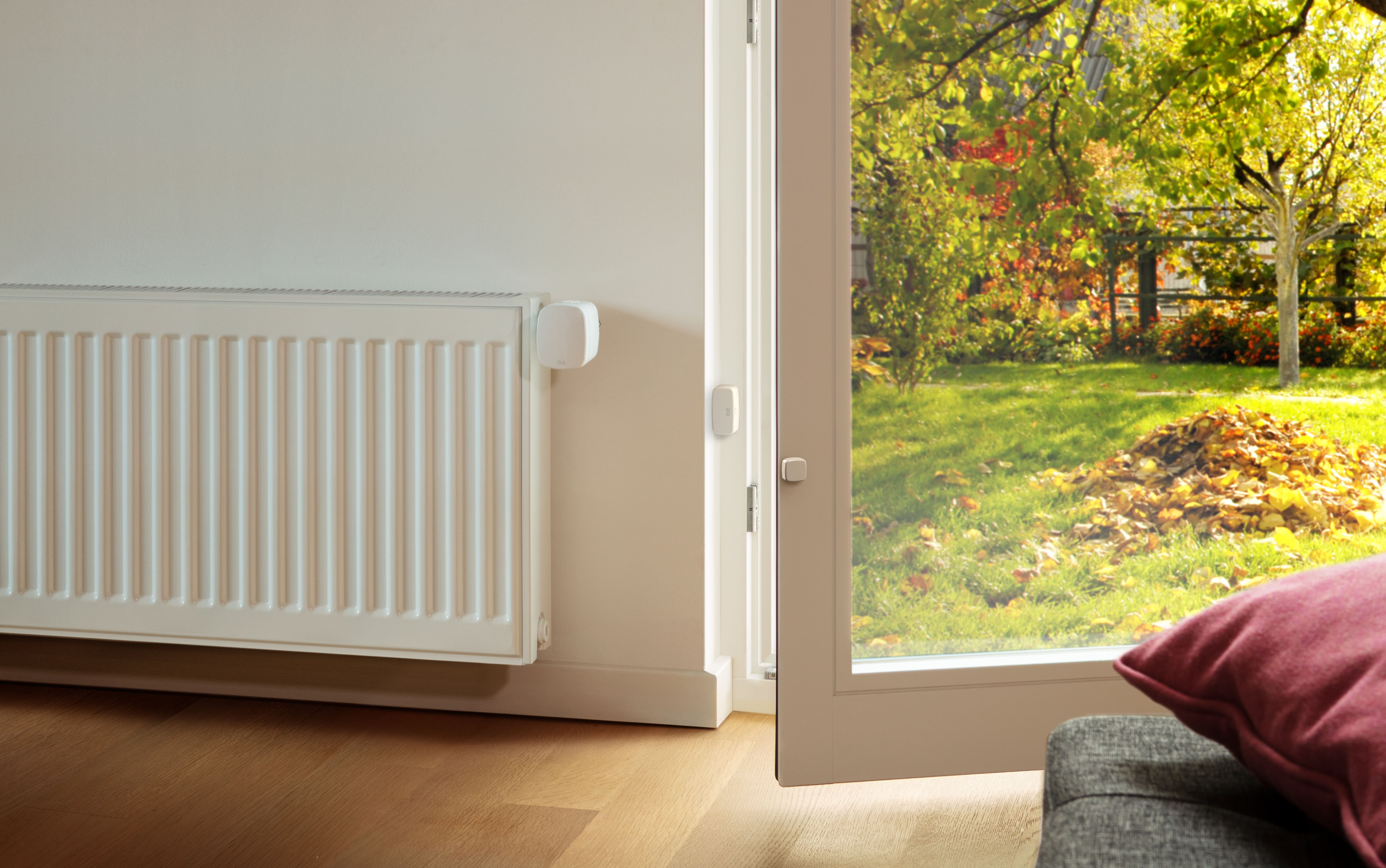 And there's more: Presence-based heating and control on the go with a HomeKit control centre.
If you add a HomeKit home hub to your home, preferably one with Thread support, Eve Thermo automatically becomes more powerful. Your heating can then be controlled and paused based on rules ("if, then"), e.g. when no one is home or a contact sensor like Eve Door & Window reports open windows. With home hub intelligence, you can also integrate Eve Thermo into scenes, such as "Hey Siri, good night!". And with a secure, end-to-end encrypted connection between the HomeKit home hub and your iPhone, you can even access it on the go and preheat your bathroom while you're still waiting for the bus home in the snow. Learn more about all the features of Eve Thermo here.
Home hub can be: Apple TV (4th generation and newer), HomePod and HomePod mini. The 2nd gen. Apple TV 4K and the Apple TV 4K (128 GB) and HomePod mini also act as Thread Border routers.
Questions & Answers
1. Do I need an Apple ID?
Yes. HomeKit links the home to an Apple ID, and two-factor authentication and iCloud Keychain must be active.
2. How do Eve Thermo and iPhone communicate?
If you're not using a home hub, Eve Thermo and iPhone talk via Bluetooth. So make sure you're near your thermostat when you're controlling or programming.
3. How long do the batteries last?
Use regular AA batteries to power Eve Thermo for one heating season (9-12 months). Avoid rechargeable batteries as they do not provide sufficient voltage.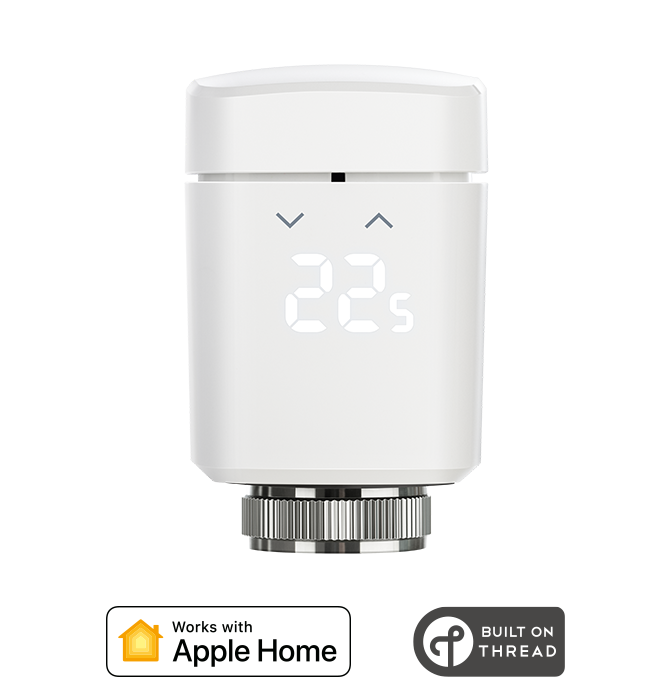 Smart Radiator Valve
Requires iPhone or iPad with the latest version of iOS/iPadOS
HomeKit, supports Thread
Add to cart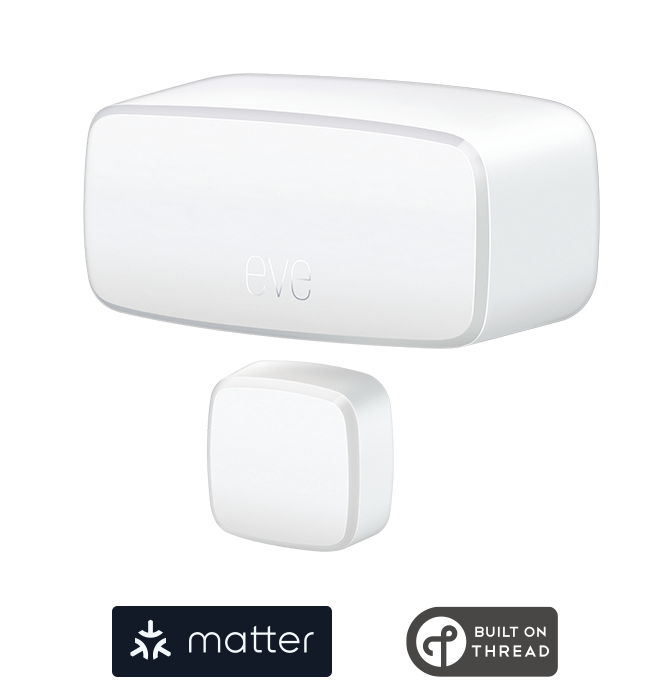 Wireless Contact Sensor
Requires iOS/iPadOS 16.4 (or later) / Android™ 8.1 (or later), Matter controller / Thread Border Router
Supports Matter & Thread
Add to cart