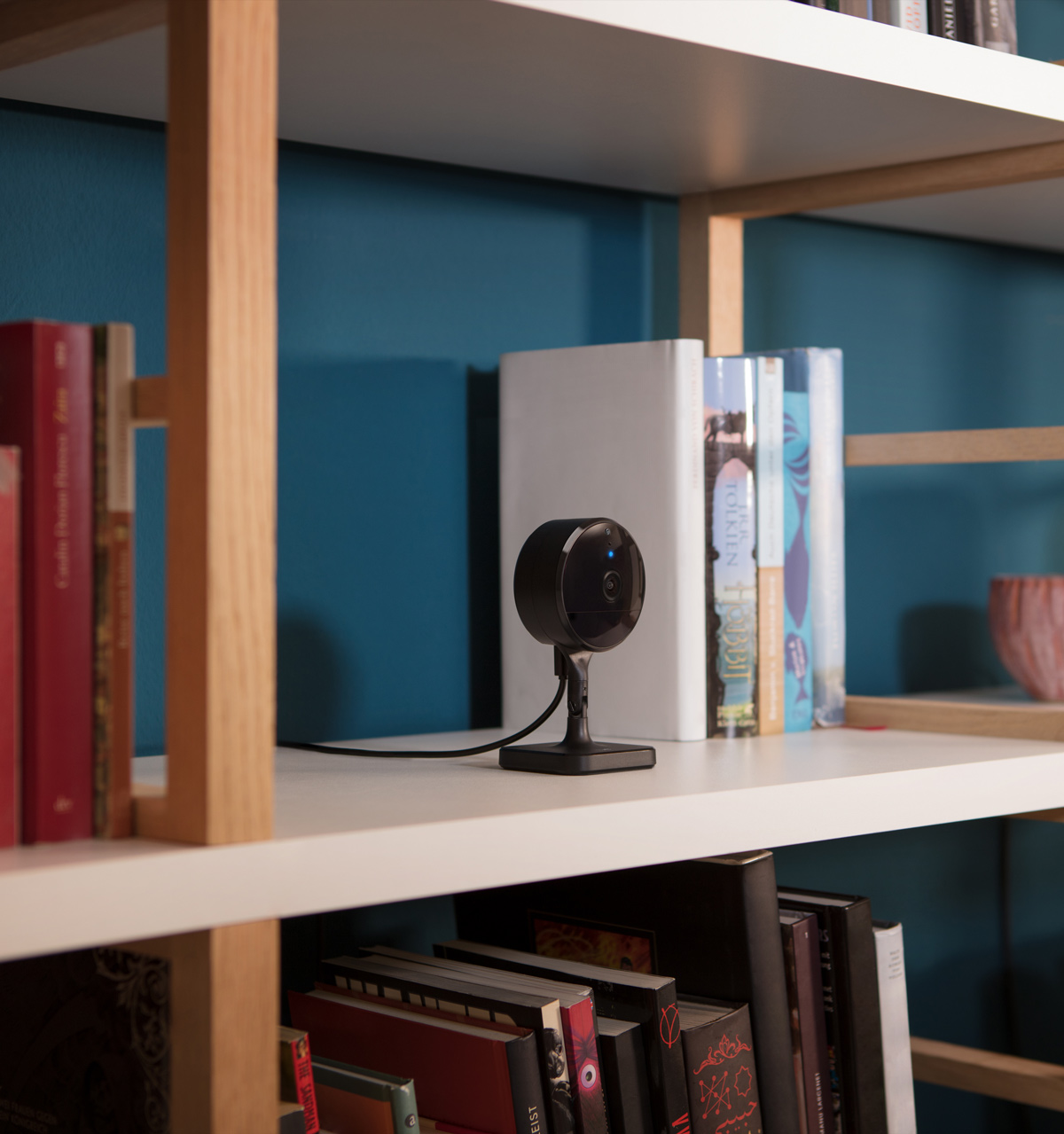 All features of Eve Cam
Jul 1, 2020 - by
Lars
- Comments
Eve Cam has everything you could ever wish for in a premium indoor security camera: Full HD video with a wide-angle 150° field of view, infrared motion sensor, 16 ft / 5 meters of night vision, two-way communication, and total flexibility to position your camera anywhere you want.
On top of all this, the camera really stands out from the mass of indoor cameras as Eve Cam was built from the ground up to protect your privacy – true to the Eve maxim of "What happens at home, stays at home".
100% Privacy
Eve Cam is designed exclusively for HomeKit – and with Apple HomeKit Secure Video everything is analyzed locally. This means you don't have to worry about your data being streamed to some random server in the ether – and the same goes for any Eve server, as there is no Eve cloud.
You set the criteria for when your recordings are stored fully encrypted in your iCloud account. And only your personal devices have the key to unlock and display these recordings. The live stream from Eve Cam never touches a cloud – not even iCloud. To learn more about how Eve Cam protects your privacy, check out our blogpost.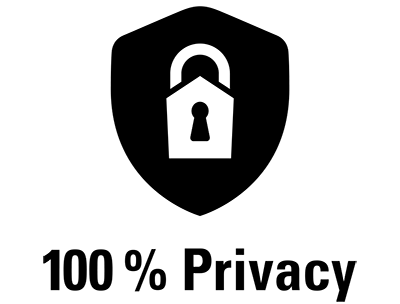 Set up Eve Cam
It's quick and easy to add Eve Cam to your HomeKit home and get everything up and running. Aside from a Wi-Fi network (both 2.4 GHz and 5 GHz networks are supported), you just need a home hub. This does all the leg-work when it comes to capturing and analyzing the live video feed as well as for both sending notifications about any motion that's detected and streaming video from the camera to your iPhone.
For distinguishing between clips of people, animals or vehicles as well as for recordings in your iCloud account, you'll also need a supported iCloud storage plan. You can connect a single camera to a 200 GB storage plan. And if you've got up to five cameras – whether Eve Cam or another vendor's product that utilizes HomeKit Secure Video – you'll need a 2 TB plan. The encrypted recordings are stored securely for ten days in your personal iCloud account without them counting against your iCloud storage limit.
Open the Eve app, then tap Settings followed by Add Accessory. Now scan the HomeKit setup code of your Eve Cam. Once you've added your Eve Cam, you then configure the basic settings of the camera that HomeKit will associate with the location of your iPhone and the devices of the people you invite. Select the monitoring level for the options When Home and When Away:
- Off: The camera can't record, stream live images, send motion-detection notifications or trigger any automations.
- Detect Activity: The camera detects motion. Based on this, Eve Cam can trigger automations and send notifications.
- Stream: Aside from automations and notifications, this mode also allows you and invited people to access the live stream.
- Stream & Allow Recording: The camera provides a live stream and can create recordings – either based on any motion that's detected or motion that's been caused by people, animals or vehicles.
During set up, you can also configure whether invited household members can only view the live stream or also browse recordings. For further details on setting up your Eve Cam, see the Quick Start Guide.
Top tip: You can customize the recording options, which allow you to configure what kind of motion triggers recording, later on. For further details, see the section Eve in the Home app.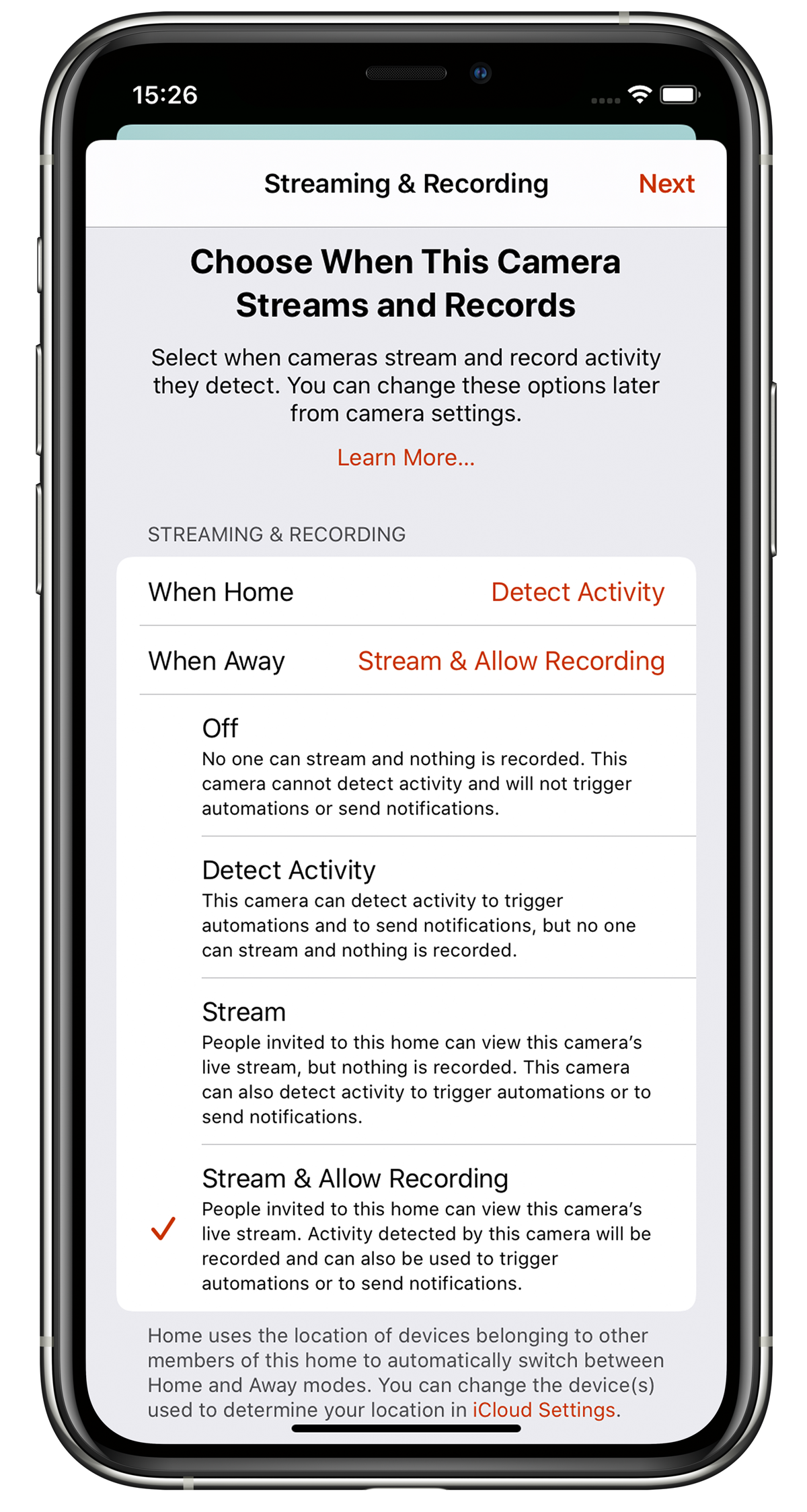 Position Eve Cam
Eve Cam is a compact accessory with a pivot joint that allows you to rotate/pivot the camera 360°/180°. And thanks to the solid, non-slip magnetic base, Eve Cam will stay rooted to the spot. This means you can position Eve Cam quickly and securely on any item of furniture or even on a magnetic surface. And for anywhere else, Eve Cam comes with a metal plate for wall fixing that includes screws and anchors as well as an adhesive pad. Since the accompanying micro-USB cable (which you swap for one of any length and color) measures a generous 7.2 ft / 220 cm, and the night vision capabilities of Eve Cam extend 16 ft / 5 meters, you're totally free to position your camera wherever you want and also monitor larger areas of your home.
Keep in mind, though, that while the infrared motion sensor can "see" in the dark, it can't see through glass. So if there's a glass door to your front porch or there's a window looking out to your patio or yard, Eve Cam won't detect any motion behind them.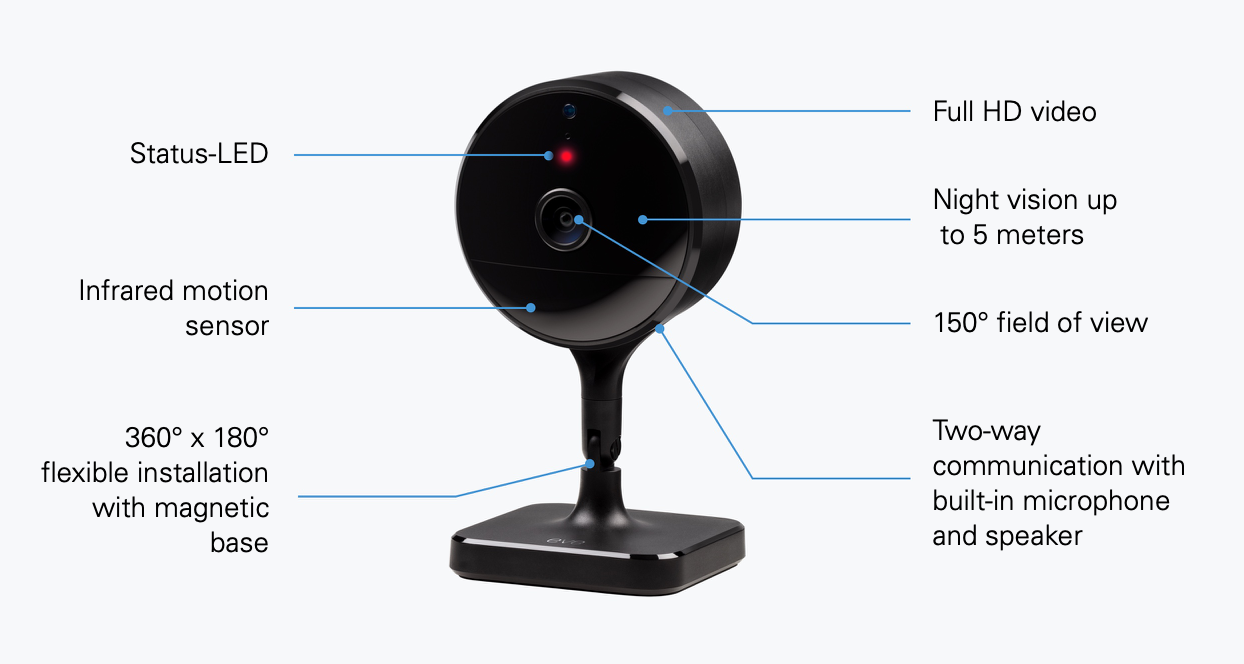 Eve Cam in the Home app
You can open the camera settings from the live stream screen of the Home app, which you access by tapping the camera snapshot in the corresponding room view.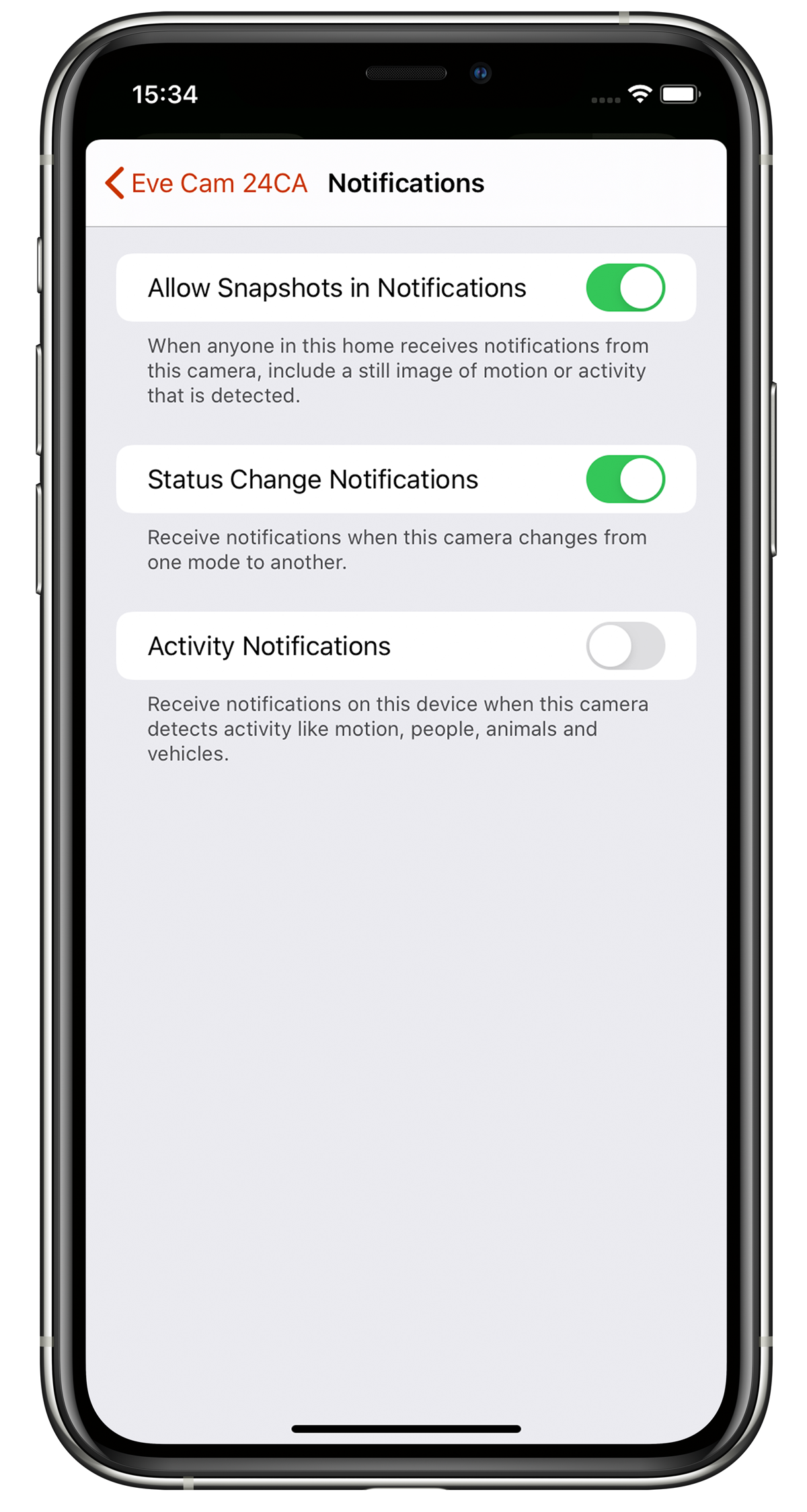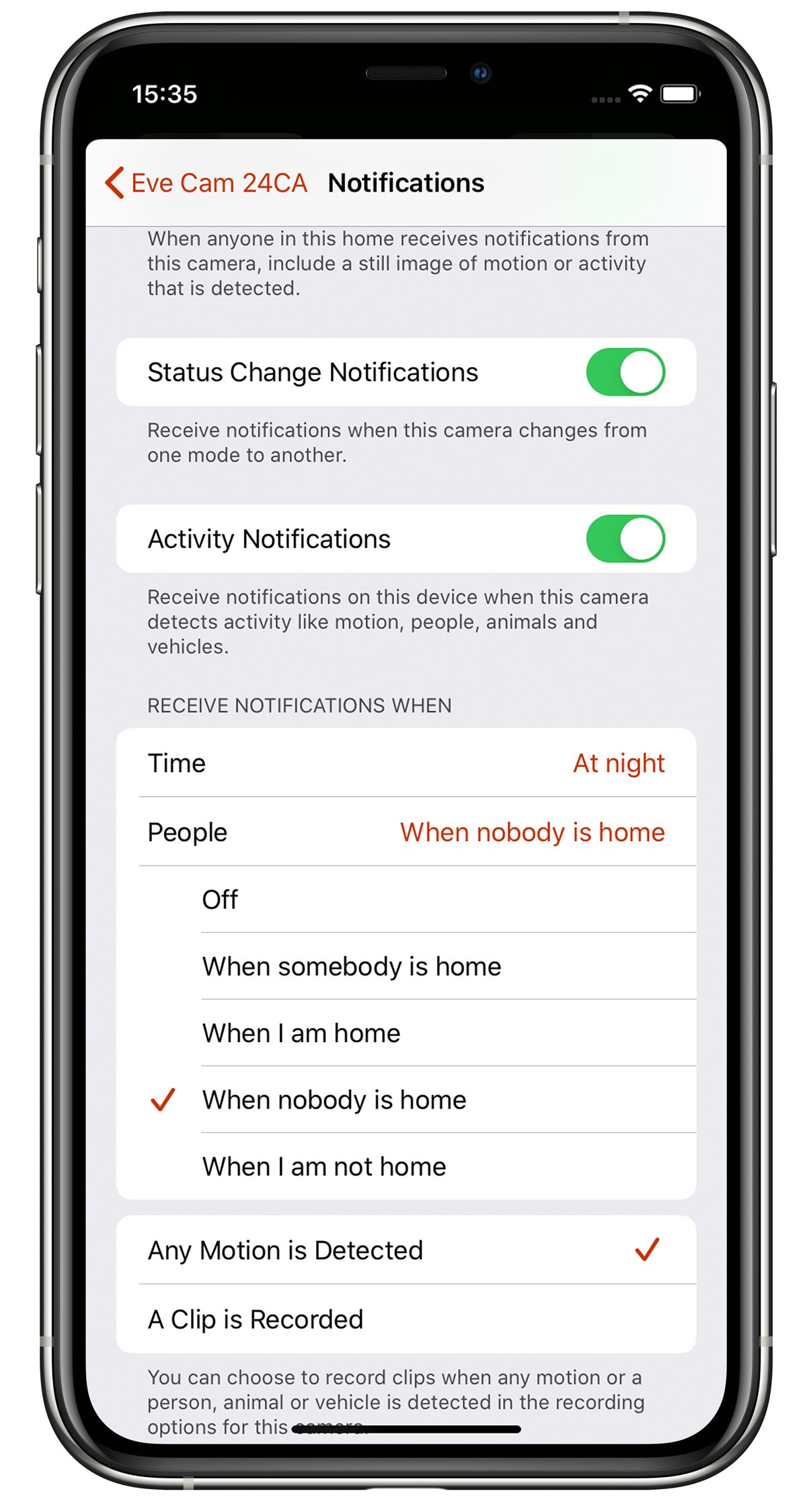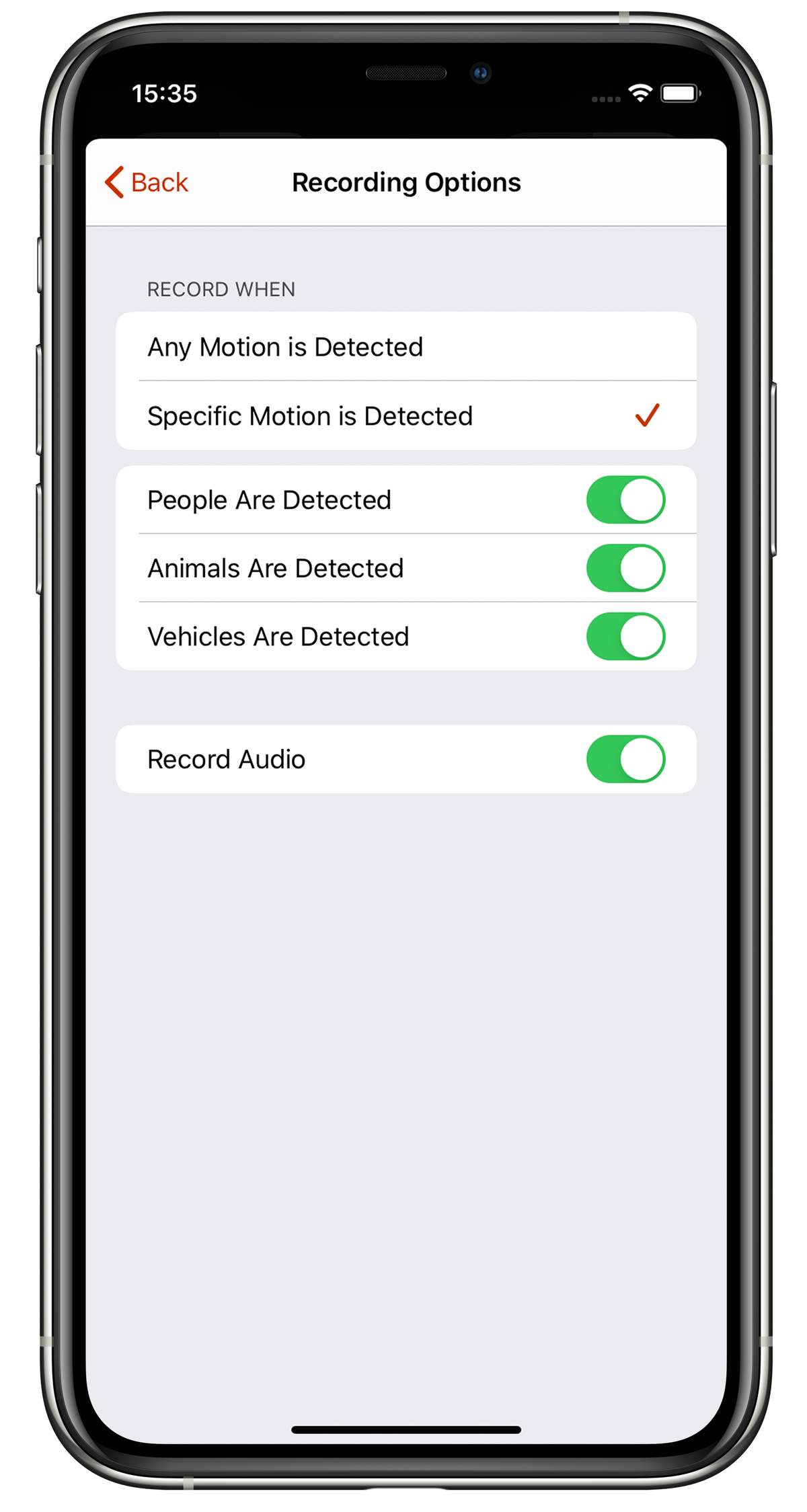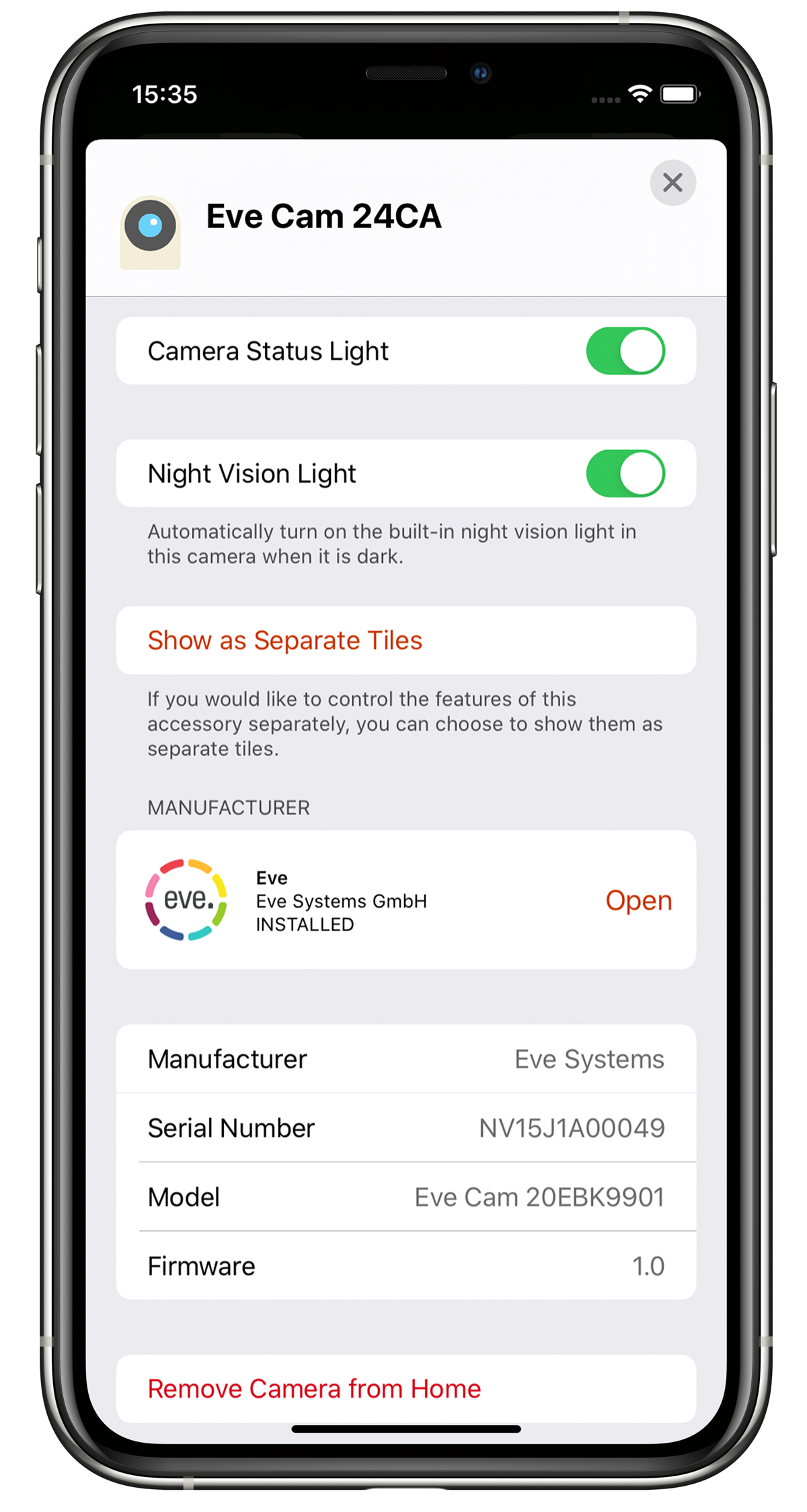 Did you know?: If you want to configure who can access the recordings, tap the home icon on the top left then go to Home Settings... > Home Name > People. Now tap the entry for the person and then in the Allow Access to Cameras section choose between the options Streaming and Streaming & Recording.
Eve Cam in the Eve app
Thanks to the sophisticated security architecture, only the Home app has control over the camera settings, recording functionality and video clips. Nevertheless, the Eve app offers lots of great additional features especially when it comes to the motion sensor and the live stream screen's audio functions.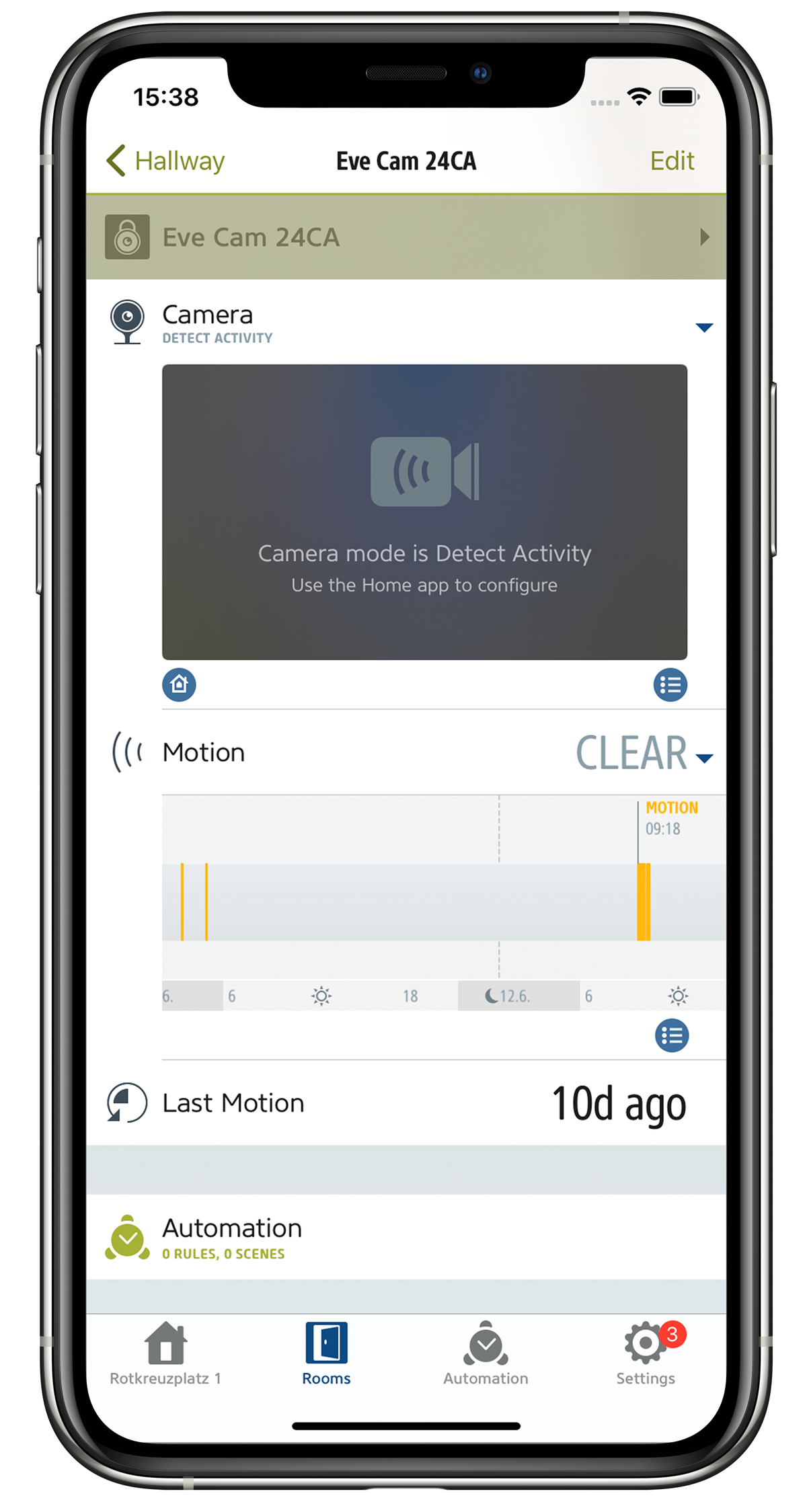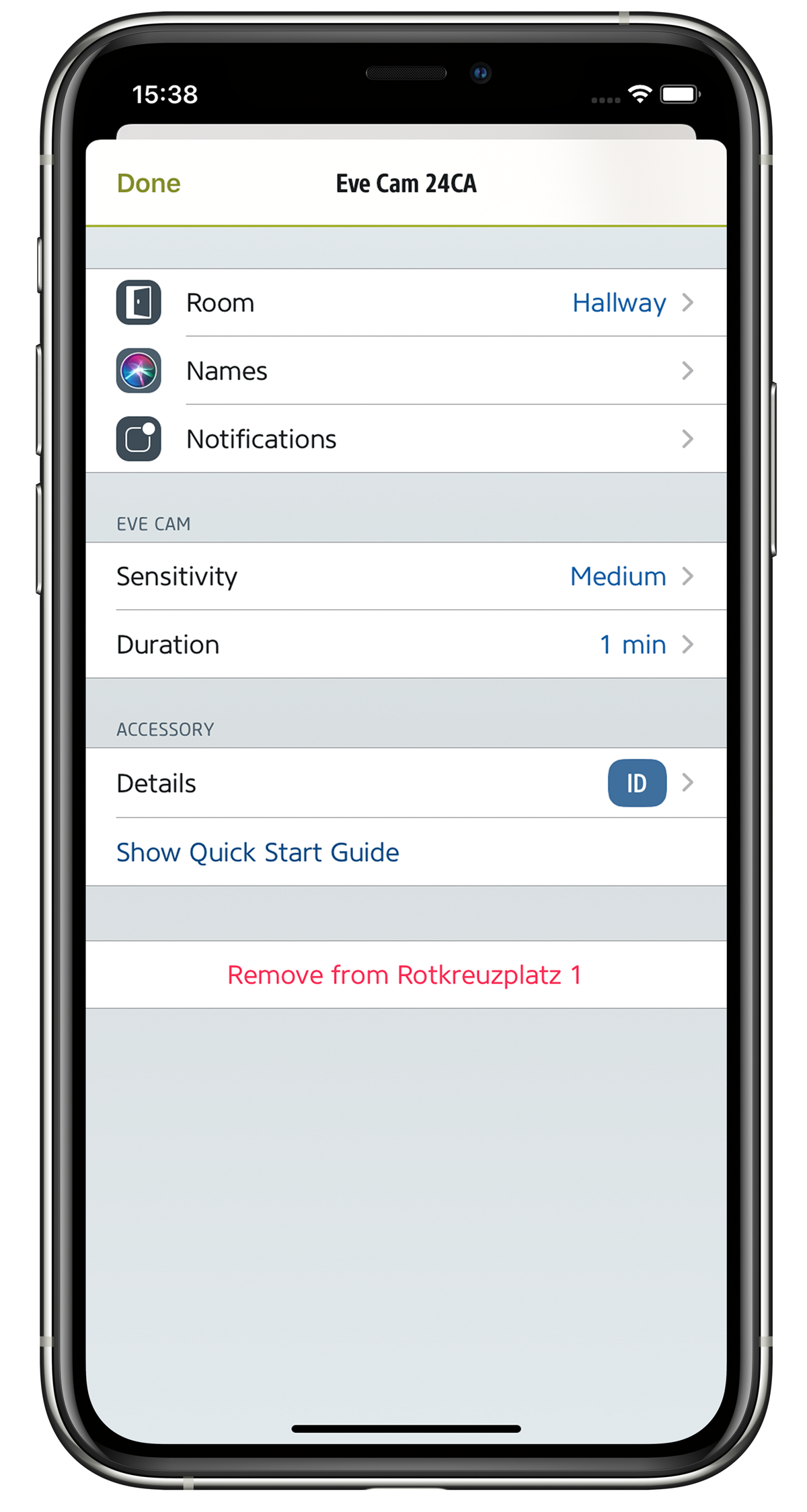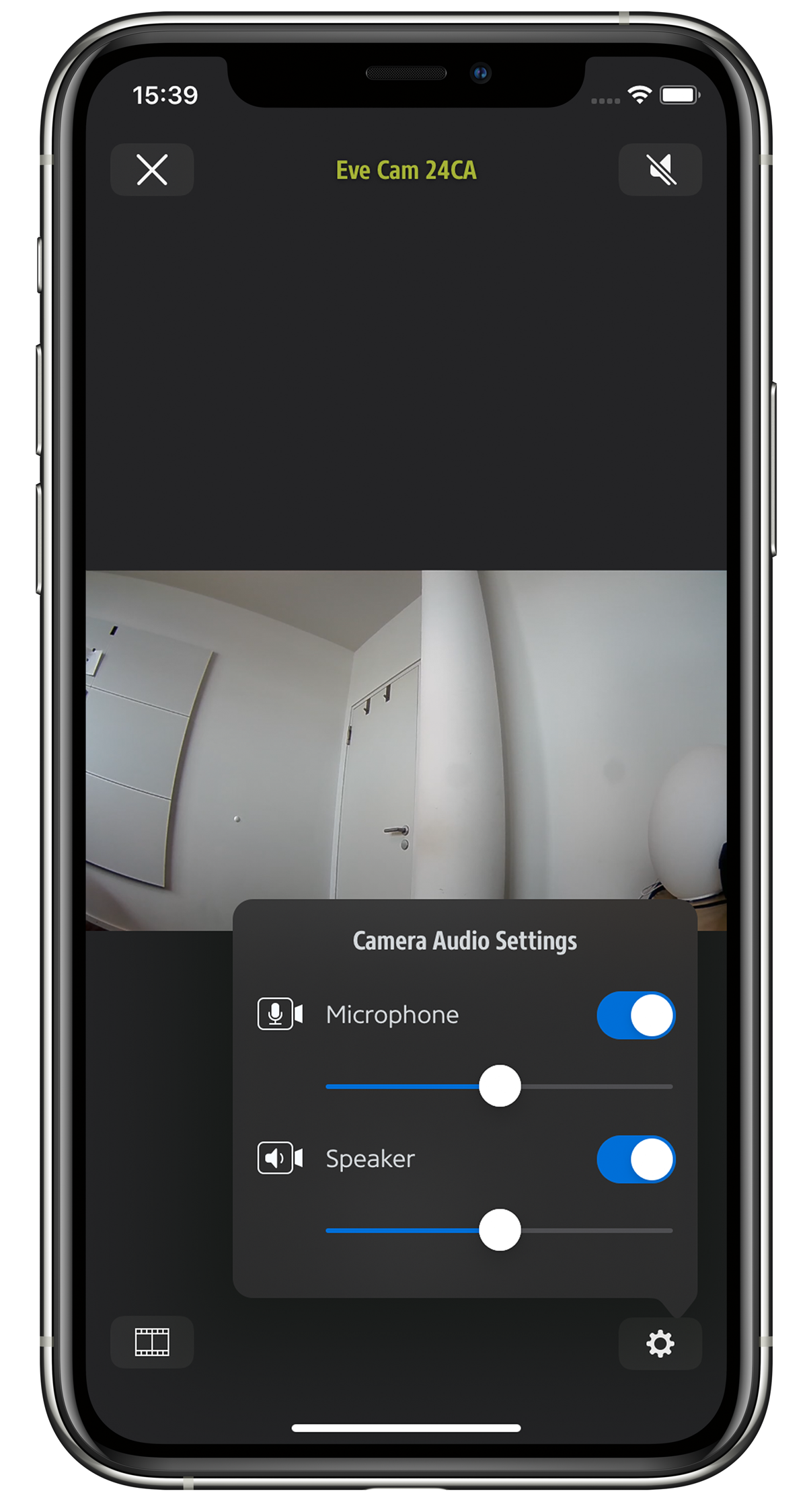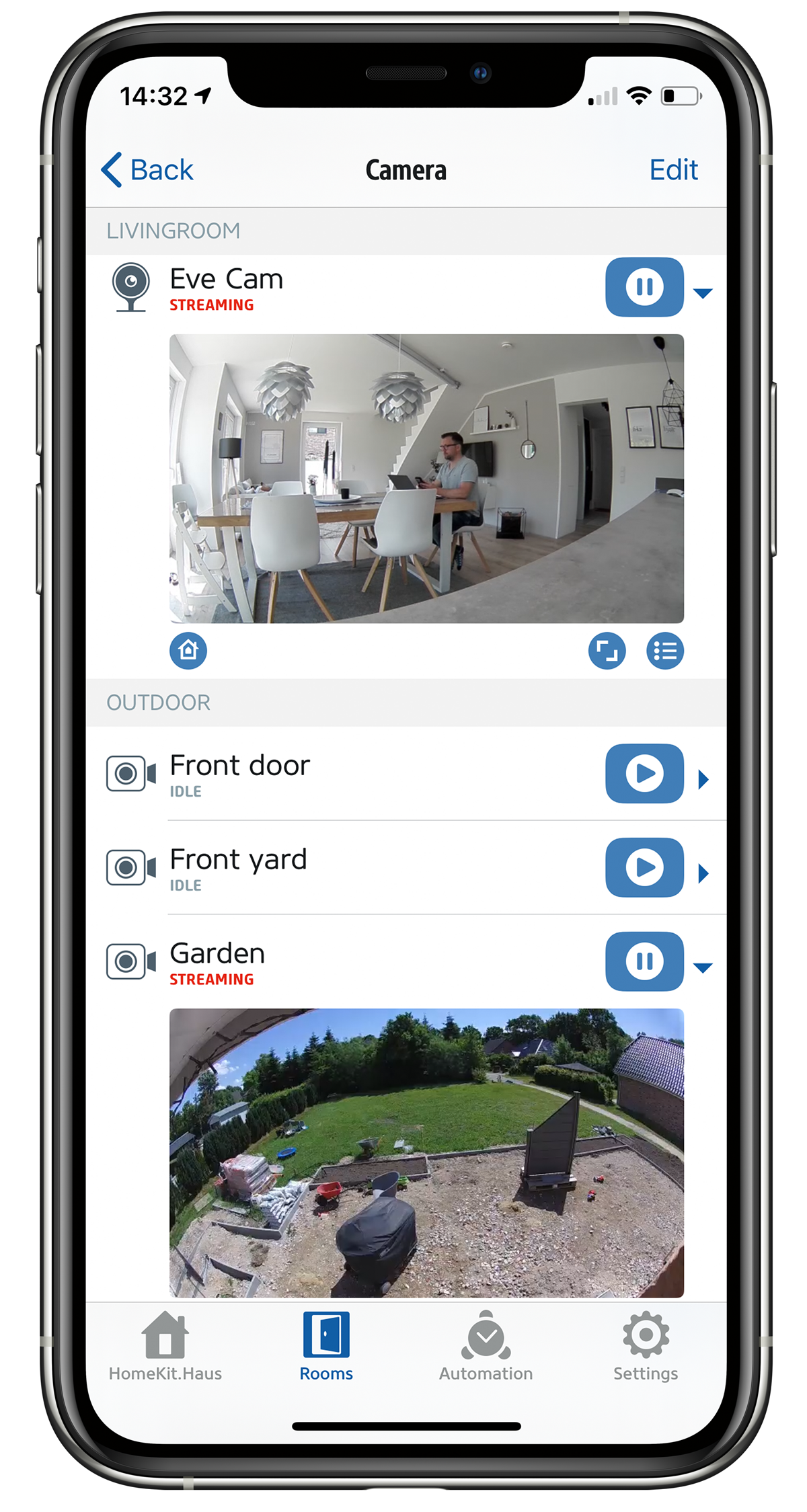 Did you know?: Tap the small list icon below the snapshot screen of the detail view and you will see a log of the status events for your Eve Cam – in other words, all the times the camera switched between armed/disarmed.
Use Eve Cam in automations
Eve Cam has a motion sensor which is displayed separately in HomeKit, making it ideal for automations. This allows you to use it as a trigger for an automation that turns on the connected lamps in a room at certain times when motion is detected. To learn how to create such a rule, watch this video.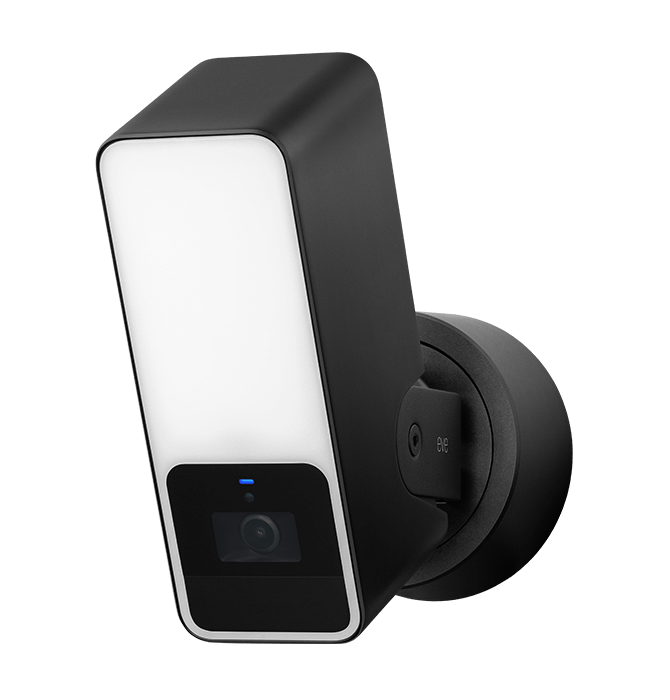 Secure Floodlight Camera
Requires iPhone or iPad with the latest version of iOS/iPadOS, HomePod or Apple TV (4th generation or later) as a home hub, Wi-Fi network (2,4 GHz 802.11b/g/n)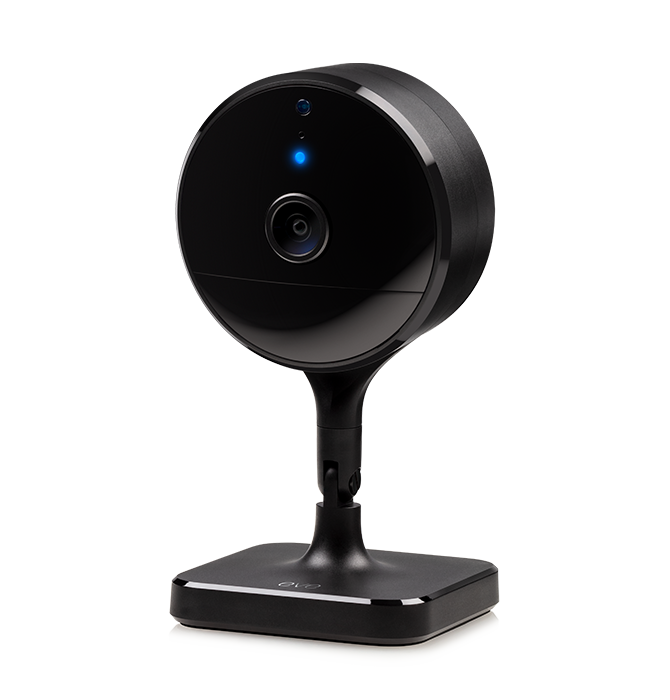 Secure Indoor Camera
Requires iPhone or iPad with the latest version of iOS/iPadOS, HomePod or Apple TV (4th generation or later) as a home hub, Wi-Fi network (2,4 GHz 802.11b/g/n)